Jackie Buntan is a Filipina-American Muay Thai fighter, who currently fights in the Strawweight division of ONE Championship.
Fighting out of the now notorious Boxing Works gym in California, USA, Jackie Buntan roared onto the world stage last year on February 26th, when she debuted at ONE Championship: Fists Of Fury by beating Thai fighter Nat "Wondergirl" Jaroonsak by unanimous decision in a Muay Thai Strawweight contest.
She returns next week on December 2 and takes on Amber Kitchen at ONE on Prime Video 5.
Buntan sat down with Beyond Kickboxing's Thomas Larsen and talked passionately about her life and her profession.
Exclusive Interview with Jackie Buntan
---
Hello Jackie, please tell our readers a bit about yourself.
Alright. Well, my name is Jackie Buntan, and I am 25 years old - born and raised in Los Angeles, California.
I am a Filipino-American and first generation American born in my family. I have three older sisters, who were all born in the Philippines, including my parents. When I was still in my mom's stomach, my family came to Los Angeles for a better life. Being born and raised here in Los Angeles, I would say I grew up with Filipino heritage: respect and hard work but definitely have an American mindset, with the ability of having freedom to choose what I'd like to do in my own life.
From a young age I was taught to be independent, and that if I wanted something, I would achieve it through hard work - I had to earn it.
Currently I am not married, but have been in a long term relationship with, I would call it my "high school sweetheart", since we have been together since my sophomore year of high school. I attended a Community college for one and a half years before deciding to quit school and go full throttle in pursuing a career as a full-time fighter.
My mindset was that school will always be there, but fighting will not. I turned professional at age 23, so I am still very early in my pro career.
Outside of fighting, I am honestly a very easy-going, laid back girl. I love to cook - ever since I was a little girl.
I don't mind staying in and being at home - I actually prefer that! I do go out with friends though, or with my boyfriend to go and have dinner, brunch, go to a new bar, happy hour- I am a 100% foodie, so I love trying new places to eat. Now, I don't do that all the time so in between, you can find me relaxing at home with my dog and boyfriend, watching trash reality TV. Having friends over for a cooking night or by the beach relaxing.
I know you started out pretty early. When you were eleven years old or something, right? How did you initially learn about Kickboxing and Muay Thai?
Yeah, I started training Muay Thai at eleven years old. It was a decision I came up with.
I know some kids that early are usually pushed into a sport by their parents but this was an interest that sparked organically in me. I can't tell you a cliche story of "I saw a Bruce Lee movie" etc. and that's how I learned about it. As a little girl, I was definitely a tom-boy. You would always find me outside riding my bike, skateboarding, playing soccer, so I was always interested in the things a typical girl that age wasn't interested in.
At the time, my now brother-in-law was training Muay Thai as a hobby. I remember seeing boxing gloves in my sister's car and she mentioned they were his. I then asked him more about Muay Thai. He showed me a few basic moves and I was instantly hooked. I remember getting on my computer and going to YouTube to type "May Thai" in the search bar, and I clicked on the very first video, which was a fight of course. And again, I was even more captivated to the art. Even at such a young age without knowing anything about Muay Thai, I thought to myself this seems so practical if I were to use it as self-defense, and I was mostly drawn to the fact of how "cool" and "pretty" it looked, even though they were fighting.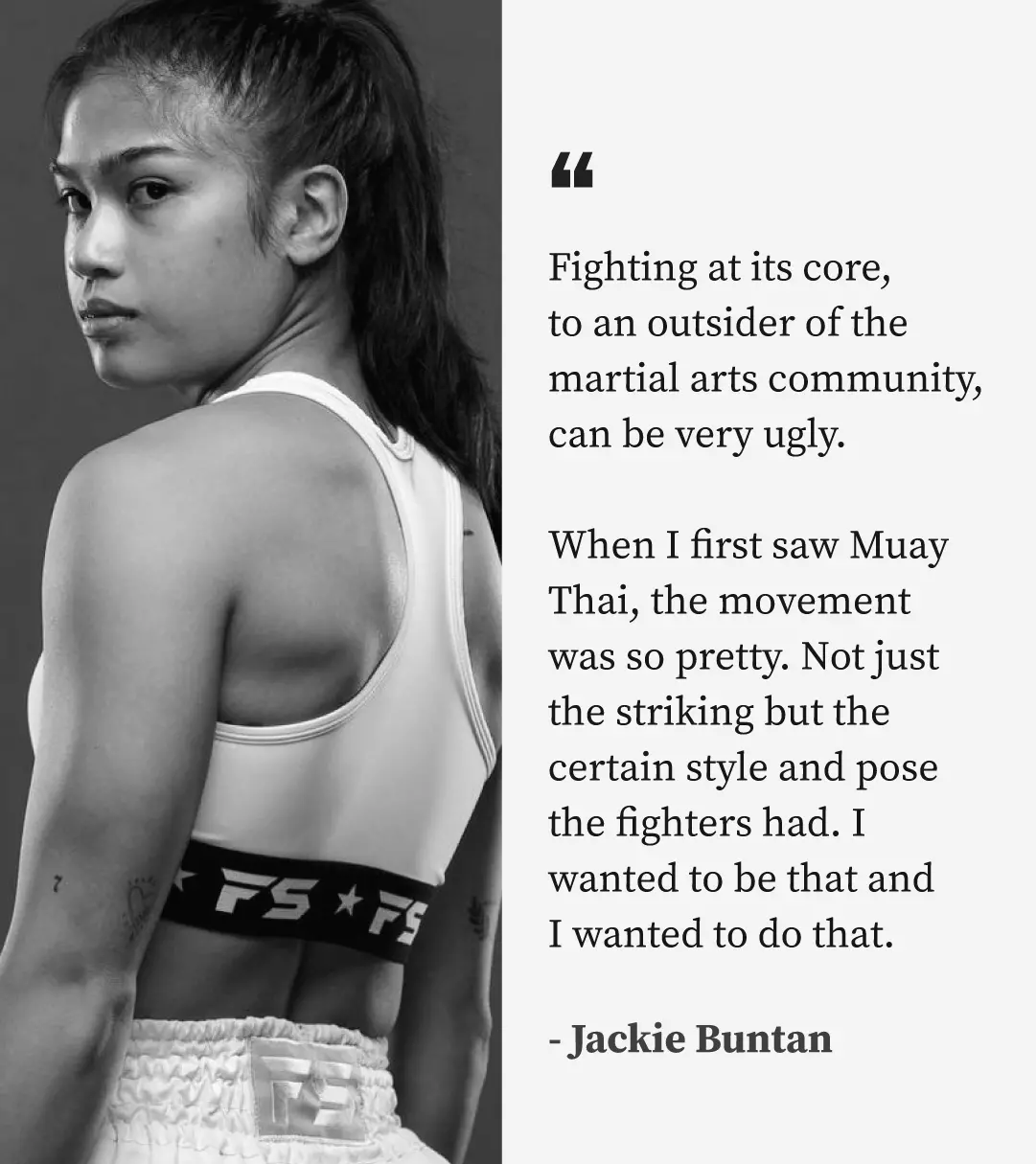 And you train at Boxing Works in California. Did you start your career there?
I train at Boxing Works in Lawndale, California. I have been with my coach Bryan Popejoy and the gym Boxing Works ever since I started out when I was eleven years old. After finding out what Muay Thai was, seeing my first Muay Thai fight on YouTube, I then googled "Muay Thai gym", and the closest one near me was Boxing Works. I really stumbled across a hidden gem, that would change my life forever.
I essentially grew up in that gym and grew up with Muay Thai. Bryan is not only my coach but a great friend, a mentor, and someone I look up to. He has really created such an environment at Boxing Works since I started, that is ego-free and judgment-free. By doing that, he's created a safe space for everyone to learn, fail, and laugh, without the fear of being uncomfortable or judged. My team at Boxing Works plays a huge part in my career as a fighter. Without my team or Bryan, none of this would be possible or achievable.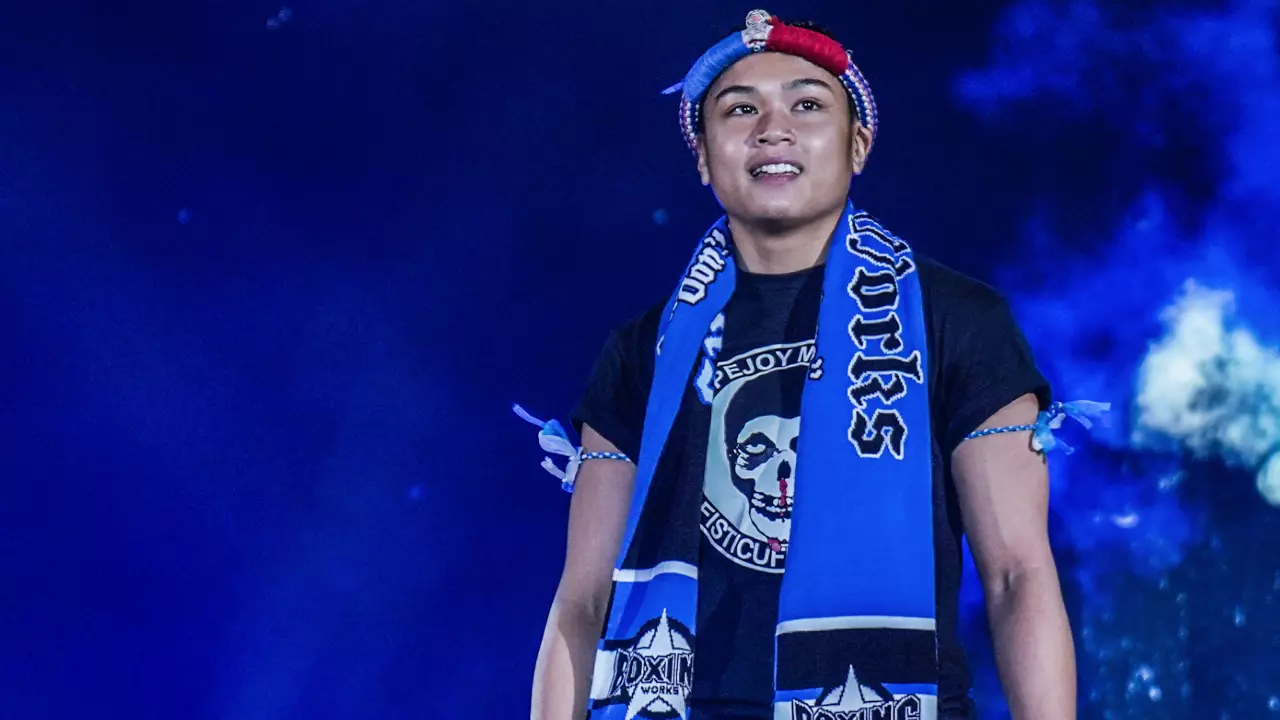 Wow, that sounds like a great gym environment. I've heard a lot of great things about Bryan. Now onto something completely different: what do your family and friends think about your chosen career?
I have a small close-knit group of friends outside of Muay Thai, that I have been friends with since I was fourteen years old, so they always knew Muay Thai was a huge passion and part of my life.
When I was 21 and decided to quit school to go full throttle on this path, they believed in me and supported me. They knew since I'd been doing it for so long, and kept at it with the same passion, that I could go somewhere with it. My boyfriend had the same exact thoughts since he's seen my passion for Muay Thai since we started dating.
Now with my family (parents and sisters), it was a completely different story.
When I brought up the idea of quitting college to pursue this path, my family was absolutely against it. It caused a huge fight between me and my family, that would last for months. As family should, they just wanted the best for me. All my sisters finished college, and worked great jobs, corporate 9-5 or in the medical field, and here I am, the baby of the family wanting to pursue fighting! It made no sense to them, which I understand. It caused a lot of arguments about my life choices, and a lot of doubt from my family. It caused so much strain, that I was close to just pursuing and finishing school, to make them happy and getting them off my back [laughs].
But I took some time to really come into realization with myself. I thought: "This is my life and no one is in control, but me."
It was really a FU** IT kind of moment. I understood they only reacted that way, because they care about me, and want the best possible future for me. I realized no one knows what the best possible future for you is beside yourself!
So I did it, I un-enrolled for my next semester of college and told Bryan. My family was not happy, but I was an adult and they couldn't do much, besides question my choices. I would say it took a solid year for them to realize, I can go somewhere with this career path. They saw the hard work, continuous passion, and success in my fight career. They started to let me continue doing my thing with no questions asked.
Then at around 23 years old, I told them I m going to go professional. They were ecstatic, they were able to see my work and passion from the little girl that's started at eleven years old, come to this … starting in the big leagues.
I was supposed to make my professional debut in California at this time, but due to a messed up medical test, the fight was canceled. Shortly after, I got two contract offers from very big promotions, one being ONE Championship. It was a no-brainer choosing ONE. My family was so happy for me, they really saw my dreams coming true.
Till this day, they are my number one supporters, win or lose. The doubt that came from them pushed me into making the decision to go against them, and for that, I created the ability to live out my wildest dreams.
Wow. That truly is inspiring. And yeah, it can take its toll on the family, but support is necessary and important. So what does a regular week look like for you. Training wise.
My training schedule is back and forth from Boxing Works with my Muay Thai coach Bryan Popejoy, and Speed of Sport with my strength coach Nick Curson, who I've been working with since I was seventeen years old. Monday and Wednesday consists of strength and conditioning from 8:30 in the morning until 10:00. Then I usually have a couple of private clients after strength training. Then I go home to eat and relax before I'm back at Boxing Works for Muay Thai training 7:30 in the evening for two hours.
Tuesdays and Thursdays consist of teaching a 7 in the morning – Fundamentals Muay Thai class at Boxing Works, then I usually have about one client afterward.
I go home to eat breakfast, maybe squeeze in a nap and start my first session which is Muay Thai training 12:30 pm to 2 pm. Then I go home to eat and relax for a couple of hours, and I go out running, which is about 30-35 minutes. I get back from my run and eat, and relax a bit more before going to Boxing Works to train Muay Thai again at 7:30 pm to 9:30 pm.
Fridays consists of Muay Thai training at 11 am to 1 pm. Then I go home to eat and relax, before I start strength and conditioning with my coach Nick at 6 pm to 7:30 pm. Then I go home for dinner, enjoy my time in front of my TV, or just rest, and get ready for my last training of the day.
Saturday consists of starting my run first thing in the morning. I'll start my run around 9:00 am or 9:30 am. Once I'm back from my run, I make breakfast and get ready to head over to Boxing Works. I train Muay Thai from 10:30am to 12:30pm. Then I go home to eat, relax, maybe go out with my boyfriend or some friends, or I may just stay home and get the rest from such a taxing week.
Sundays are my rest days so it consists of zero training. Typically it's an errand day, a cleaning day. I like to sleep in, then start my errands or house cleaning. Then it's usually an active recovery like walking my dog or riding bikes at the beach, or it can simply be a lazy Sunday at home. I usually go out for dinner with my boyfriend on Sundays.
That's a whole lot of training. How do you actually feel, when you win a fight, and what goes through your mind, when you lose?
Winning a fight is a fantastic feeling. I think winning in general is a great feeling, haha. When I win a fight, my initial reaction, like everyone else, is happiness. Then comes excitement, then a winning "high", where it just feels like you're on cloud nine. I just look back at all the hard work and dedication I've put in since I started as a young girl.
But not every win is like that. I have won fights where I was not happy with my performance, and those same feelings will not pop up. It's more of a stagnant feeling. Not a miserable feeling, but although I won, I knew my performance was not up to parr like I know I'm capable of giving.
Losing is always a bad feeling. You question everything after a loss.
When I lost, specifically my last fight for the inaugural Strawweight Muay Thai belt, I was heartbroken. I'm not one to stay down for long, I know I have great mental resilience, so I was able to get over that heartbroken feeling within a couple of days. But that doesn't mean I am all sunshine and rainbows. I question myself, my choice in this path, my place in this game and by doing that, my confidence drop to low. It's a human cycle.
I'm still gaining my confidence back daily, but with every loss, there is a lesson and ginormous room for growth. So after that loss, I kept pushing. I don't stay down even though I may have days I want to – I know deep down inside that it has zero benefits for me in doing so. I know my confidence comes from the hard work I put into this path and life in general, so I stick to that and continue working for whatever comes next.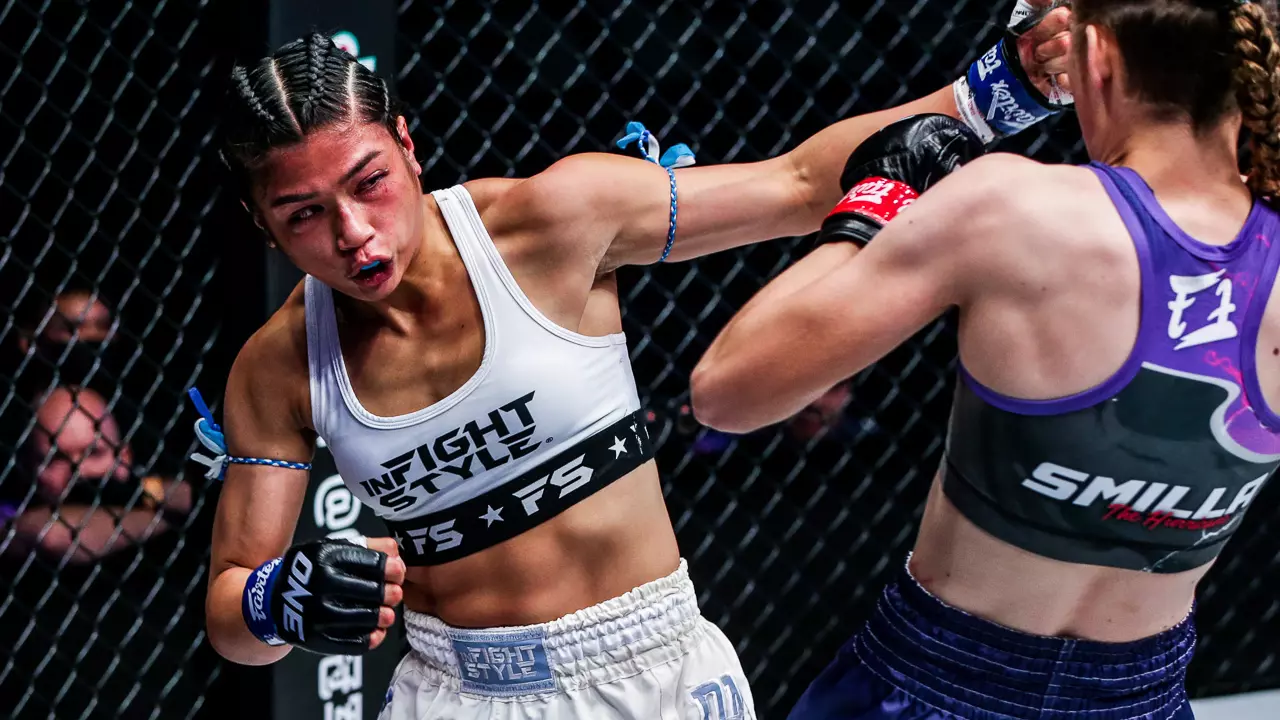 I agree! Jackie what are your ambitions and goals within fighting?
My ambitions in fighting are pretty simple - on paper at least. It's to have the healthiest, most successful career, I can make for myself.
Of course being a champion is on that list, but I know that will come - this bigger picture consists of how I will get there, and it is through simple, hard work.
By doing what I'm already doing and have been doing, it inspires others, younger and older to see that you can absolutely take whatever path you want in life, and go full throttle with it, if you continue to work hard and understand the ebb and flow behind this path, you know life in general.
That is awesome. Have you thought about life after fighting? I mean do you have a plan B?
I always think of life after fighting. When I chose this path, I knew my time was limited. I can't be fighting all my life, which is why it gave me a bigger push to pursue this. I wouldn't call life after fighting a plan b, its simply moving onto the next stage of your life.
I, of course, still see myself training Muay Thai, but I have other interests outside of the sport. I love cooking and love the idea of having my own brand.
I don't have specifics, but I can see myself diving into any of those two realms - whether I start my own little cafe or I make my own athleisure brand. Who knows!
I'm sure loads of people are looking forward to that fight! Jackie it's been a pleasure. I think I speak on behalf of everybody at Beyond Kickboxing, when I say that we wish you good luck in your next fight and obviously in your career and life in general.
Thank you so much for letting me share my story in depth! Thank you to my sponsors for helping me on this crazy journey: InFIGHTSTYLE and Elite CBD. A massive thank you to my coach Bryan Popejoy and Nick Cursor for pushing me to be the best version of myself. My whole squad at Boxing Works for keeping me honest, and helping me get better. And last but not least, my boyfriend Charles for being my biggest support system and my family!