Ahead of his GLORY 82 clash against Endy Semeleer, we've talked to top Welterweight 'Professor' Alim Nabiyev.
'Professor' Alim Nabiyev will be fighting for the GLORY Welterweight World Championship this weekend at GLORY 82. His November 19 dance partner is the well-respected and feared Endy Semeleer. The Dutch-Curacaoan Semeleer is a former champion in Enfusion and is coming for GLORY gold. Although, Nabiyev is a highly experienced fighter with over 300 amateur bouts plus 50 professional wins between Kickboxing and Muay Thai. The Azerbaijani athlete is looking forward to defeating Semeleer.
Currently, Alim Nabiyev is the No. 1 ranked fighter in our Beyond Kickboxing Rankings. At GLORY 82, he will be looking to capture the Welterweight throne and prove to the world that he is deserving of the top-ranking position.
Ahead of his GLORY 82 clash on November 19, Alim Nabiyev spoke with Timothy Wheaton of Beyond Kickboxing.
Exclusive Interview with Alim Nabiyev
---
You are the No. 1 ranked Welterweight according to Beyond Kickboxing, do you feel like the uncrowned Champion?
I feel like I deserve to be number 1 in the GLORY rankings, and with God's will, I will prove it and take the GLORY Belt.
You are going to be fighting Endy Semeleer at GLORY 82 on November 19, what's the game plan and how was training?
The plan for the fight will be different from other fights, I will focus on all 5 rounds, I will not let him catch his breath! And you will see the rest on the 19th!
Any beef with this opponent or is it all business?
No, we have nothing but sporting interest, I respect every opponent who first of all respects me!
What do you think of fighting Jay Overmeer as your first title defense?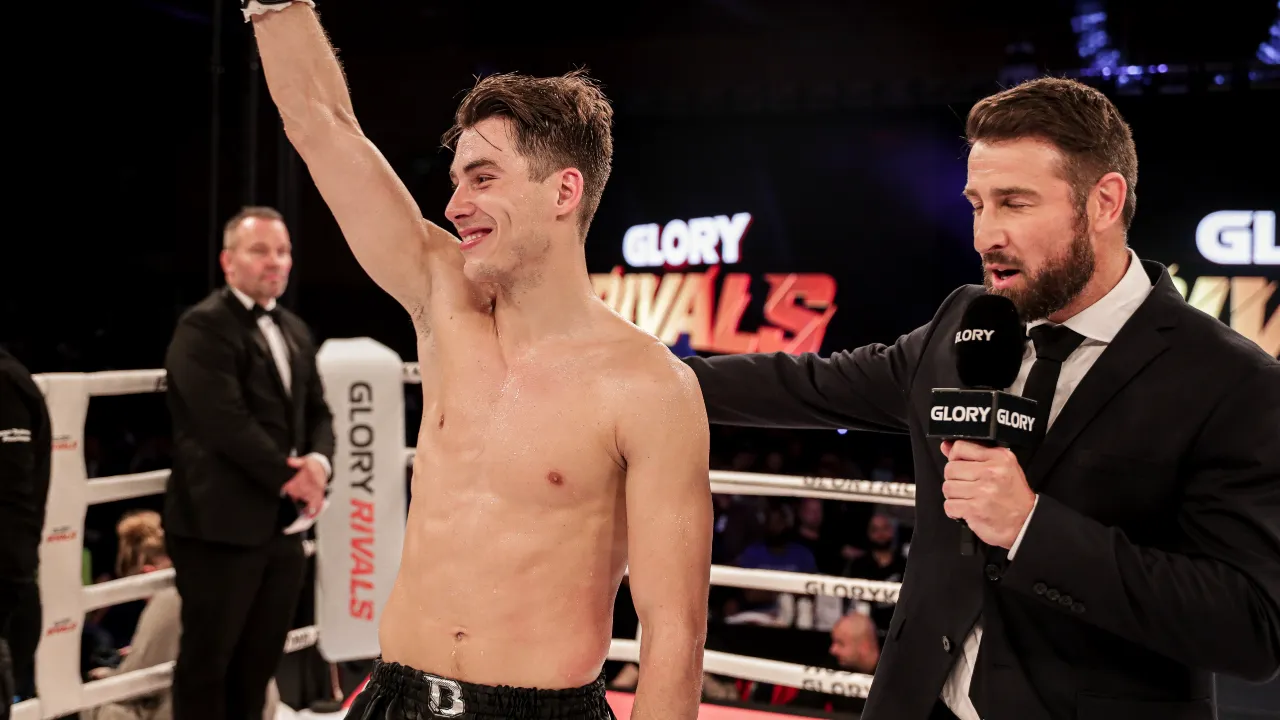 Jay is very young talented fighter. I don't know who I will be facing in the future.
Do you have another opponent you'd like to face in the division?I will fight with everyone who GLORY will give to me to fight. I am focussed on this fight first and will see later.
It is highly impressive how many fights you have between your pro and amateur records. At your age, how were you fighting so frequently?
My first coach declared me for all fights, and I used to have 10-12 amateur fights in 3 days! I also used to fight 12 professional fights a year.
You've fought in Russia, China, France, the Netherlands, Britain, and more. Fighting in different countries, is there a distinction, and do you prepare differently for different countries?
I prepare the same way everywhere, only if the fights are somewhere in Asia or America, where the time zone is different, then we prepare a little differently! And so all the same, we will also sharpen our skills. As Bruce Lee said: I am not afraid of someone who learns 10,000 different strikes. I fear the one who learns one strike 10,000 times.
What fighters were your biggest inspiration for entering kickboxing?
When I started training, I was inspired by K-1 fighters like Ernesto Hoost, Badr Hari, Buakaw, Albert Kraus. They gave me the motivation to fight.
Upcoming you might be holding a world championship and young fighters will be looking up to you, what advice would you give to those entering the sport?
I want to say to the youth, nothing is impossible, everything is possible, the main thing is to set goals for yourself and achieve it. Believe in yourself and keep moving forward.
What do you want your legacy in kickboxing to be?
I want to leave my name first for my people, for my loved ones, for my family, so that they are proud of me, and so that my name will help them in the future.
He's fought a lot internationally, which country or event was his favourite to fight in?
I like to fight at the GLORY tournament in the Netherlands, I won all my fights here! I am very comfortable!