Ahead of his upcoming fight with Takeru, we sat down with Bailey to talk fight camp, COVID training, and superstar ambitions.
We sat down with ISKA champion Bailey Sugden to talk fight camp, COVID training, and superstar ambitions ahead of his upcoming title bout against Takeru Segawa at Muay Thai Grand Prix on June 24.
Bailey is the current 63 KG ISKA belt holder and nine-fight veteran in GLORY's Featherweight division. He will be dropping down to 61.5 KG to battle for the vacant belt with former three-division K-1 champion Takeru.
"He's just a step on my journey."
---
Good morning Bailey, how're you doing? How was Tokyo?
Really good thanks – there was a lot to see. I was only there for two days, it was a bit of a mad rush to get there and get back… Altogether it was about 18 hours both ways. It was a really good time; press conference was enjoyable. It's a much different culture out there: different food, different people, very friendly place… It's different to where I'm from anyway!
Big fight, how are you feeling about it?
I'm excited, it's a massive opportunity. I feel like it's the perfect time: he's a big name, he's done a lot of great things for the sport, but at the same time he's coming towards the end of his career. I've been fighting at the world level since I was 19 in GLORY, it's not like I'm not used to this level of opposition… I'm fresher, I'm the younger fighter, I'm world champion now, just defended my belt, and I'm now moving down in weight to be a two-weight world champion.
I think a lot of people are seeing this fight as his fight, but in my eyes he's just a step on my journey. There's not much pressure on me really, he's expected to do all this stuff, I'm just using him as a stepping stone to creating my legacy.
"… they said: 'You're so lucky!' I said: I'm not lucky. I train three times a day! That's not luck, that's hard work. That's why I'm here."
---
You're from a fighting family, right, trained with your dad and brothers as a kid? Were you really invested in kickboxing from a young age?
Yeah, I've always wanted to be a fighter. I was two years old when my dad got the gym in Newark, sat down, and absorbed it as a kid before I could even get involved – and then since I was four I've been training.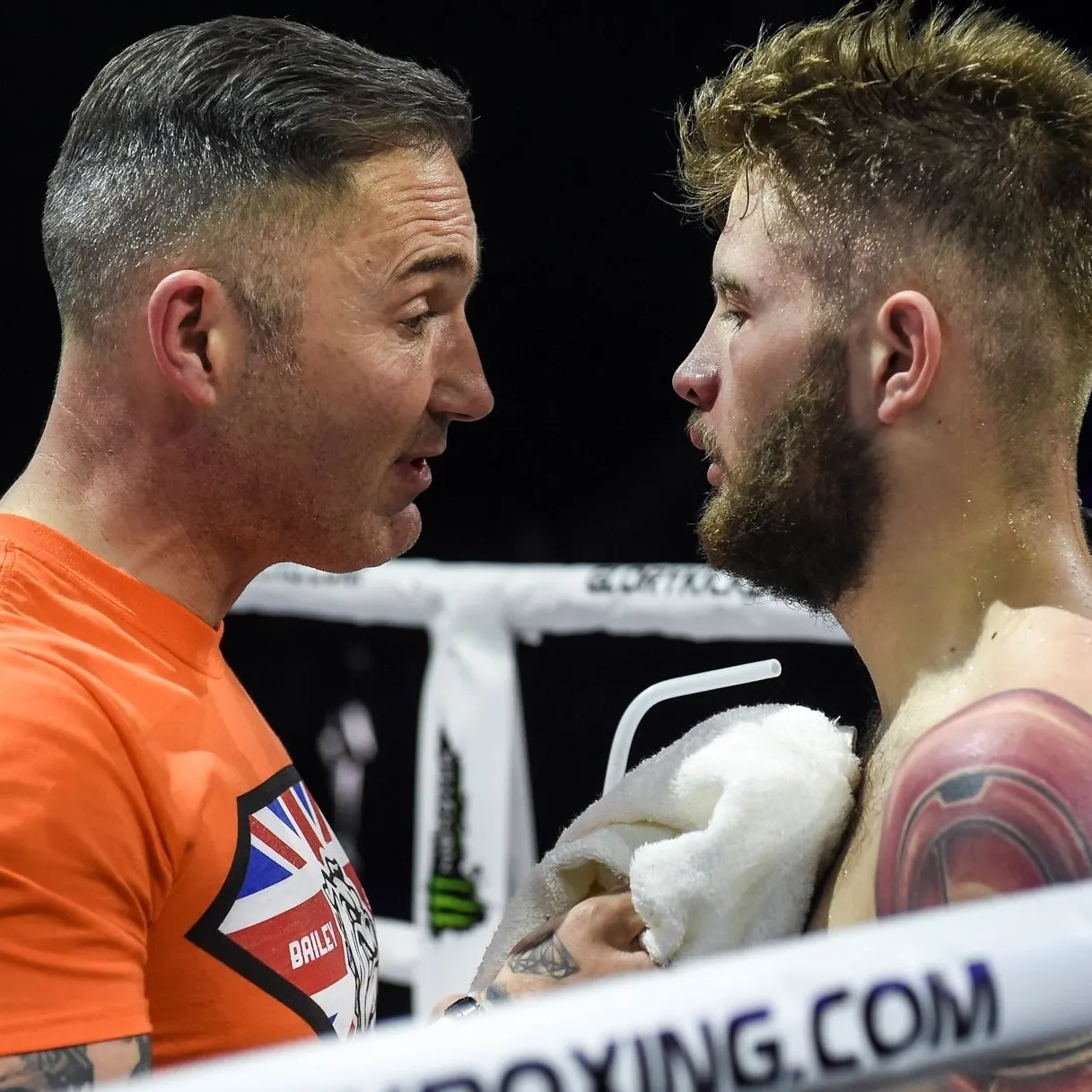 I never used to like the technical side. I used to want to spar, that was my thing: I just wanted to get in there and have a scrap. Now having come down the years, becoming a man, training to be a black belt, (I'm) doing it the right way – I'm much more disciplined in the sport now.
I can remember being in school on career day and the teachers ask you what you wanna be when you grow up, and I'm like – I wanna be a professional kickboxer. 'What if you can't do that?' Professional boxer. Or professional cage fighter. I've always known I wanted to be a fighter, from as long as I can remember. There's nothing else in the world that interests me really, other than fighting.
I bet a lot of people would envy that.
So many people focus on their grades as a kid, and that's what gets them their dream job – I was so focused on fighting, and that got me my dream job. I suppose it's two different types of studies. isn't it: the study for academic knowledge, and the study for practical knowledge in a martial art or in a trade. That's the only way you can become great at something.
I think a lot of people from the outside really underestimate how much goes into it [martial arts] – how much precision and experience you need to make any of it look good.
The camps as well: someone asked me the other day "Where are you fighting next?" I said Paris, and they said: 'You're so lucky!' I said: I'm not lucky. I train three times a day! That's not luck, that's hard work. That's why I'm here. It's not because of luck, not because of circumstance. I've put myself in a position where I'm able to do that. They don't just use anyone to fight people like Takeru. Years and years of hard work and dedication to get yourself to an opportunity – and now it's here, it's like: right, let's take it with both hands and take him out.
"It's hard not to be tough when you've got two older brothers who are fighters."
---
Can you tell me about that gym you came up in? What was that environment like as a little lad?
It was great! People are always telling me or referring to how tough I am, but it's hard not to be tough when you've got two older brothers who are fighters. I got to watch my dad become a world champion when I was five, and I got to watch my older brother Chad become an ISKA world champion when I was – I think – fourteen. He was the youngest-ever ISKA champion at nineteen years of age. Seeing that, and that being what I wanted to do – there's not much more you can ask for.
Inspiring!
Yeah! That's it – it runs in the family. Having two brothers that were ISKA world champions, and then your dad that was a world champion as well – doesn't happen all the time, doesn't happen every day.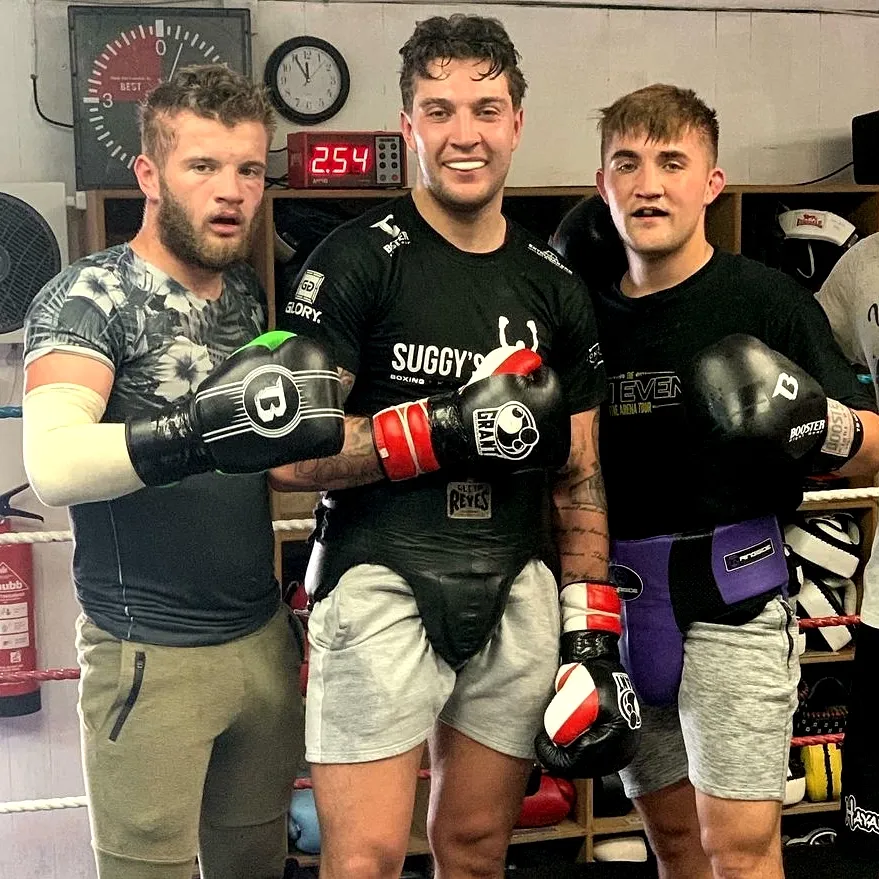 I know COVID made things difficult for a lot of gyms, but having your family as training partners sounds fantastic – and you've gone 3-1 since, only loss by majority decision. How was lockdown training for you?
The lockdown camp was good – I put a lot in during lockdown. We had so much time, and not really much to do – all there really was to do was training. Me and my dad spent a lot of time just me in the gym, hitting pads for hours and hours. Just refining technique. I did a lot of running – my fitness got a lot better during lockdown, I just had so much time on my hands, with no classes to teach. We even built an outdoor area at the gym. A lot of people wasted time during COVID, but we used it. For once we had time, so it was like "let's use it wisely – get some stuff done".
Traveling to the fight during COVID was tough, but the camp was great. We had to have three COVID tests before we left, then two while we were there, one before we got back, and then some when we got back as well… That was the only hindrance to it really. It was a good trip. It was good to just get a fight, really: my dad says "do you want to fight at 70kg in MMA gloves in Muay Thai rules?" I said yeah why not! Let's get a fight.
70kg! That's a big jump.
It was just one of those things: I've been out for 4, 5, 6 months. Let's get a fight. Someone needs [an opponent]: let's have something to concentrate on. And, look, yeah a majority decision loss, but it's not about the decision, it's always about the performance. It was a good performance overall. I think that fight is my highest viewed fight on youtube – it had nearly 300,000 views. I was buzzing about that, that's amazing.
COVID definitely did me a favour really – since COVID I've found another level to my game, another level to what I can do. And every fight since, I've been better and better. I'm trying to keep improving every time.
"Since I was younger I've always imagined being a millionaire through fighting. These are the sort of people you have to fight if that's your goal."
---
Good stuff man, something's obviously working. You've fought opponents from all over the world, but the Japanese scene is kind of it's own thing. How familiar were you with Takeru before this matchup was made?
I was pretty familiar with Takeru – The Match in 2022 was the biggest kickboxing fight, in my opinion, of all time. Huge: huge money involved, huge crowd involved. That's always been my dream. I was always working towards a fight with the likes of Takeru, or Tenshin – that's what I always wanted. People talk about ONE, and GLORY, but these guys are… Not another level in a technical sense, but in terms of their popularity, they're another level. There's no fighter, especially at this weight, who's as popular as those guys. It's always been a dream fight of mine, Takeru. I'm hoping to take out Takeru, then hopefully get a fight with Tenshin - but obviously he's gone to boxing now, and he's focusing on that.
I've always wanted those super fights. Since I was younger I've always imagined being a millionaire through fighting. These are the sort of people you have to fight if that's your goal.
Having watched him years back and imagined that fight, did you ever train specifically for that hypothetical match?
We've always thought the fight was potentially there, but we try to mainly focus on ourselves, if we can. The last guy I fought was really tall, 6ft, so I'm not gonna approach the camp that way – it was mainly punching up! Whereas Takeru is a tiny bit shorter than me, so the gameplan has to be slightly different.
As long as the best version of me turns up, I will beat Takeru. That's what I train for: I can't control what he does, I've no say in that. But I can make sure the best version of me turns up, the fittest version of me turns up, the strongest, the fastest – and as long as that version of me turns up, I'm coming out with the victory. So that's what I'm always focused on in my camp.
"If Tenshin can put him on his backside, I think I can do more."
---
Takeru is known for his power. Who do you think has been the hardest hitter you've faced so far, and what was that experience like?
Definitely the most powerful was Anvar Boynazarov. I fought him at GLORY 58 Chicago I think. I think I fought him when I was nineteen, and he'd had like 90 wins, 60 by knockout – something ridiculous like that. And that's at Featherweight! He's knocked out Fabio Pinca, one of the greats of Muay Thai… I remember him hitting me with a jumping knee in the first round, and if you watch the video back, you can't see that I was hurt. But in my head, I wasn't even in the room! I just remember getting kneed, standing strong, and then sort of waking back up and realising 'I'm still in a fight here… Better duck underneath some shots!' Certainly the hardest hitter. I can't think of anyone else who hit somewhat close to that hard. There's guys I haven't fought that look like they might hit harder – maybe like a Robin Van Roosmalen, he was a big guy when he was fighting.
Fridge of a man!
(Laughing) Yes! I think Takeru looks strong. But again, I'm gonna be one of the biggest guys he's fought. Originally I was fighting at 65 KG, now the champion at 63.5 KG, and now we're fighting at 61 KG for this ISKA world title. I'm gonna be one of the biggest people he's fought, definitely one of the strongest, but I'm also gonna give him problems with the speed as well. The question is more gonna be how does he deal with that? We've seen in his last fight with Tenshin he got sat down in the first round: I don't think Tenshin is that huge of a puncher. I think he's a great kicker, but I don't think his punches are that powerful. If Tenshin can put him on his backside, I think I can do more.
Yeah, you've got the weight, fast hands – should be a good one.
It's gonna be exciting, yeah!
I don't think it could possibly not be – you're both combination punchers, I see you coming together in the middle, and it being fireworks. I'm excited to see it!
Fireworks from the bell – until he goes!
It's been a pleasure mate – good luck in training!
Nice one, thank you very much Alex. Appreciate it.