"I've been working my entire life for this moment."
American Muay Thai fighter Eddie Abasolo is making his ONE Championship debut against Liam Nolan on November 19 in Singapore in a Lightweight Muay Thai match. Abasolo has recently won the WBC Muay Thai Nai Khanom Tom Challenge Belt, and Nolan is the current WBC World Middleweight Champion.
Abasolo considers fighting for ONE a "dream come true" and the "highlight of his career". There are many new factors at play for Abasolo - first time-fighting in a promotion with such a stacked roster, on as large of a broadcast, in Singapore.
"Once the mission's over, then I can throw up the confetti … I'm yet to prove my worth."
The American has garnered a large online following due to his unique style, showcasing agile Muay Thai sweeps and evasions along with boxing-style head movement, all with a relaxed swagger. Despite being a stylistic standout and pro fighter for almost 10 years, Abasolo still speaks like a work-in-progress student of the game.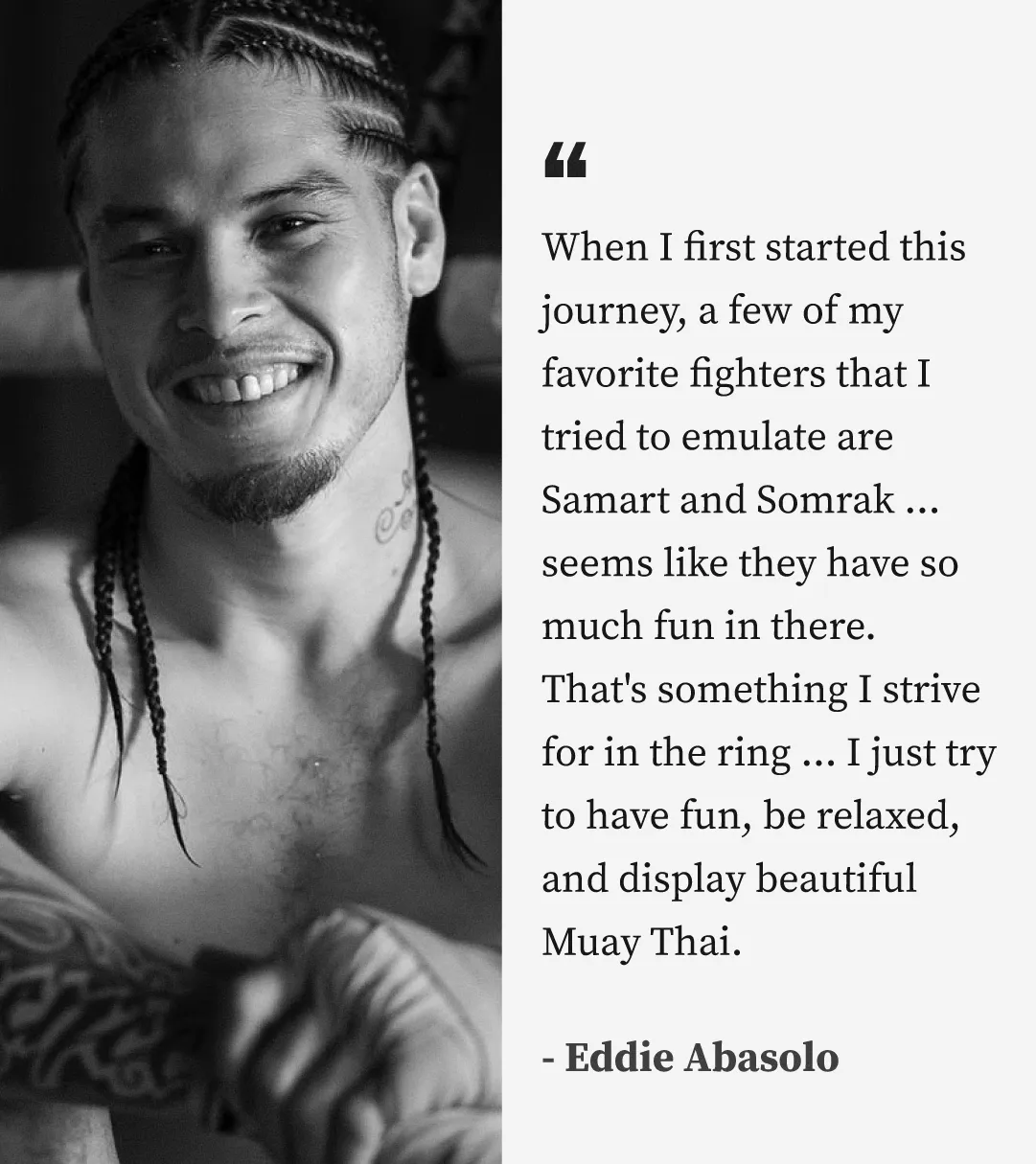 "I do a lot of play sparring … when I'm in the ring I try my best to treat it like play sparring, in an intense manner."
ONE Championship's ruleset for Muay Thai is different from most, but Eddie's not phased by the rule changes.
"I wouldn't be able to ride the ropes like I like to. The smaller gloves play a huge factor. But I try to find benefit no matter what the circumstances."
Abasolo has respect for his British opponent and appreciates the challenge, considering it's a step up in competition and a good measure of what to expect in ONE.
"He's very good at what he does - solid, well-balanced. It's a good test for me … The harder the opponent, the better me they'll bring out. So I'm looking forward to what he brings out of me."
His ONE debut is on top of his mind, and while Abasolo has thought about his career in ONE Championship past Prime Video 4, he's focused on the now. He briefly considered an MMA career, having previously planned a Bellator MMA debut in 2021.
"Ideally, I'd like to climb the ranks and become a ONE Championship title holder in my weight class in Muay Thai. It does excite me that there is MMA in case I decide to go that route because I do have a passion for it, but not like Muay Thai. That's where my heart is."
"I'm not thinking that far ahead [about future opponents]. First I'd like to experience fighting at ONE, with the small gloves, with the cage."
At 35, Abasolo has many responsibilities in his life – his family, fight career, and co-owning and coaching at Resistance Fitness Center, a gym in the Bay Area, California that opened during the start of the COVID pandemic. Eddie finds support and motivation from the new gym.
"It has its challenges, but I have a great team … they make sure I don't have to worry [about the gym] whenever I'm in fight camp … I fight for my family, for the love of Muay Thai, but also fighting for the gym that's my own, and everyone at the gym … I feel like I have a bigger army going in."
Eddie Abasolo has been training with former Golden Age 2-time Lumpinee Stadium champion, Jongsanan 'Woodenman' Fairtex. This has been another boon to Abasolo's fight career as of late.
"It's so exciting because he was one of the first fighters I ever came across when I first started Muay Thai … it's mind blowing, it's almost surreal. Instead of me wondering, 'Am I doing it right', I'm getting it from the goldmine itself. I'm like a new fighter. The thing I love most about Jongsanan is he's not a yes man. He constantly tells me all the time: 'This is how I would beat you', and we constantly work on those gaps, filling those holes. I have nothing but trust in him."
We circled back to Eddie's outlook on training and fighting, and he had some words for prospects and new fighters.
"Stay the course when things get rough, inevitably get rough … don't come into fighting with the idea that you're gonna make money. The money will come if you stay true to your passion. Fall in love with training, not fighting – that's the majority of our lives as fighters."