Nico Carrillo will be fighting for his second world title on November 12 against Alessio Malatesta.
Nico Carrillo was once the up-and-coming prospect taking the European Muay Thai scene by storm, but he has now grown into a serious threat to any 65 kg fighter or champion in the world.
Carrillo won his first world title on March 26th of 2021, when he fought Monteiro Almeida for the ISKA world title on the CFS promotion in London.
He is now chasing his second world title on November 12, when he will take on the Italian Alessio Malatesta for the WMO world title on the Supershowdown promotion in the UK.
When asked how he feels his style matches up with Malatesta, he stated "I think Alessio is far too slow, he's too one-dimensional too predictable. I think he's going to have an absolute nightmare in there with me."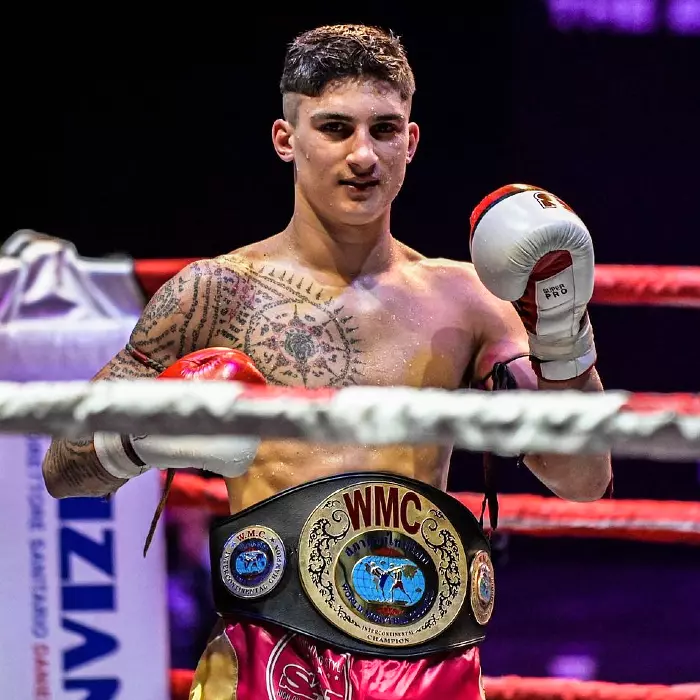 The Scottish fighter has claimed that this is his first camp ever training specifically to compete against a southpaw. He has said that he has only sparred with southpaw fighters this entire camp and that it was the only real major difference from his previous fight camps.
His official prediction for this fight when I asked him was "You can expect to see me become WMO world champion on November 12th, put all your money on it, it's a sure bet. I do believe Alessio is very tough, I've seen a lot of his fights and he is very durable, so a knock-out I'm not sure but a whitewash definitely."
Nico is now currently in the top 10 of his weight class throughout the world, and to get to this point, he has fought other dangerous prospects, champions, and legends alike. One of these legends – Saeksan Or Kwanmuang, a battle-tested veteran of the Thai stadium circuit, as well as a Rajadamnern stadium champion. This fight was surreal to watch as it was the up-and-coming farang proving himself against a true legend of the sport. This was a fight that Carrillo dominated from bell to bell, solidifying his place among the true greats of the sport.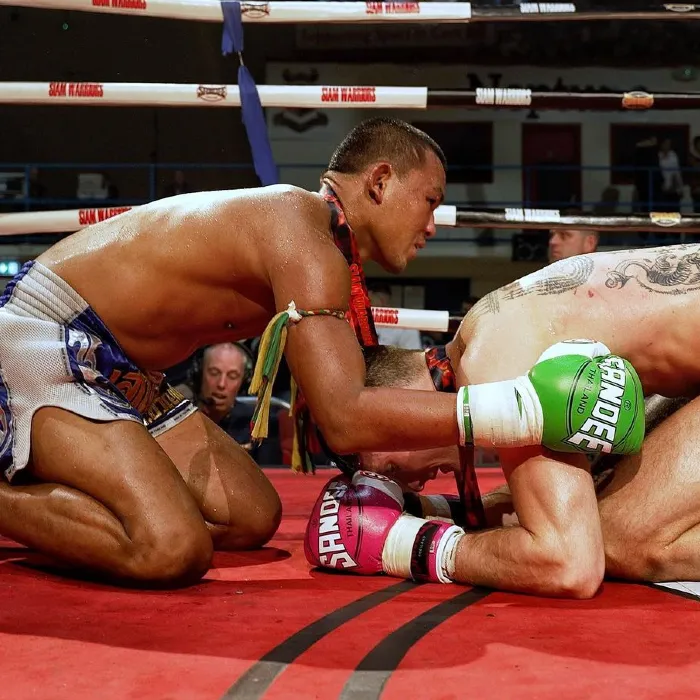 When asked about how it felt to be in the top 10 in the world, and the fight with the legendary Seksan, Nico replied "It feels good to be up there with the best. All I do is train and fight I don't ever really take the chance to sit back and appreciate what I've done on such short notice, but I won't do that either until I retire probably, it's just go go go. That was a big one fighting someone like Saeksan, and fighting someone like that proved to me that I belong with the best in the world, and I now know that for sure."
Next year, Nico is looking forward to competing in the premier promotion of ONE Championship. He will be thrown headfirst into the shark tank that is ONE's Bantamweight division, one of the most stacked divisions in the promotion with fighters like Nong-O Gaiyanghadao, Saemapetch Fairtex, and Rodlek Pk.Saenchaimuaythaigym. If anyone is prepared to take on this shark tank however, Nico Carrillo is that person, having a truly bulletproof mind. When asked about who he would like for his potential first opponent, Nico states "There isn't anyone in particular in ONE Championship that I'd like as a first fight, there is a few opponents I could see that would be an easy fight for my first fight, but I don't really want an easy fight for my first one. I'd like to get Rodlek or Kulabdam for my first fight and just go straight and hard."
When Nico was asked if there was any final statement he wanted to make before his fight on November 12, he confidently replied with "I really believe that I'm back. I'm back. The king is back."