The iconic Nak Muay who holds a win over Saenchai announced his retirement from fighting on social media.
One of the all-time great Thai fighters, Petchmorakot Petchyindee Academy, has decided to hang up the gloves at the age of 29 after a long and illustrious career.
In a Facebook post published on November 8, 2023, Petchmorakot expressed his gratitude to multiple people stating:
"I would like to hang up my gloves. I would like to thank Sia Nao, Sia Boat, Sia Bank MuayDed 789 and Uncle Mit as well. I thank you for everything. I have retired."
Petchmorakot is arguably one of the most accomplished Thai fighters of the modern era. He most recently competed in the Rajadamnern World Series (RWS) and was the kingpin of the ONE Championship Muay Thai Featherweight division, winning the belt and successfully defending it three times. Additionally, he boasts accomplishments as a two-division Lumpinee Stadium champion and WBC Muay Thai champion.
He was renowned for being an excellent tactician with devastatingly efficient knees and elbows, along with precise punches and heavy roundhouse kicks. The legendary fighter was also known to put on a show for the audience, smiling from ear to ear whenever he got the best of his opponents. Simply put, his fighting style was entertaining, playful, and effective.
His distinguished career consists of a winning record with 170 wins out of 208 fights. He has beaten other all-time greats in the sport such as Saenchai, Yodwicha Por Boonsit, Yodsanklai Fairtex, Petchboonchu FA Group, Seksan Or. Kwanmuang, Liam Harrison, and Petchpanomrung Kiatmoo9, to name a few. The Nak Muay even fought one of the greatest kickboxers of all time, Giorgio Petrosyan, and won a split decision under kickboxing rules – though it was controversially overturned to a no-contest by ONE Championship after the fight.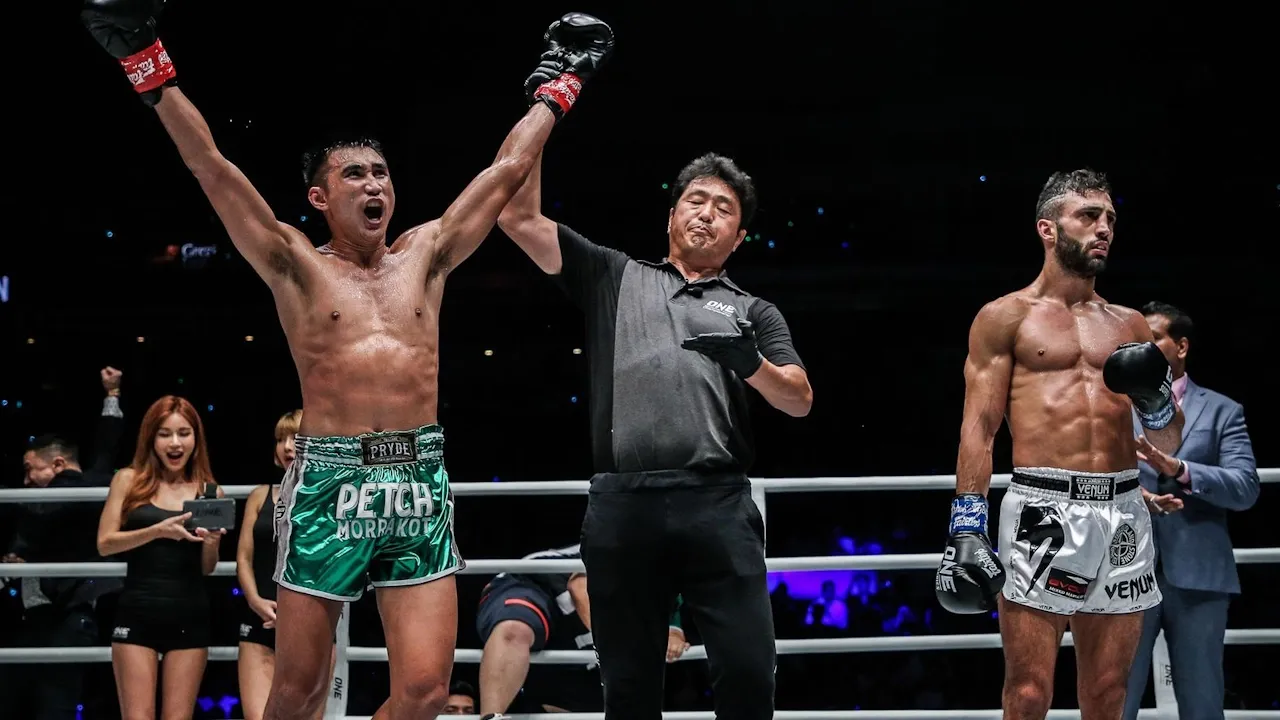 Petchmorakot's unanimous decision loss to Tawanchai PK Saenchai was also controversial as it caused Petchyindee promoter Sia Boat to part ways with ONE Championship. After the split between Petchyindee and ONE, Petchmorakot spent the last leg of his career fighting for RWS.
Despite losing his last bout against Thananchai Sitsongpeenong in RWS, he still had a dominant run in the promotion at 5 wins and 1 loss. Even towards the twilight of his career, it was evident that he was still one of the pound-for-pound best Nak Muay on the planet. Though not as well known, he also has an undefeated professional boxing career of 5-0, competing from 2020 to 2022.
As of the publishing of this article, Petchmorakot has not specified exactly why he has retired. No matter the reason, his legacy in the sport of Muay Thai is solidified.