Hari's storied 20-year career has come to an end following a loss to rival Alistair Overeem.
Morocco's 'Golden Boy' might have fought his last battle this Saturday. After suffering a unanimous decision loss to Alistair Overeem in the main event of COLLISION 4, Badr Hari was given the chance to speak to the majority Moroccan audience who came to the GelreDome to support their hero.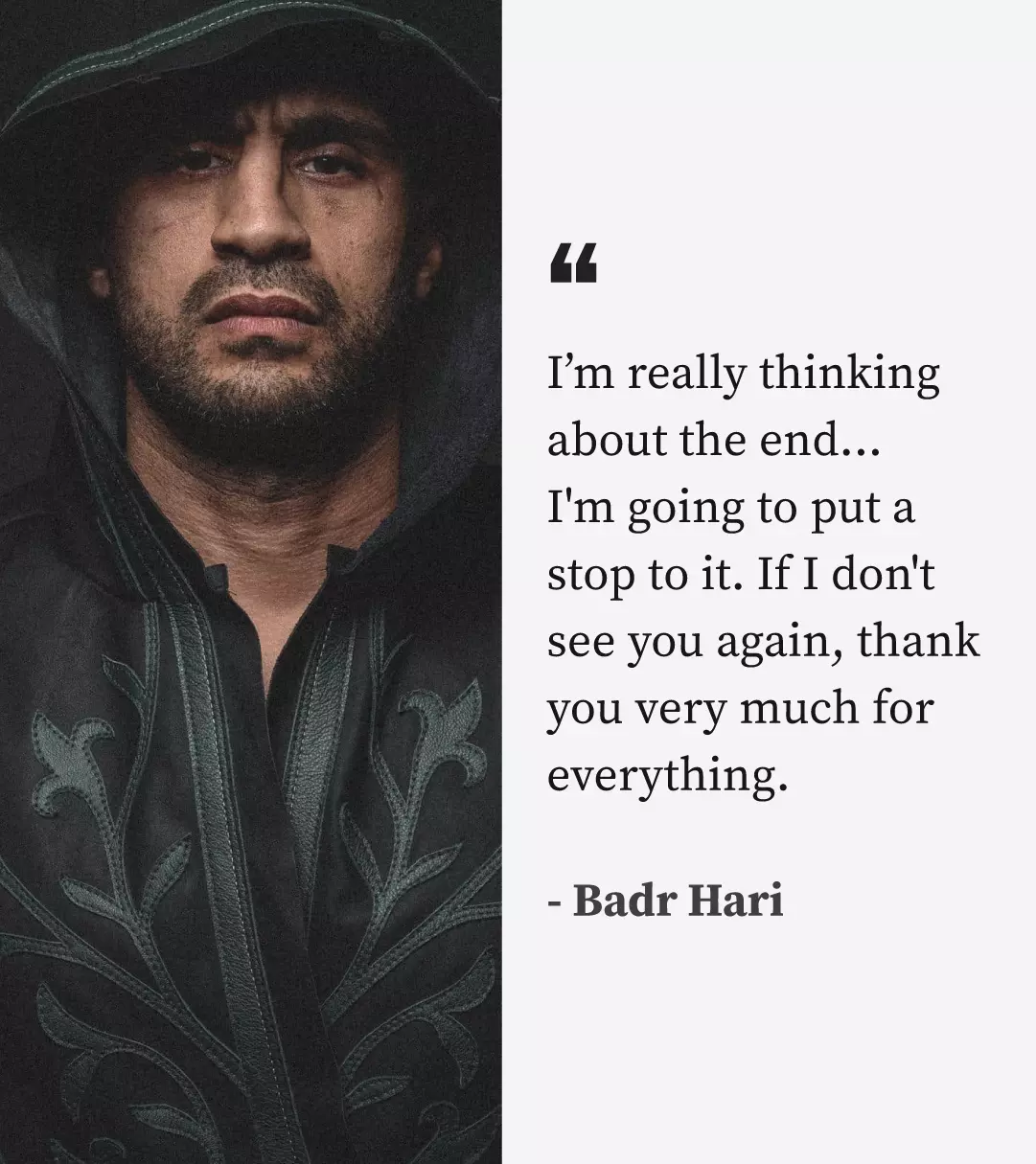 Hari made his professional debut two decades ago, competing mostly in the Dutch circuit, with occasional excursions to other parts of Europe. Three years later, Hari joined the Japan-based K-1 FEG, where he would make his name as one of the preeminent Heavyweights of his generation during a period that is now widely considered Kickboxing's Golden Age.
During his nine-year run with the promotion, Hari would capture the K-1 Heavyweight Championship with a first-round knockout of Yusuke Fujimoto and would make one successful title defense with a first-round knockout of Glaube Feitosa. He would twice finish as the runner-up in the K-1 World Grand Prix, suffering losses to Remy Bonjasky in the 2008 finals and to Semmy Schilt in the 2009 finals, both of which are considered all-time greats in their own regard.
While taking part in K-1 events, Hari likewise competed in "It's Showtime", where he was the Heavyweight Champion as well. His greatest achievement with the promotion, and perhaps the greatest achievement of his career, was a 45-second stoppage of the 4-time K-1 Grand Prix winner Semmy Schilt.
In the course of his time at K-1 and "It's Showtime", Hari took a number of notable scalps, as he was able to overcome the likes of Ruslan Karaev, Ray Sefo, Peter Aerts, Semmy Schilt and Alistair Overeem, among others. After the collapse of the K-1 FEG group, Hari once again began competing exclusively in Europe. The 'Bad Boy' amassed a 5-1 record before joining Glory, with his sole loss coming against the perennial top-ten Heavyweight Zabit Samedov.
Unfortunately for fans of Badr Hari, his luck quickly changed. He would suffer an injury in a non-title bout with Rico Verhoeven in late 2016. It would take him 15 months before he fought again and in his very first fight after coming back from injury, he was issued with a 19-month suspension for testing positive for PEDs in his fight with Hesdy Gerges.
At this point, it became evident to most fans that old age and years of competition were catching up to Hari, but he would nonetheless fight five more times during the next four years in an attempt to prove he still had what it takes to face the best. Despite being competitive in all of those bouts, he would still go on a five-fight winless streak, which ultimately convinced the Amsterdam native that enough was enough.
A controversial figure both inside and outside of the ring, Hari has given Kickboxing fans a number of entertaining fights and is responsible for bringing many news fans to the sport. Despite the poor run of form in his recent performances, he's still among the best Heavyweights to ever lace up the gloves.