The dream fight between the Muay Thai legends is going down on November 4.
The unforgiving art of bare-knuckle boxing returns to Pattaya this weekend, and two living legends will go toe-to-toe in a special bare-knuckle Muay Thai bout for BKFC Thailand 5: Buakaw vs. Saenchai on November 4. This meeting of fighting minds has been in the pipeline since October 2022, with BKFC's CEO – Dave Feldman – initially wanting to host the event back in March, in the Middle East. Over a year later it's finally happening, in Thailand, with a unique ruleset.
THE MAIN EVENT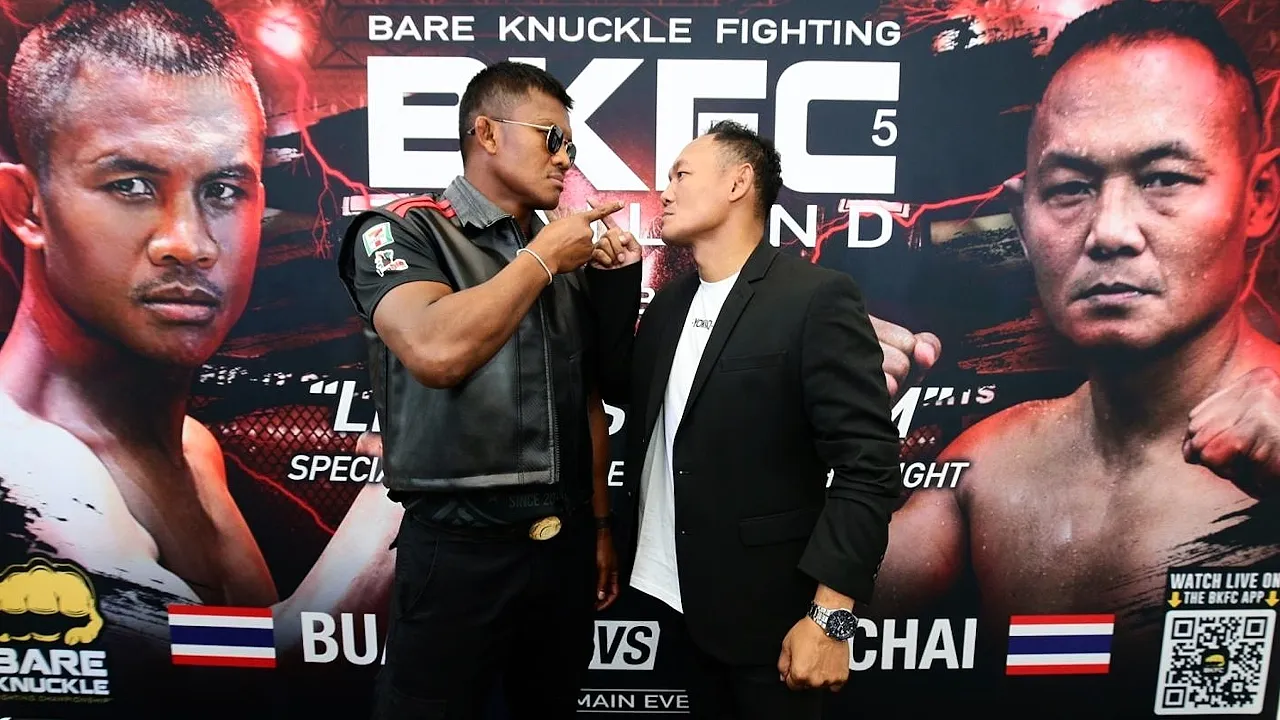 With 600 Muay Thai and kickboxing fights between them, Buakaw Banchamek and Saenchai are gods of their respective arts. A two-time winner of the prestigious K-1 World Max Championship, Buakaw is regarded as Thailand's greatest kickboxing export. He faces off against one of the best pound-for-pound Muay Thai practitioners of all time, the former multiple-weight Lumpinee Stadium champion, the GOAT himself: Saenchai.
Buakaw made his first appearance in BKFC last year, stopping Erkan Varol with ease in the first round. Saenchai looks set to make his debut in the promotion. The matchup has been the subject of many will-they-won't-they discussions since its announcement, with many critics quick to point out the fact that Buakaw and Saenchai are good friends, leading people to believe that the bout would be little more than an entertaining exhibition filled with the showboating antics we've come to expect from both fighters. BKFC Asia's CEO – Nick Chapman – was quick to put this idea to rest:
"The promotion was also concerned that Buakaw and Saenchai may be too friendly with each other. The two legends were offered a friendly exhibition match but they declined. Both said they want a fight and will be aiming for knockout wins."
To ensure action from both sides, BKFC are introducing a unique bare-knuckle Muay Thai ruleset for the occasion. Kicks, punches, knees, and elbows are allowed, but trips and sweeps are not. Defensive clinch is a no-go, but fighters can clinch for a maximum of three seconds if they are attacking. As with all other BKFC bouts, the fight will consist of five two-minute rounds, and there is no three-knockdown rule. In the event of a draw – as seen previously in the Mike Perry vs Michael 'Venom' Page fight – a sixth round will determine the winner. The fight will be contested at Lightweight (68.5 KG).
THE CARD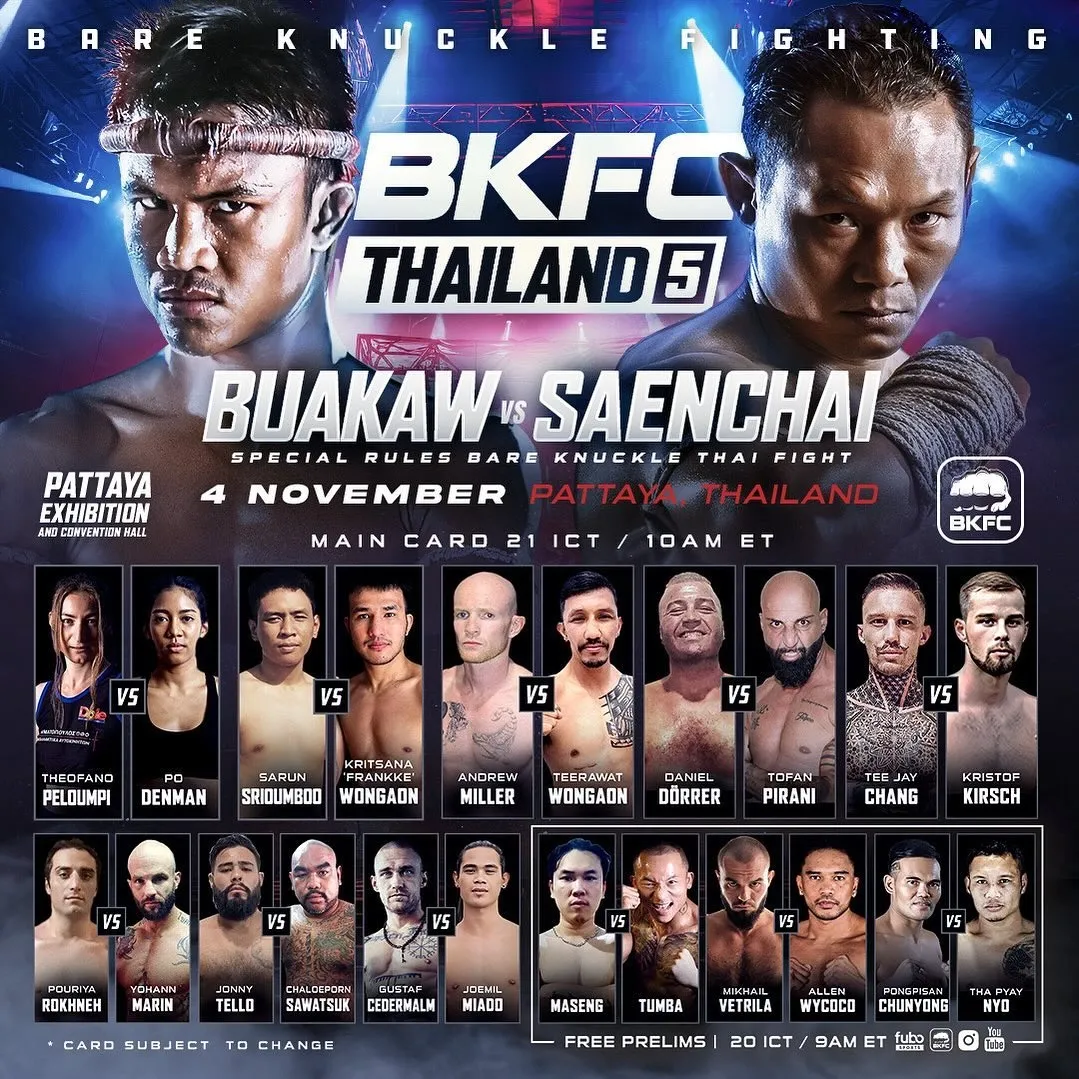 Women's Strawweight champion, Fani 'Warrior Princess' Peloumpi, will make the first defence of her BKFC title in the co-main event, as she takes on Chisakan 'Po Denman' Ariphipat. Peloumpi, a Greek Muay Thai veteran of over 100 fights, is no stranger to Thai pro-boxer Po Denman, as they fought to a majority draw in a boxing bout back in 2021. Both competitors are currently 1-0 in the promotion, with their wins coming via unanimous decision.
Thai fighters Sarun Srioumboo and Krisana Srisang face off at lightweight, as they each look to extend their BKFC record to 3-0. The UK's Thomas 'Tee Jay Chang' Newton welcomes German newcomer Kristof 'The Real Slim Shady' Kirsch to BKFC in a lightweight bout that's sure to be fireworks. Newton has a record that screams 'knock out or get knocked out', and Kirsch boasts a decent Muay Thai record.
Elsewhere on the card, Sweden's Gustaf Cedermalm takes on The Philippines' Joemil Miado at Lightweight, with both fighters attempting to capitalize on wins in their respective BKFC debuts. Canada's Jonny Tello is seeking revenge after losing his first BKFC fight to Boonsom Klinmee back in 2021 but faces a tough challenge in Chaloemporn Sawatsuk, a seasoned pro boxer from Thailand. This bout will be held at Cruiserweight.
HOW TO WATCH
BKFC Thailand 5 can be purchased as an official pay-per-view or through monthly subscription on FITE TV or BKFC Live. The event will start at 1 PM GMT on Saturday, November 4.
BKFC THAILAND 5 FIGHT CARD
---
MAIN CARD
Buakaw vs. Saenchai – Lightweight
Fani Peloumpi vs. Po Denman – Women's Strawweight
Krisana Sirsang vs. Sarun Srioumboo – Lightweight
Thomas Newton vs. Kristof Kirsch – Lightweight
Tofan Pirani vs. Daniel Dorrer –Cruiserweight
Andrew Miller vs. Teerawat Wongaon – Lightweight
Gustaf Cedermalm vs. Joemil Miado –Lightweight
Chaloemporn Sawatsuk vs. Jonny Tello – Cruiserweight
Pouriya Rokhneh vs. Yohann Marin – Cruiserweight
PRELIMINARY CARD
Pongpisan Chunyong vs. Tha Pyay Nyo – Lightweight
Mike Vertrila vs. Allen Wycoco – Middleweight
Sornchai Seng Maseng vs. Tumba – Featherweight