The two-time K-1 MAX champion is ready to take on the new generation.
Today, on April 13, additional fights for RIZIN 42 on May 6 have been announced during a press conference in Tokyo, Japan. The most surprising news of the day - two-time K-1 MAX champion Buakaw Banchamek makes his return to Japan. In a battle of old generation against new generation, he takes on former K-1 Super Lightweight (65 KG) champion Rukiya Anpo.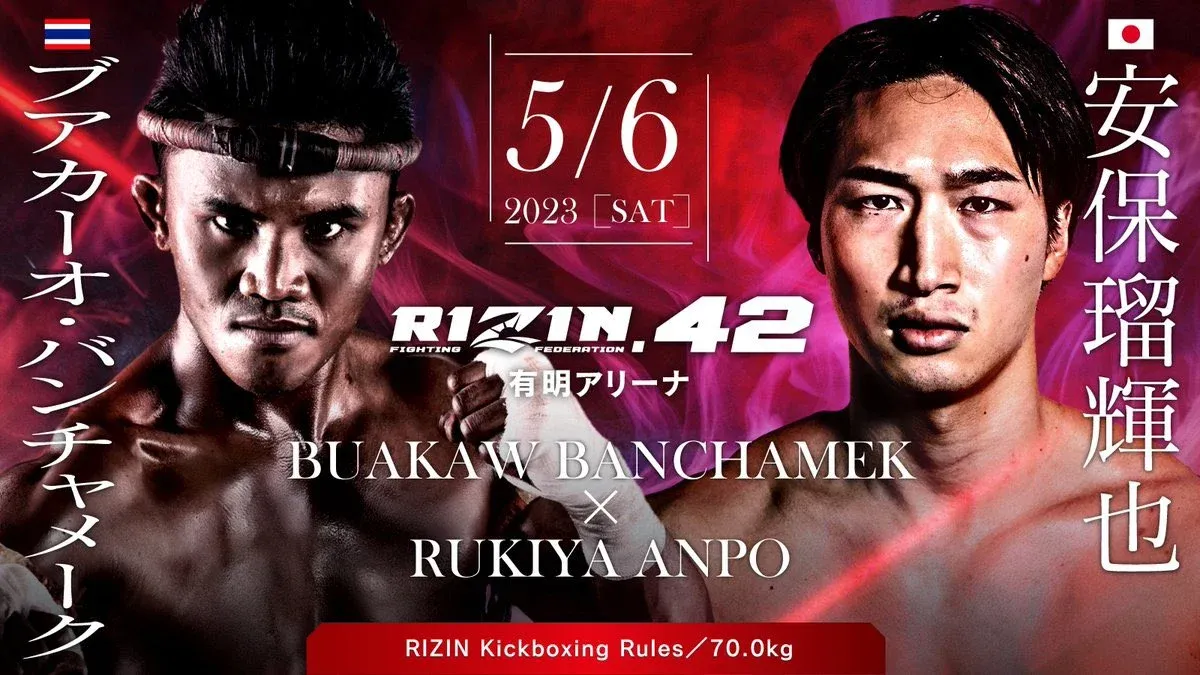 RIZIN president Nobuyuki Sakakibara explained his thought process of signing the Thai legend, "We have been approached by many talented kickboxers and we are at a point where we need to seriously consider what to do with them. We booked these kickboxing fights to test the waters for these new fighters. I flew to Thailand to meet with Buakaw. We're both under the same impression that we will be working together in a long run."
Rukiya Anpo has parted ways with K-1 at the start of the year, and since only returned once, beating up 47-year-old Heavyweight Cyril Abidi during an exhibition fight at Breaking Down 7. Many fans hoped the Japanese fighter would sign with another big promotion, and continue to face top-opposition once again. And while this might seem like a gimmick fight, the 40-year-old Buakaw is still actively competing, going undefeated in his last eight fights.
It is to question however, if Buakaw knows about the level of fighter he is about to face, "I have no impression of my opponent. The most important thing is to make sure my conditioning is on point for the fight."
Anpo has been one of the new K-1 mainstays, racking up quite possibly the best highlight-reel in the sport, culminating in him winning the prestigious K-1 belt in 2019 against another Thai great - Kaew Fairtex. "Buakaw is a legend. The first billboard you see when entering Thailand is him. But with that said, I need to knock him out and have him pass the torch. He will be surprised with my power."
Buakaw, 40, is confident that this won't be his only fight with RIZIN. "I'm glad to be back in Japan. I haven't fought here in a while but I'm excited to fight in RIZIN. I am confident in my victory. My plan is to work with RIZIN in a longer term and want to bring my young prospects to Japan. I feel that it is my duty for the next generation."
When asked if Buakaw would be interested in competing in MMA for the promotion, the Thai didn't seem to rule out the possibility, but said he'd prefer sticking to his roots. Anpo didn't have quite as many nice words for the reporter asking the question, "RIZIN is an MMA organization. I respect MMA fighters but it's not fun to watch. Two men hugging each other is not what people want to see. Asking Buakaw if he's interested in MMA is a dumb question."
Addtionally, K-1 veteran Yasuhiro Kido takes on upcoming fighter Sota "Cerberus" Kimura.
More updates on the fight card will follow soon.