A Super Featherweight title bout between Nakajima and Nishimoto will headline Krush 144.
At a press conference held today, K-1 announced that Krush Super Featherweight Champion Chihiro Nakajima would make his maiden title defense against Narufumi Nishimoto in the main event of Krush 144, which will take place on December 18.
A standout Kyokushin karate practitioner, Nakajima captured his first All Japan Youth title eleven years ago and went on to win four more titles across three different weight classes, competing as high as 90 kg (200 lbs) at his heaviest. After making his kickboxing debut three years ago and amassing a 3-2 record, Nakajima would secure the vacant Super Featherweight (60 kg) title with three consecutive victories in the Krush Super Featherweight tournament. His momentum was slowed somewhat as he lost to Yuki Kasahara at THE MATCH in June, but Nishimoto seems to be the perfect opponent for him to begin his next winning streak.
Nishimoto has spent 11 of his 24 professional fights competing under the promotional banner of K-1 and its' sister brand Krush and has won six of them. He's come up short against truly elite competitors like Yuto Shinohara or Taio Asahisa, but has been able to overcome all of his other opponents. Another notable feature of Nishimoto is his natural power, as 12 of his 14 victories have come by way of stoppage. Should Nakajima win, would definitively prove he's among the best at his weight. Should Nishimoto win, would prove he's more than just an elite gatekeeper.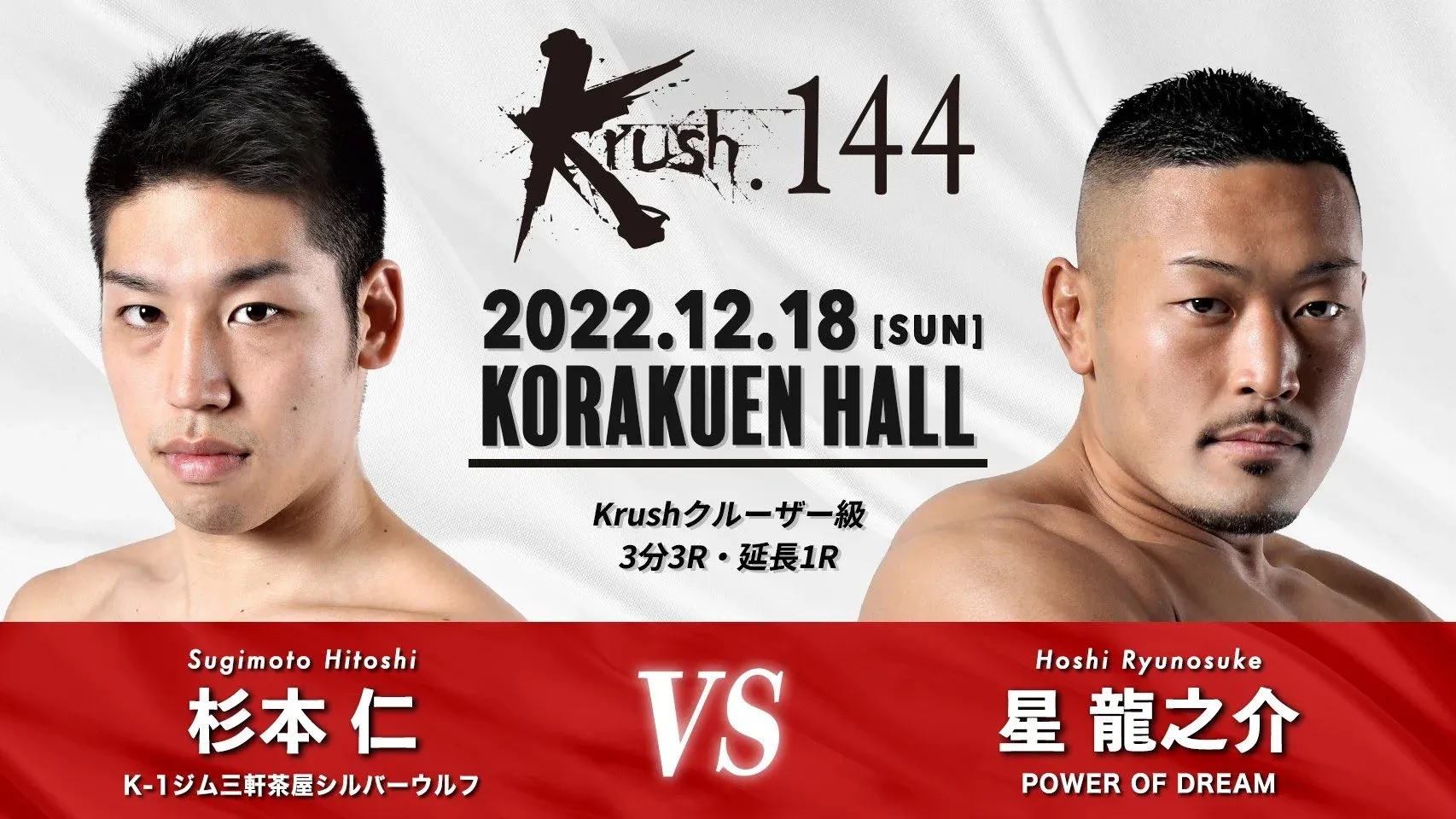 The two most notable fights on the undercard will be a cruiserweight bout between Ryunosuke Hoshi and Hitoshi Sugimoto, as well as a Featherweight bout between Rei Inagaki and Riku Morisaka.
Hoshi is another Kyokushin karate practitioner who has made the transition into kickboxing. He's made both of his professional appearances this year and has won both of them by stoppage, albeit against rather uninspiring opposition. Beating a solid opponent like Sugimoto (13-4-1) would set him apart as a prospect worth keeping an eye on. That aside, Cruiserweight fights are always fun to watch in K-1.
Rei Inagaki was seen as a somewhat promising prospect in the lower weight classes, although he's lost a bit of steam after suffering a decision loss to Takumi Terada in May. He's rebounded from his first pro loss with a second-round knockout of the one-time Krush featherweight title challenger Keito Okajima three months ago and will look to build another winning streak against Riku Morisaka. Morisaka (15-12-2) has been a K-1 and Krush staple for the past five years, with his two most noteworthy attributes being a lack of power and great durability. That said, he's currently on a three-fight winning streak and should prove to be a good test for Inagaki.
KRUSH 144 FIGHT CARD
---
60.0 kg: Chihiro Nakajima vs. Narufumi Nishimoto
60.0 kg: Naoki Yamamoto vs. Tetsuji Noda
57.5 kg: Riku Morisaka vs. Rei Inagaki
90.0 kg: Hitoshi Sugimoto vs. Ryunosuke Hoshi
62.5 kg: Shoya Suzuki vs. Kento Ito
57.5 kg: Yuta Hayashi vs. Ginji
52.0 kg: Yoshimi vs. Rikako Sakurai