COLLISION 4 promises a stacked card, and a return to form for GLORY.
Headlining the event is the highly anticipated trilogy fight between Kickboxing legends Badr Hari and Alistair Overeem. In a rematch over a decade in the making, Hari and Overeem will end their rivalry on the biggest stage in the sport after splitting first-round knockouts with each other during the late 2000s.
The Moroccan superstar had a rough run as of late, but has looked as dangerous as ever, and looks to prove he still has what it takes to challenge long-standing Champion and rival Rico Verhoeven for the title again.
Overeem on the other hand hasn't competed in Kickboxing for the better of a decade but has been a constant factor in UFC's Heavyweight division. The Dutchman has reunited with his old coach Cor Hemmers for this fight camp. The two worked together ahead of his K-1 Grand Prix win in 2010, arguably the greatest accomplishment in the 42-year-old's career.
THE FIGHTS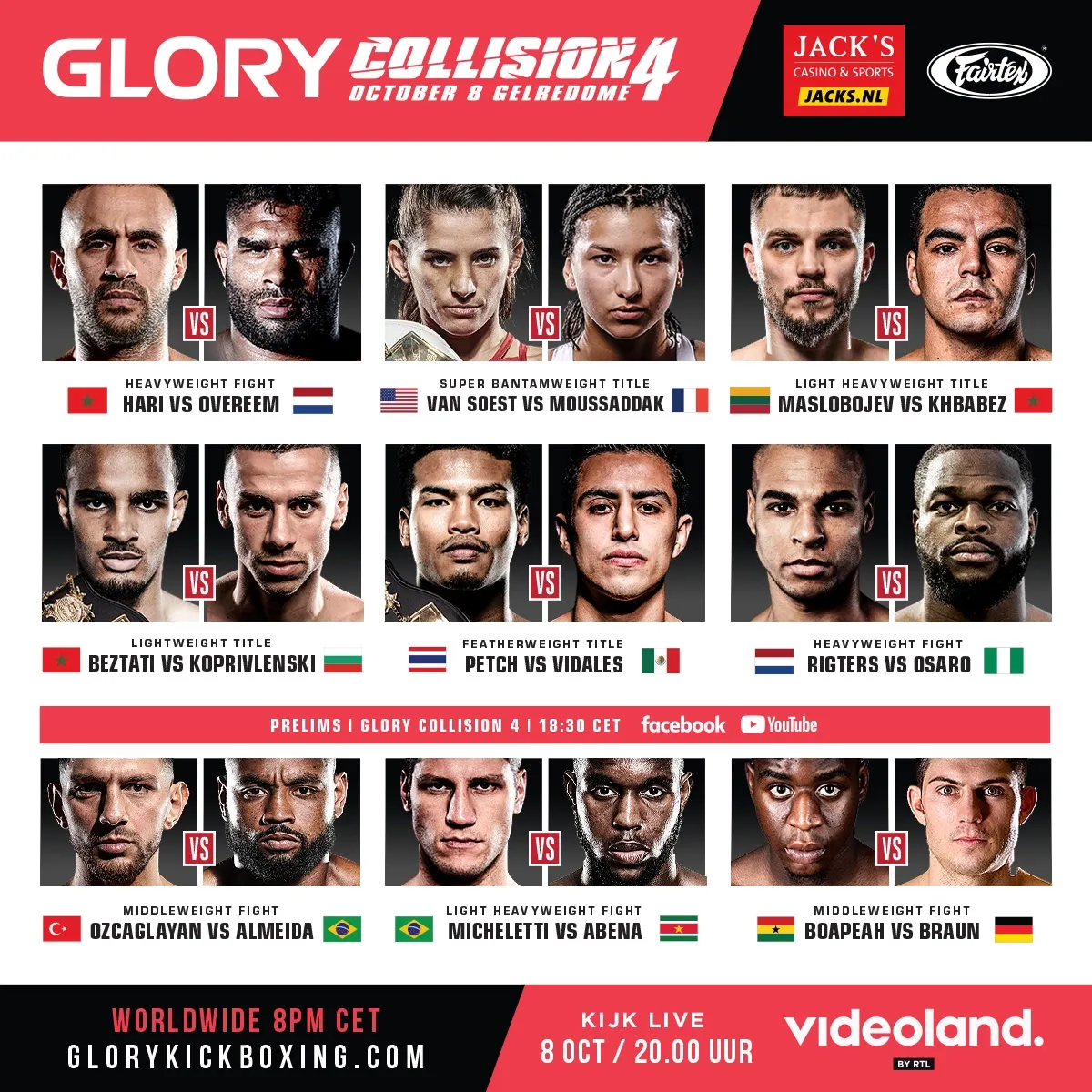 Super Bantamweight Champion Tiffany Van Soest will be back in action after a dominant defense of her title last March at GLORY 80. She will square off against Sarah Moussaddak, a 22-year-old rising star who impressed during her first three GLORY appearances.
After the departure of Artem Vakhitov from the promotion, a new Light Heavyweight Champion will be crowned as Sergej Maslobojev and Tarik Khbabez battle for the division's vacant title. Maslobojev will enter the contest as the third-ranked Light Heavyweight contender and a winner of three straight bouts inside the GLORY ring. Meanwhile, the bout will mark the Light Heavyweight debut for Khbabez, who drops down to the weight-class after an unfortunate run at heavyweight.
Lightweight Champion Tyjani Beztati will eye his second title defense as he faces the division's top-ranked contender in Stoyan Koprivlenski. The two have battled each other twice before, with Koprivlenski earning a decision win at GLORY 49, and Beztati returning the favor at GLORY 62.
The event will also mark the return of Featherweight Champion Petchpanomrung, who will make his first appearance inside the GLORY ring since February of 2020. The Thai has competed twice in RISE in the meantime, winning the RISE World Super Lightweight Championship against tricky contender Kento Haraguchi. Petchpanomrung looks to add a fourth defense of the Featherweight Title to his resume against Abraham Vidales, who has begun with GLORY career with four wins in five fights.
Rounding out the main card, third-ranked heavyweight contender Levi Rigters will face off against Tariq Osaro. After debuting in December 2020, Rigters has earned three knockout victories and catapulted himself towards the top of the division. He will look to keep his momentum going against Osaro, who scored a knockout win himself in his GLORY debut last May.
COLLISION 4 will begin with three preliminary bouts. Headlining the prelims, top-ranked middleweight contender Serkan Ozcaglayan will meet the fourth-ranked Cesar Almeida in a bout with title implications on the line. Plus, top-five Light Heavyweights Felipe Micheletti and Donegi Abena will clash hoping to make a case for a shot at their division's title as well. A Middleweight bout between Michael Boapeah and Sergej Braun will also be featured in the prelims.
HOW TO WATCH
COLLISION 4 will stream live on Videoland in the Netherlands at 20:00 CET. See below for more information on how to watch in your country.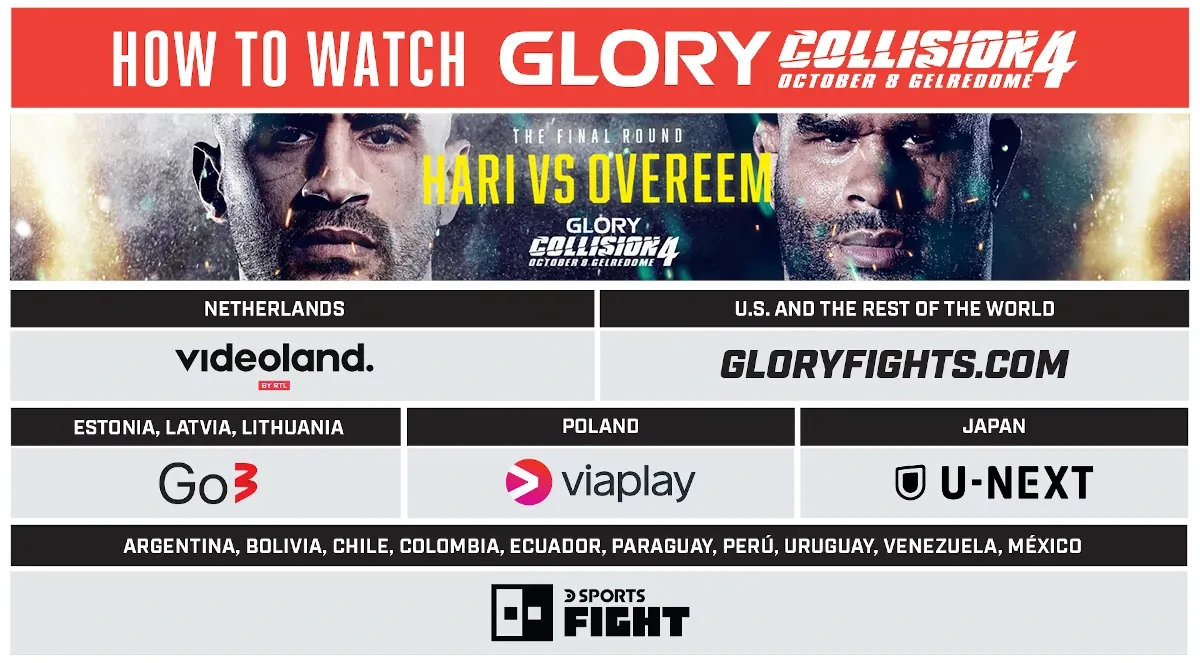 If your country or region is not listed above, you can watch COLLISION 4 on gloryfights.com by purchasing the official pay-per-view for $14.99.