One final run, this time in Kickboxing.
GLORY: COLLISION 4 took place on October 8, 2022 at the GeleDome in Arnhem, Netherlands.
Alistair Overeem made his return to the Kickboxing ring for the first time since his stunning K-1 World Grand Prix win in 2010. Fighting in front of 15.000 people in a sold-out arena, the two Dutch superstars looked to end their trilogy decisively.
Going for a more MMA than Kickboxing approach to movement, the 42-year-old came out in a low stance, swinging wide at weird angles. The Moroccan fighter looked more composed out of the gate, throwing aggressively and landing the more significant shots throughout the first six minutes. Despite almost going down in the second, Hari was up two rounds with Overeem slowly marching forward and trying to outmuscle his younger opponent. The tactic seemed to pay off, as Hari was noticeable more sluggish and slow in the third. This gave Overeem the opportunity to pick up the pace and land a flurry of heavy punches, knocking Hari down twice, earning himself a 10-7 score for the round and taking home a hard-earned decision win.
Following his victory, Overeem started declaring himself the GLORY Champion, provoking the ringside sitting Rico Verhoeven, who quickly made his way into the ring.
In the co-main event, Tiffany Van Soest defended her Super Bantamweight Title, defeating Sarah Moussaddak by unanimous decision. Not without controversy, however, as many fans thought that Moussaddak had the edge, landing more noteworthy shots throughout the five rounds. To no surprise, the Moroccan-filled arena wasn't too happy with the judge's decision and made sure the perplexed Van Soest knows.
Sergej Maslobojev earned the vacant Light Heavyweight Title by defeating Tarik Khbabaez via split decision in a back-and-forth war.
Tyjani Beztati and Petchpanomrung defended their Lightweight and Featherweight titles respectively, with Beztati winning by split decision, and Petchpanomrung winning by unanimous decision.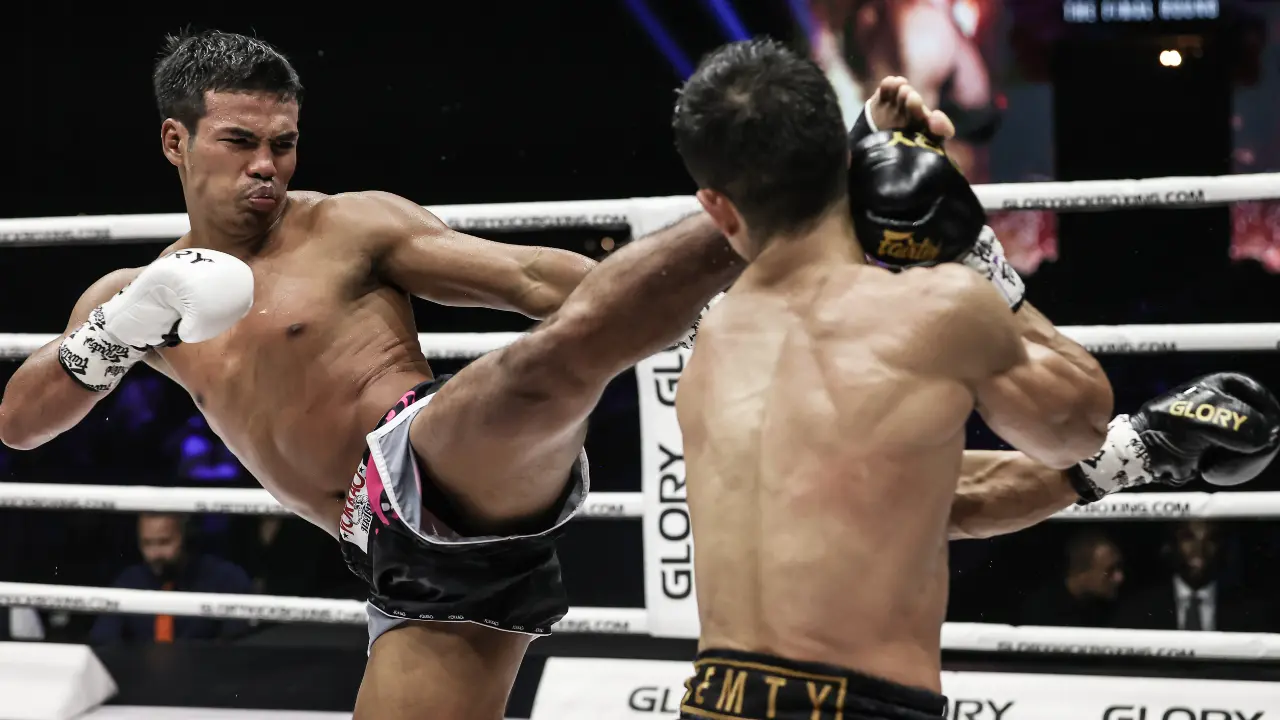 COLLISION 4 RESULTS
---
Alistair Overeem def. Badr Hari via unanimous decision (29-26, 28-27, 28-27, 28-27, 28-27)
Tiffany van Soest def. Sarah Moussaddak via unanimous decision (48-47, 48-47, 48-47, 48-47, 49-46)
Sergej Maslobojev vs. Tarik Khbabez via split decision (47-48, 48-47, 46-49, 48-47, 48-47)
Tyjani Beztati def. Stoyan Koprivlenski via split decision (48-47, 47-48, 49-46, 49-46, 48-47)
Petchpanomrung def. Abraham Vidales via unanimous decision (49-46, 50-45, 50-45, 50-45, 50-45)
Levi Rigters def. Tariq Osaro via unanimous decision (29-28, 29-28, 29-28, 29-28, 29-28)
Cesar Almeida def. Serkan Ozcaglayan via unanimous decision (29-26, 29-26, 29-26, 29-26, 29-26)
Donegi Abena def. Felipe Micheletti via unanimous decision (30-27, 30-27, 30-27, 30-27, 30-27)
Sergej Braun def. Michael Boapeah via majority decision (28-28, 28-28, 29-27, 29-27, 30-26)