An electric night at the Rotterdam Ahoy comes to an end with a massive upset.
Tonight on June 17, GLORY Kickboxing hosted GLORY: COLLISION 5, live from the sold out Rotterdam Ahoy in Rotterdam, Netherlands. The event featured four title fights.
HIGHLIGHTS
Kevin Tariq Osaro def. Antonio Plazibat – Tariq Osaro put on a performance of a lifetime beating top Heavyweight contender Antonio Plazibat in front of a majority Croatian crowd.
The Nigerian fighter opened up the fight on the outside, trying to evade Plazibat's early pressure while keeping his range with kicks. Even in the pocket, Osara did exceptionally well countering Plazibat's looping shots with deceptively sharp check hooks.
Not quite as sharp in evading Plazibat's bombs was referee Edward Strijkert, who ate a huge overhand right while separating the two giants in between rounds. Strijkert displayed Rodtang-esque qualities popping right back up but had to be replaced in the following rounds.
As the fight went on the usually aggressive Plazibat faded, as if something was wrong, and 'Cookie' took over, landing flurry after flurry. In the final round, just as it looked like Osara would settle for a decision win, he unloaded with a final combination sending Plazibat to the canvas.
After the fight, Plazibat stated that he broke his left arm early in the fight.
Donovan Wisse def. Serkan Özçağlayan – Reigning Middleweight champion Donovan Wisse showcased his most dominant performance to date. The explosive Serkan Özçağlayan had success early in the fight, but Wisse's composure, technique, and more well-rounded game came through, making this an easy 50-45 scorecard for all judges ringside.
Endy Semeleer def. Jay Overmeer – The second fight between Endy Semeleer against Jay Overmeer ended in controversy, as many fans thought the rising Dutch star should have gotten the nod. While close, all striking stats hinted at a lead for Overmeer, who seemed the more proactive fighter of the two. Despite that, the scorecards portrayed a dominant sweep, with two of the five judges scoring all rounds for the defending champion.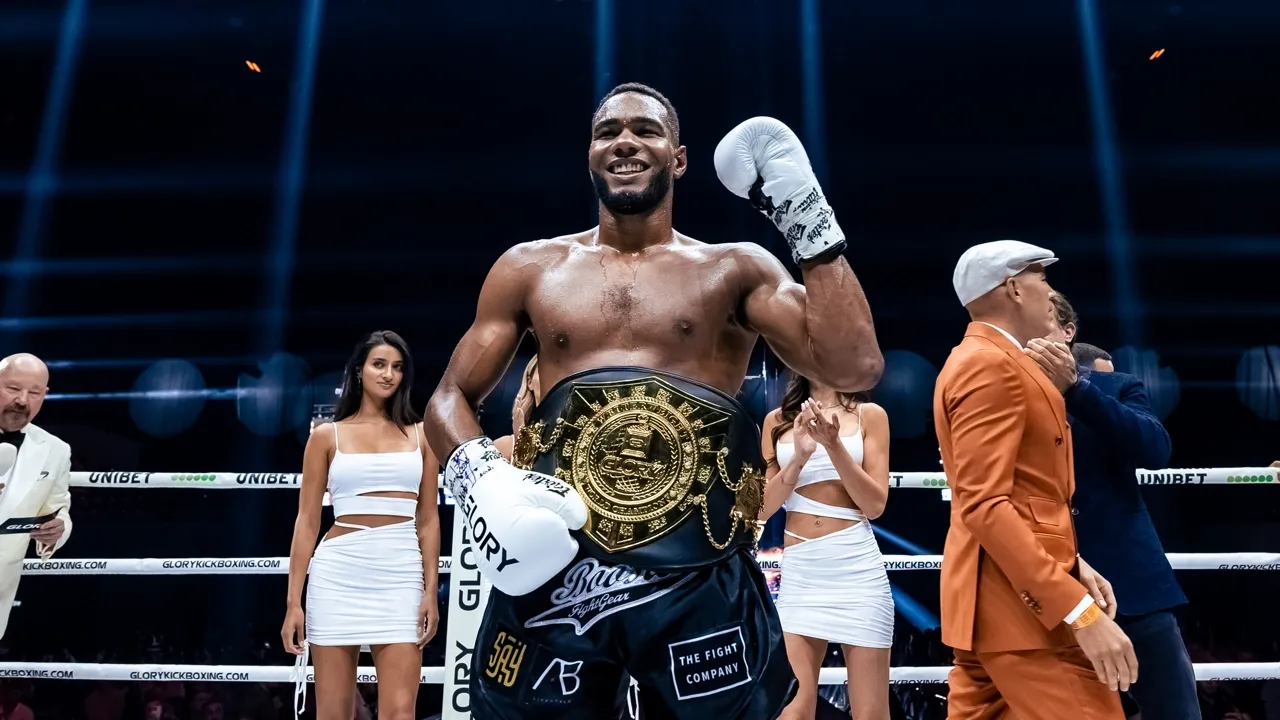 Michael Boapeah def. Ulric Bokeme – Bad night in the office for Ulric Bokeme. After the fighter took a right hand from Ghanaian heavy-hitter Michael Boapeah, he turned around and signaled to his corner that something is wrong. After a quick check, the referee immediately waved off the fight and Bokeme revealed the gruesome injury – his entire front row of teeth has been knocked out.
COLLISION 5 RESULTS
---
MAIN CARD
Kevin Tariq Osaro def. Antonio Plazibat – KO at 2:08 in R5 – Interim GLORY Heavyweight Title
Tarik Khbabez def. Mohamed Amine – KO at 2:02 in R4 – Interim GLORY Light Heavyweight Title
Donovan Wisse def. Serkan Özçağlayan – Unanimous Decision – GLORY Middleweight Title
Endy Semeleer def. Jay Overmeer – Unanimous Decision – GLORY Welterweight Title
Ibrahim El Bouni def. Felipe Micheletti – Unanimous Decision
Michael Boapeah def. Ulric Bokeme – TKO at 2:08 in R1
PRELIMS
Nabil Khachab def. Vladimir Toktasynov – Unanimous Decision
Diaguely Camara def. Eduard Gafencu – TKO at 2:24 of R2
Andrei Kedves def. Mareks Pelcis – Unanimous Decision