Mohamed Amine steps in as a late replacement for Donegi Abena. The Surinames fighter had to withdraw due to illness. The title bout has been turned into an interim title belt.
Mohamed Amine steps in as a late replacement for Donegi Abena. The Surinames fighter had to withdraw due to illness. The fight was originally scheduled to have the Light Heavyweight title on the line. Now that the champion has fallen out of the card, this has been changed to an interim title bout.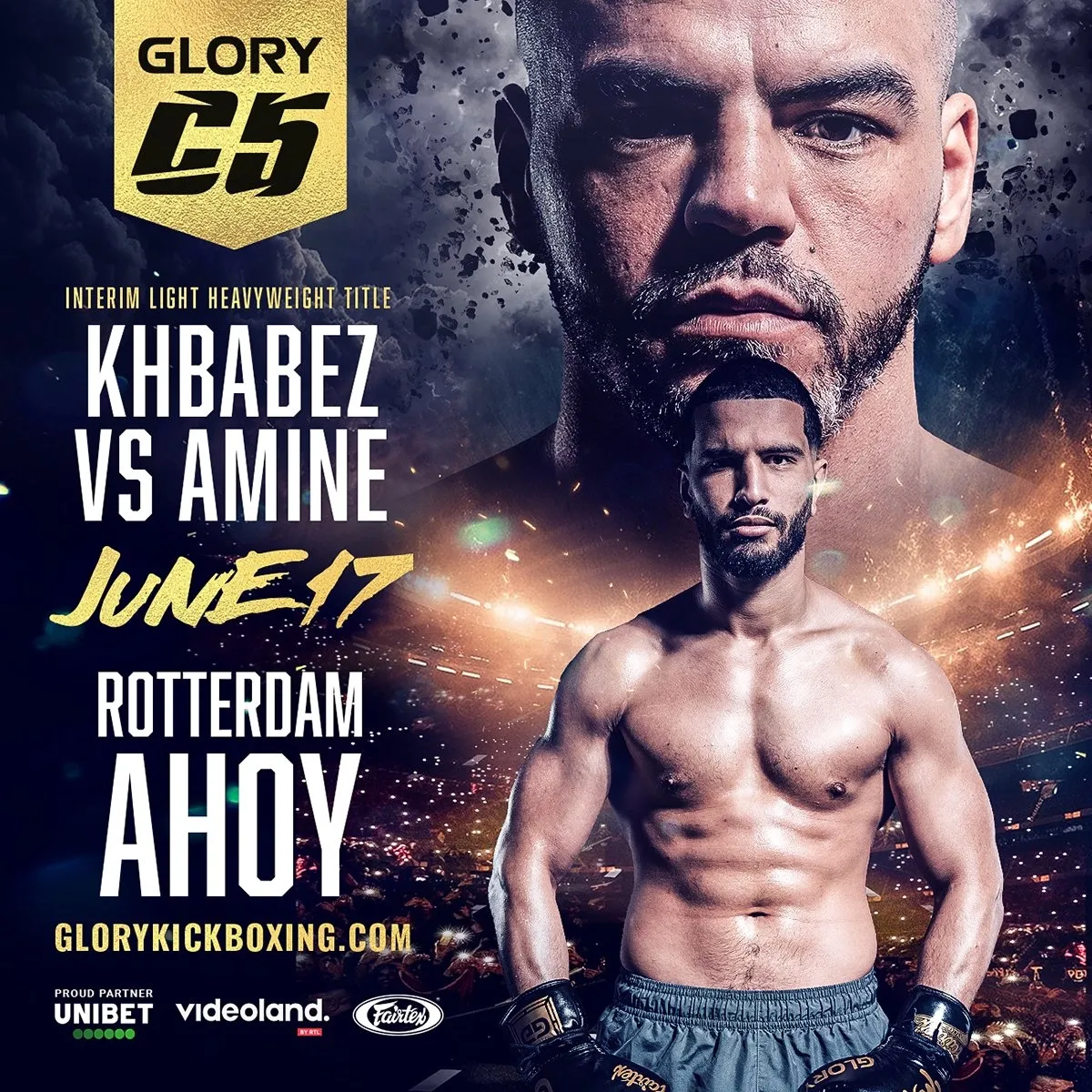 After the news broke out 'Momine' went on Instagram and offered to take up the fight instead. His story got picked up by the media and was well-received by the audience. Robbie Timmers noticed the uproar it created and acted quickly. Within 12 hours after the fight was canceled, Mohamed Amine was presented as the replacement.
Amine made his promotional debut less than two months ago when he beat GLORY veteran Michael Duut. The opportunity to fight for the interim title will come to many as a surprise. Amine had surgery on a torn tendon in his hand immediately after the Duut fight. The Mike's gym fighter injured his hand in preparation for his MMA fight in PFL Europe on March 25 and carried the injury into GLORY 85. To Dutch fight news platform 'maineventnl' he told that so far, he has only been able to train twice using his hand.
The news of the fight being cancelled broke out yesterday evening after Tarik Khbabez's gym ARJ trainingen brought out a statement. In a heartfelt post, they announced Donegi Abena had sustained a food poisoning and was not able to fight June 15. It is still unclear what exactly happened since Abena has yet to make a statement on this.
The team doesn't seem to be convinced by this excuse however, as they stated, "In our opinion this story sucks… Donegi in his preparation to defend his title, is traveling from Surinam to Thailand without his team, how serious should we take all this?".
An even more concerning piece of news for kickboxing fans is how this will affect Khbabez's desire to remain in the sport, as the gym further wrote: "He seriously is thinking what the use of all this is, is there still a future for him in kickboxing or maybe he needs to take the possibilities about other disciplines he has been exploring already for a while more serious".
Khbabez who already expressed earlier in Remy Bonjasky's talk show 'Warrior Code' that he felt frustrated that since joining GLORY he didn't have one fight without replacements or having to step in late himself.
One can hope that with the interim title up for grabs, he changed his mind and fully dedicates himself to the sport again.