GLORY delivers a promising card for their return to Essen, Germany on May 27.
After slowing down during the pandemic, the Welterweight division finally got around to sorting itself out over the course of the past year and might now be the best division in GLORY. The champion Endy Semeleer has his next assignment in the form of Murhtel Groenhart, Jay Overeem looks set to take on the winner of that bout and the promotion has already booked their No. 4 ranked contender Robin Ciric and their No. 6 ranked contender Chico Kwasi. The winner of that contest might reasonably expect to find themselves in a title eliminator against the likes of Alim Nabiev or the loser of Semeleer against Groenhart in the near future.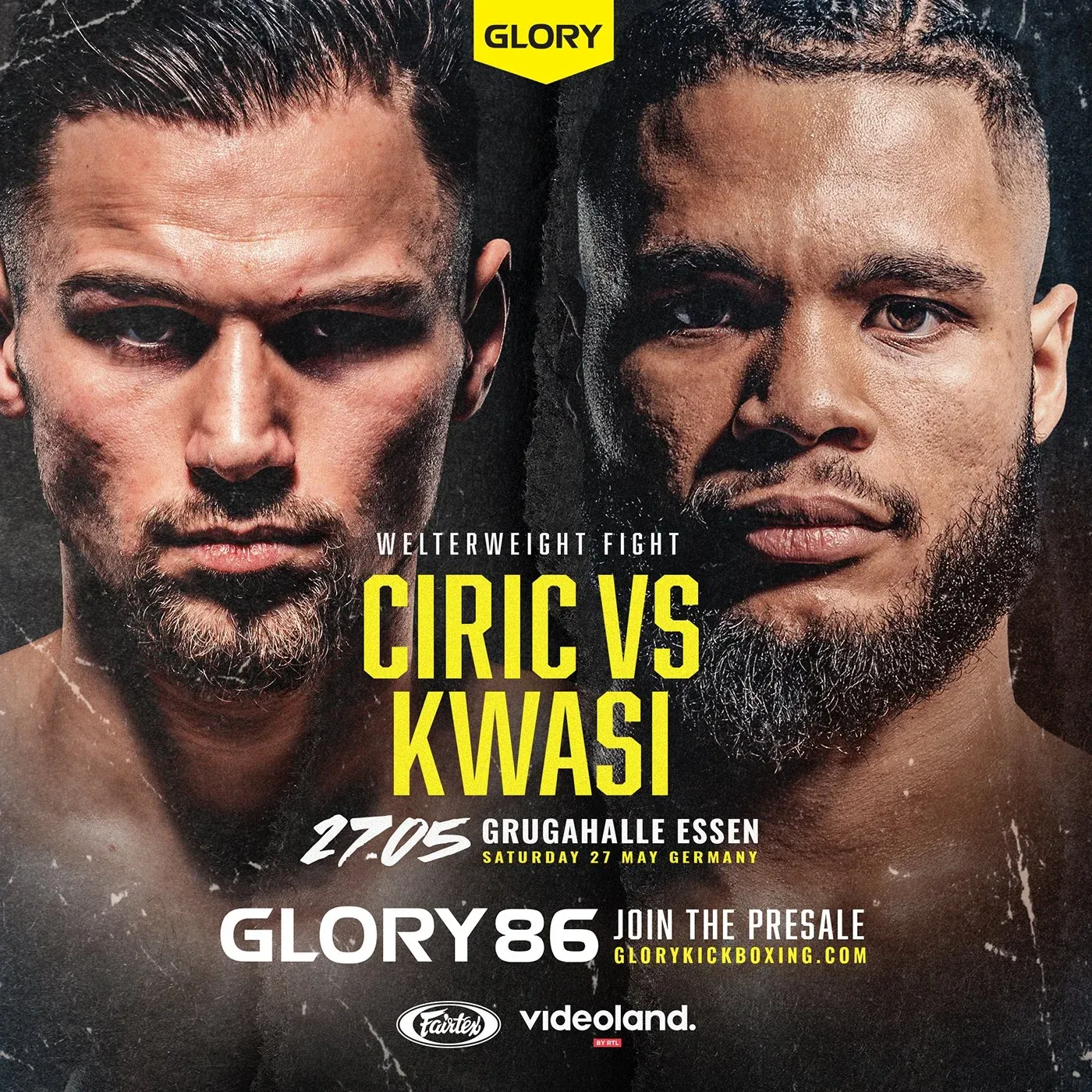 Kwasi in particular is on a career-best run, with seven triumphs in his last seven outings, which saw him capture both the interim and undisputed King of Kings welterweight titles, a notable regional promotion in Northern Europe. He built on this success with a victories over current Glory-signed fighters Sergej Braun and the (then) undefeated Ștefan Orza. Ciric, on the other hand, had his lengthy eleven-fight win-streak broken with two consecutive defeates at the hands of Mohamed Touchassie and Jay Overmeer in the second part of 2022, although he bounced back with a split decision over Jas Van Belzen in February of this year. A good performance against Kwasi would remind everyone why he was considered an elite talent not that long ago.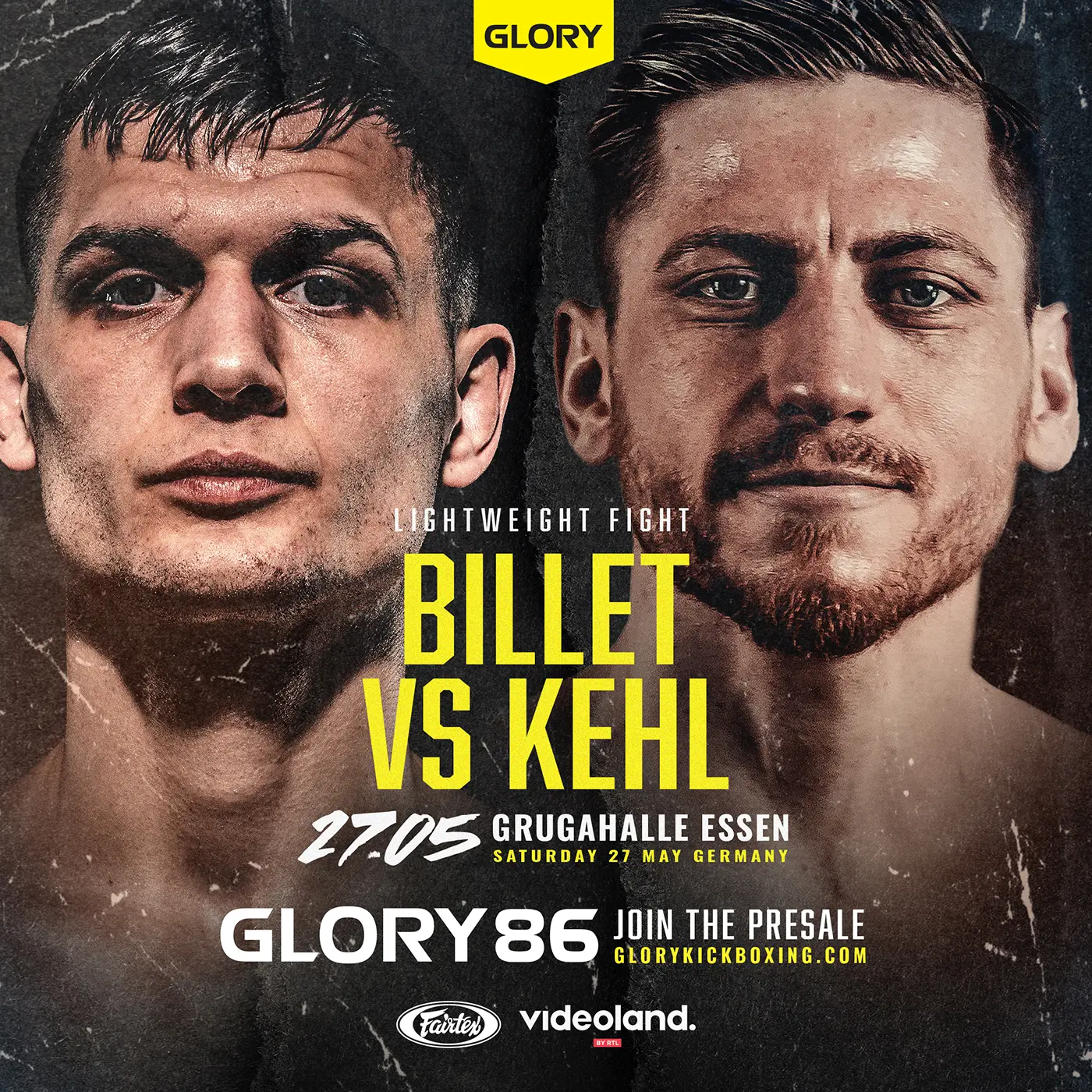 French kickboxer Guerric Billet welcomes Enriko Kehl to the GLORY ring in an official GLORY Lightweight title eliminator. Kehl has parted ways with ONE Championship earlier this year, and even with back-to-back losses against Davit Kiria and Tayfun Özcan, was the last fighter to beat newly crowned ONE Featherweight champion Chingiz Allazov. Billet recently won a split-decision against Cihad Akipa at GLORY 83, and before that, lost a close decision to top Lightweight Stoyan Koprivlenski. An appropriate challenger for the German fighter, who looks to breath some fresh air into GLORY's Lightweight division. Reigning champion Tyjani Beztati has cleaned out the division, even stopping Featherweight champion Petchpanomrung in his last outing and is in desperate need of a new challenger.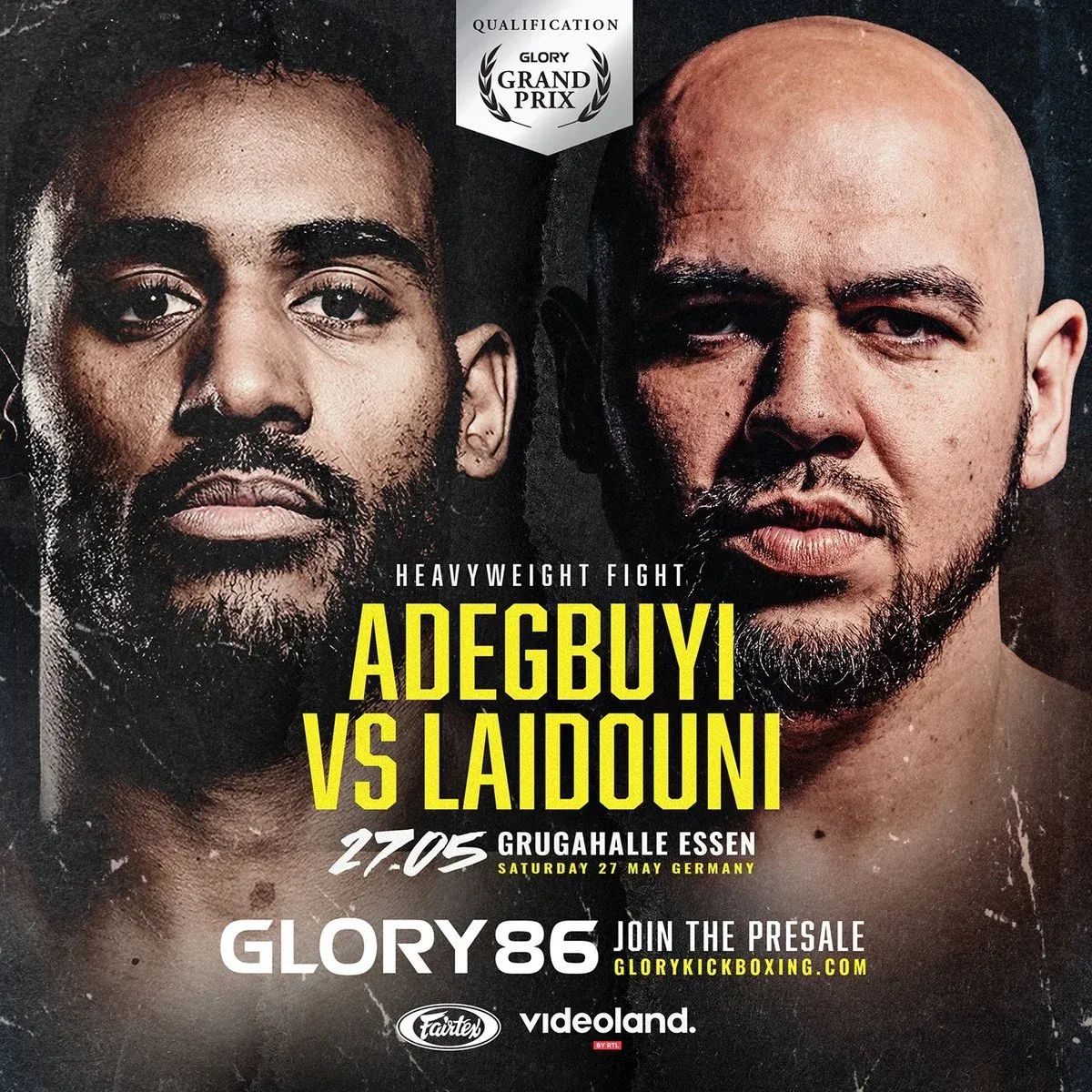 Two-time Glory Heavyweight title challenger Benjamin Adegbuyi will take on promotional newcomer Sofian Laidouni on that same card. Despite being one of the best heavyweights in the world for nearly a decade, the 38-year old Adegbuyi finds himself in desperate need of victory if he wants to stay in the title picture. The Romanian's last truly good win was against the one-time GLORY Heavyweight Contender tournament winner D'Angelo Marshall all the way back in November of 2019. He's fought only three times since then, with his sole successful appearance being a knockout of an aged and faded Badr Hari, in a fight that was going badly for him until it wasn't. As Adegbuyi has been stopped by both Antonio Plazibat and Jamal Ben Saddik in the next two fights, it seems Father Time might have finally caught up with him.
The 28-year old Sofian Laidouni successfully debuted with GLORY in March, with a unanimous decision victory against Nabil Khachab to improve his overall record to 35-2-1. The Frenchman has a number of good names in his win column, such as Frangis Goma and Tomaš Hron, but Adegbuyi will nonetheless represent a major step up, even if 'Mister Gentleman' might have lost a step recently. Considering there are several empty spots open for the GLORY Heavyweight Grand Prix in December, both Laidouni and Adegbuyi will be hopeful of a spot in the brackets if they should see their hand raised as well.
As previously reported, GLORY 86 will be headlined by a Featherweight championship bout between Petpanomrung Kiatmuu9 and Ahmad Chikh Mousa.