The tournament will feature four promising GLORY Heavyweight talents.
GLORY Kickboxing returns on August 19 for another big night at the Rotterdam Ahoy in the Netherlands. The centerpiece will be the four-man one-night qualification tournament for the GLORY Heavyweight Grand Prix set in December.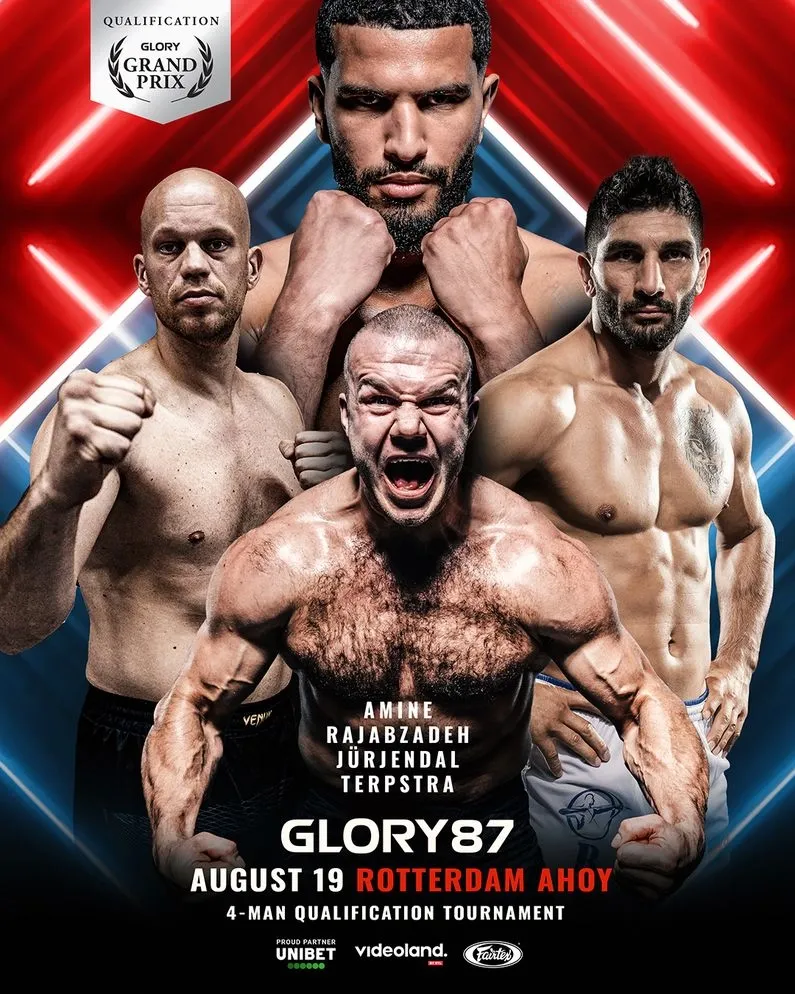 Martin Terpstra, the current Enfusion Heavyweight Champ, makes his return to the GLORY ring. The Dutch Goliath last fought in GLORY in 2022, where he won against Muhammed Balli by TKO after the Turk injured himself in the second round. The 6'9 tall Dutch Goliath has a unanimous decision win over current GLORY Interim Heavyweight Champ Tariq Osaro.
Mohamed Amine enters the tournament with a knockout loss in a title bout against Tarik Khbabez for the GLORY Interim Light Heavyweight title at GLORY: COLLISION 5. Amine was a short notice replacement after Donegi Abena withdrew from the bout due to food poisoning.
Bahram Rajabzadeh made his long-awaited return to GLORY last month when he stopped the much hyped Luis Tavares with a head kick in the first round. The Azerbaijani is on a tear, winning his last three fights by high kick knockouts in the first round. Rajabzadeh is on a six-fight winning streak, not having lost a fight since facing former Light Heavyweight champion Sergej Maslobojev in 2019.
Uku Jurjendal stamped his entry into the tournament with a first round knockout against Mantas Rimdeika at GLORY 86. He previously lost to Nabil Khachab by unanimous decision.
The winner of this tournament is given the chance to participate in the $500,000 GLORY Heavyweight Grand Prix that is set for December of this year.
More updates on the fight card will follow soon.