The official weigh-ins for GLORY 83 took place today.
GLORY 83 will take place at 8 PM CET on Saturday, February 11, from the Grugahalle in Essen, Germany.
Newly crowned GLORY Light Heavyweight Champion Sergej Maslobojev and challenger Donegi Abena both made comfortably made weight ahead of their title bout tomorrow night. This will be a rematch of their close 2021 contest in which Maslobojev walked away with a split decision.
Donovan Wisse was scheduled to defend his Middleweight Title against Cesar Almeida during the evening's co-main event. However, Almeida missed weight by one kilogram, so the bout will proceed as a three-round non-title fight.
Joilton Lutterbach missed weight and was removed from the card after not being medically cleared. As a result, his contest against Diaguely Camara will not go ahead and Jos van Belzen against Robin Ciric will move up to the main card.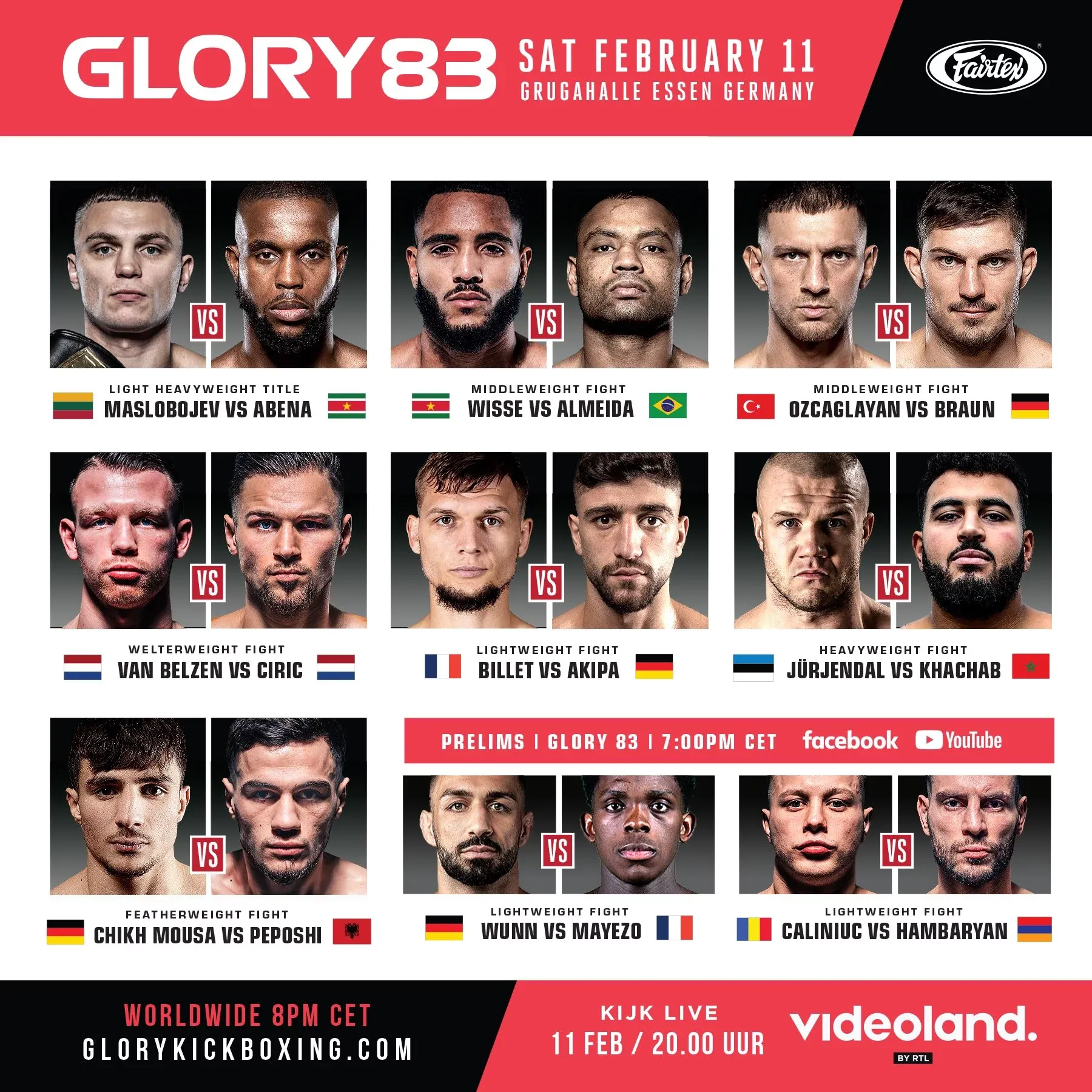 Visit glorykickboxing.com for more info on how to watch in your country.
GLORY 83 WEIGH-IN RESULTS
---
MAIN CARD
Sergej Maslobojev (94.9 KG) vs. Donegi Abena (94.1 KG) - GLORY Light Heavyweight Championship
Donovan Wisse (84.8 KG) vs. Cesar Almeida (86 KG) - Middleweight
Serkan Ozcaglayan (84.3 KG) vs. Sergej Braun (84.3 KG) - Middleweight
Guerric Billet (69.8 KG) vs. Cihad Akipa (69.8 KG) - Lightweight
Jos van Belzen (76.8 KG) vs. Robin Ciric (76.9 KG) - Welterweight
Uku Jürjendal (111.8 KG) vs. Nabil Khachab (137.3 KG) - Heavyweight
Ahmad Chikh Mousa (65.3 KG) vs. Berjan Peposhi (64.6 KG) - Featherweight
PRELIMINARY CARD
Chris Wunn (70 KG) vs. Jonathan Mayezo (70 KG) - Lightweight
Sorin Caliniuc (69.8 KG) vs. Arman Hambaryan (69.9 KG) - Lightweight