The official weigh-ins for GLORY 84 took place today.
GLORY 84 will take place tomorrow night, Saturday, March 11, from the Topsportcentrum in Rotterdam, the Netherlands.
In the main event, Featherweight king Petchpanomrung Kiatmookao will up a weight division to challenge reigning Lightweight champion Tyjani Beztati for his belt. Both comfortably made weight, but the huge height difference was immediately noticeable.
The event will be co-headlined by a Light Heavyweight showdown between former title challenger Tarik Khbabez and Spanish slugger Daniel Toledo, who comes into this bout on short notice. He replaces Latvian fighter Kristpas Zile.
Also featured on the card is a Welterweight bout between Jay Overmeer and Jamie Bates. An interesting match-up between rising prospect and veteran, with heavy title contender implications.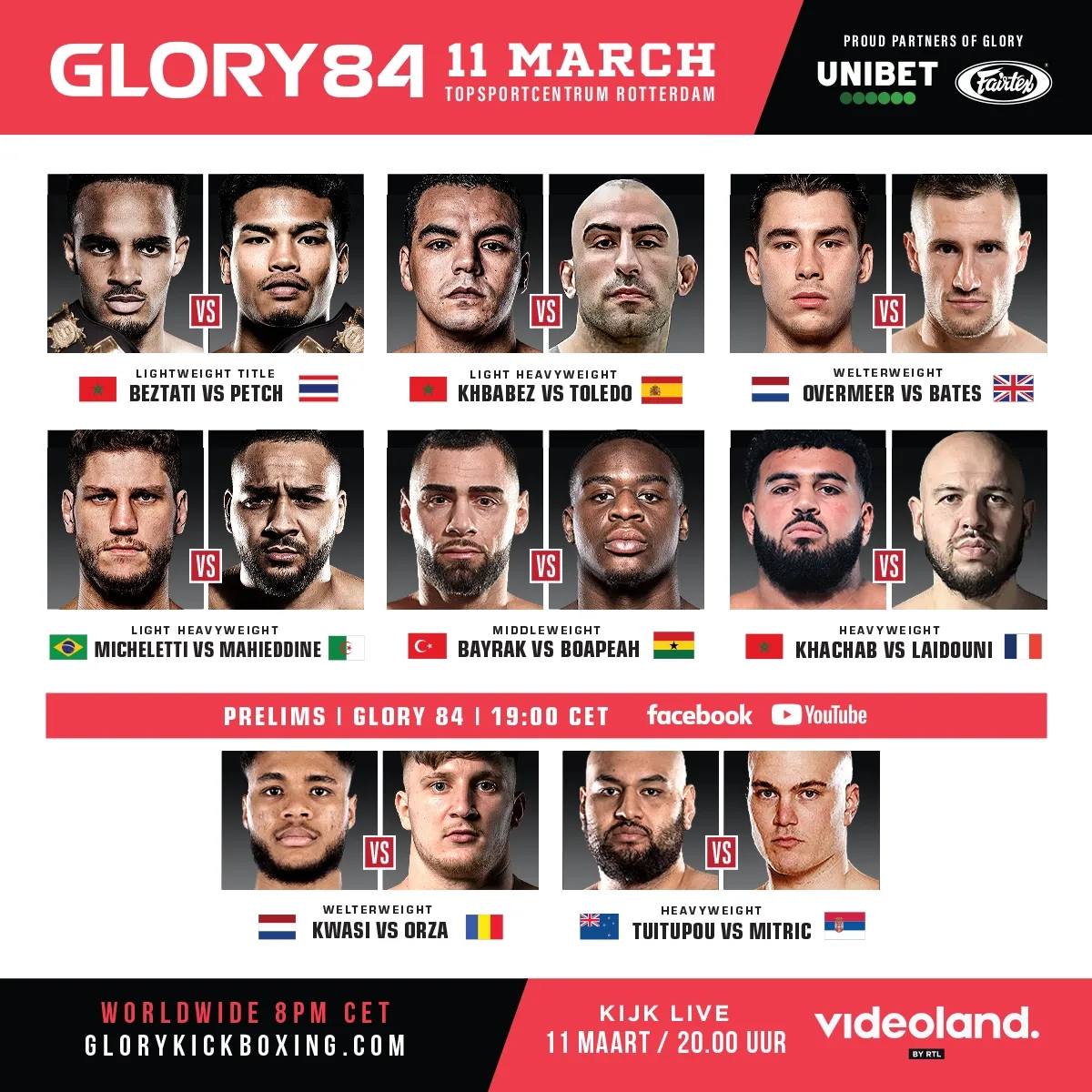 Visit glorykickboxing.com for more info on how to watch in your country.
GLORY 84 WEIGH-IN RESULTS
---
MAIN CARD
Tyjani Beztati (69.5 KG) vs. Petchpanomrung (69.3 KG) - GLORY Lightweight Championship
Tarik Khbabez (94.3 KG) vs. Daniel Toledo (95 KG) - Light Heavyweight
Jay Overmeer (76.7 KG) vs. Jamie Bates (76.9 KG) - Welterweight
Felipe Micheletti (94.9 KG) vs. Nordine Mahieddine (94.8 KG) - Light Heavyweight
Ertuğrul Bayrak (84.9 KG) vs. Michael Boapeah (83.9 KG) - Middleweight
Nabil Khachab (131.2 KG) vs. Sofian Laïdouni (104 KG) - Heayvweight
PRELIMINARY CARD
Chico Kwasi (76.9 KG) vs. Stefan Orza (76.5 KG) - Welterweight
David Tuitupou (171 KG) vs. Strahinja Mitric (119 KG) - Heavyweight