The official weigh-ins for GLORY 85 took place today.
All 14 fighters successfully made weight earlier this morning for GLORY 85. The event will take place tomorrow night, Saturday, April 29, at the Rotterdam Ahoy Arena in Rotterdam, the Netherlands.
In the main event, Welterweight champion Endy Semeleer welcomes Murthel Groenhart back to GLORY, as he looks to make his first title defense. Both fighters looked in great shape and tipped the scales inside the weight limit.
All four participants in the Heavyweight tournament tipped the scales at a combined 472.9 KG. Turkey's Murat Aygün, Bosnia's Enver Sljivar, the Netherlands' Jahfarr Wilnis, and Nigeria's Tariq Osaro will all compete for a chance to fight Antonio Plazibat for the interim-GLORY Heavyweight title in June. The winner will also will receive a guaranteed spot in the Heavyweight Grand Prix at the end of the year, with $500,000 on the line.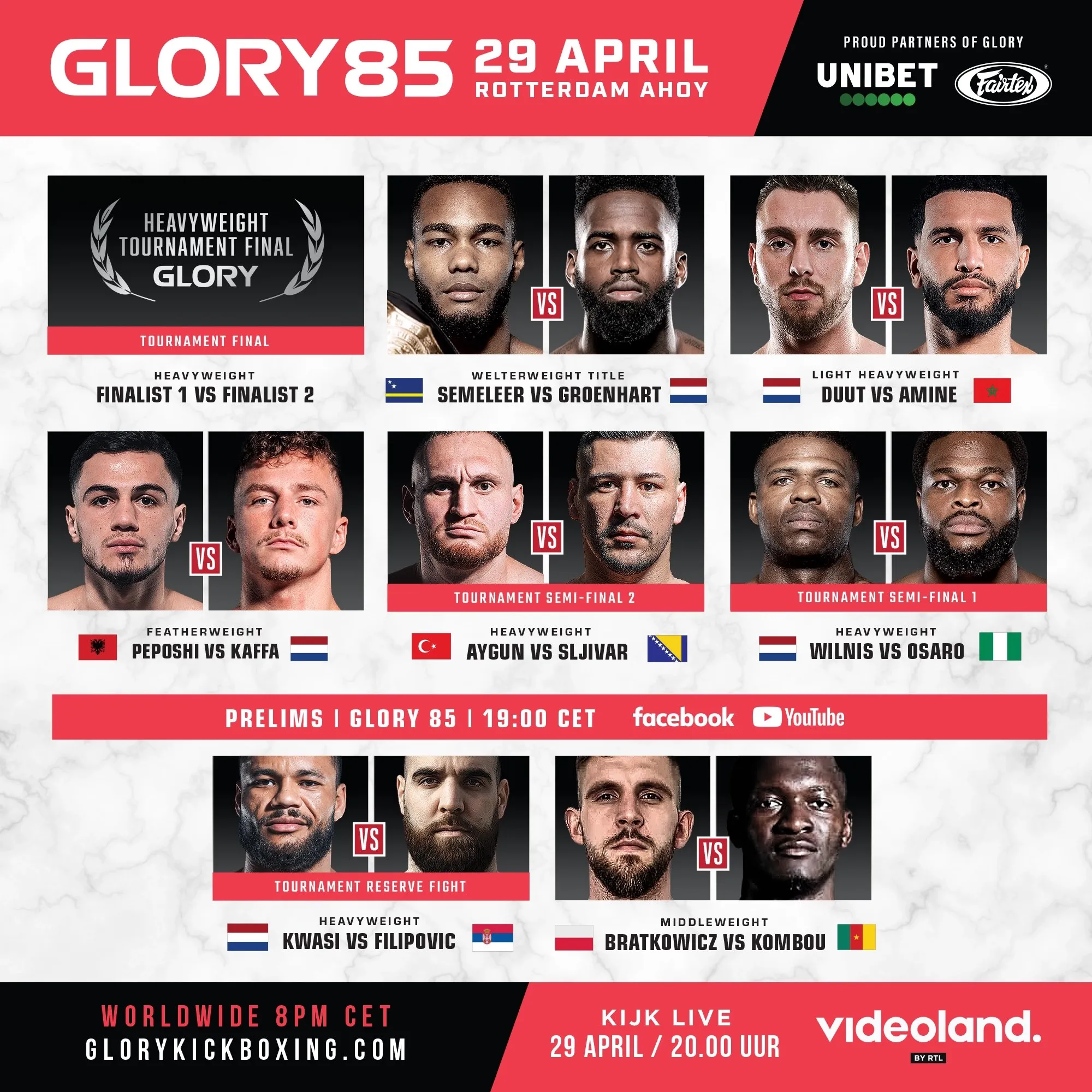 Visit glorykickboxing.com for more info on how to watch in your country.
GLORY 85 WEIGH-IN RESULTS
---
MAIN CARD
Winner of Semi-Final 1 vs. Winner of Semi-Final 2 – Heavyweight Tournament Final
Endy Semeleer (76.8 KG) vs. Murthel Groenhart (76.9 KG) – GLORY Welterweight Championship
Michael Duut (94.8 KG) vs. Mohamed Amine (94.4 KG) – Light Heavyweight
Berjan Peposhi (64.9 KG) vs. Jan Kaffa (65 KG) – Featherweight
Murat Aygün (114.3 KG) vs. Enver Sljivar (113.7 KG) – Heavyweight Tournament Semi-Final 2
Jahfarr Wilnis (121.2 KG) vs. Tariq Osaro (123.7 KG) – Heavyweight Tournament Semi-Final 1
PRELIMINARY CARD
Fabio Kwasi (109.8 KG) vs. Nikola Filipovic (111.7 KG) – Heavyweight Tournament Reserve Fight
Maksymilian Bratkowicz (83.8 KG) vs. Brice Kombou (83.9 KG) – Middleweight