The official weigh-ins for GLORY 86 took place today.
All 16 fighters successfully made weight earlier this morning for GLORY 86. The event will take place tomorrow night, Saturday, May 27, at the Grugahalle in Essen, Germany.
In the main event, Petchpanonrumg makes his return to the Featherweight division and takes on rising star Ahmad Chikh Mousa. Both fighters made championship weight.
Benjamin Adegbuyi looks to recapture his spot as one of the top challengers in the division when he takes on French fighter Sofian Laïdouni for a spot in December's Heavyweight Grand Prix.
Also on the card, Enriko Kehl makes his highly-anticipated GLORY debut. He takes on the No. 1 ranked GLORY Lightweight contender Guerric Billet in a bout with heavy title implications.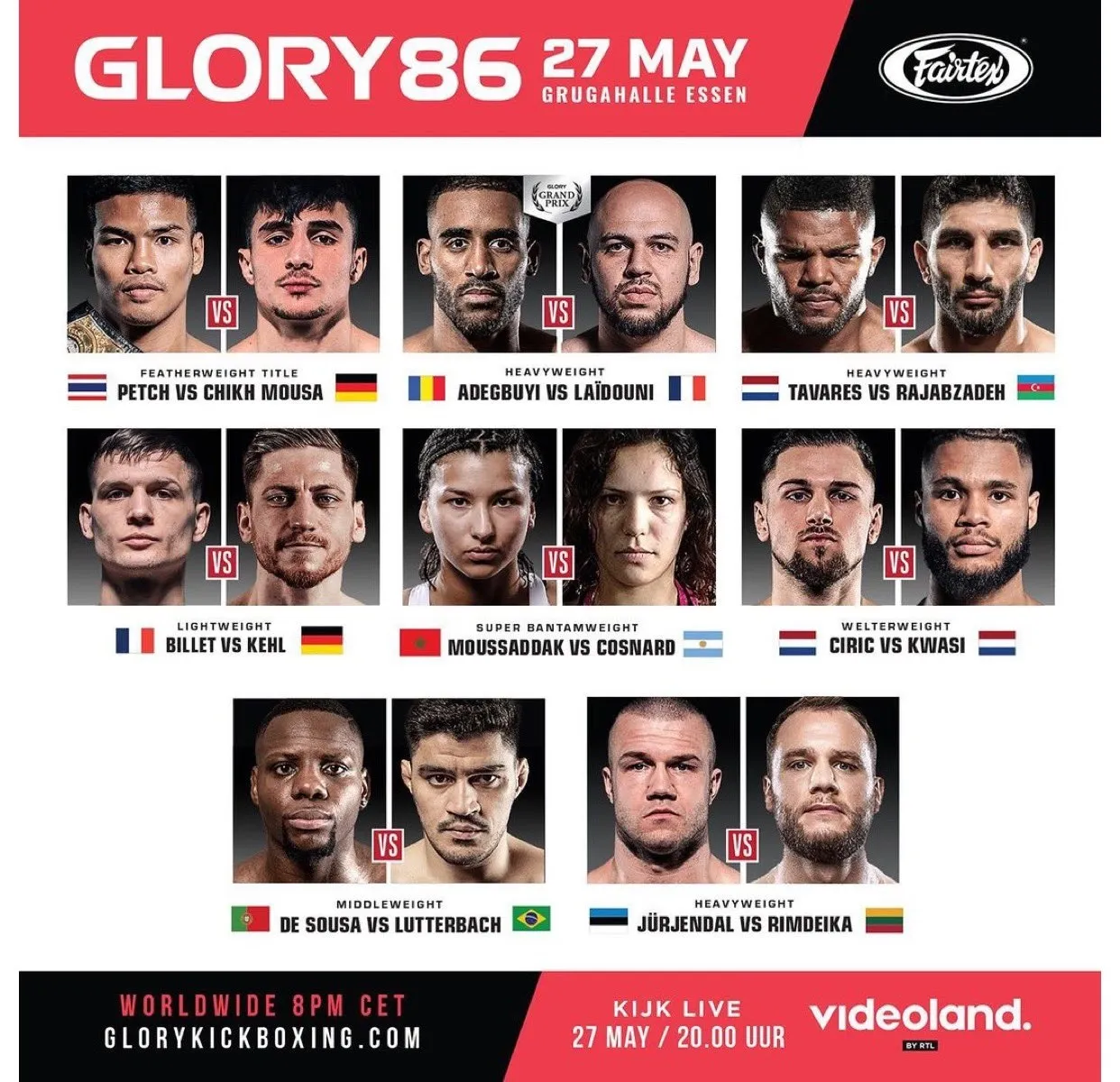 Visit glorykickboxing.com for more info on how to watch in your country.
GLORY 86 WEIGH-IN RESULTS
---
MAIN CARD
(C) Petchpanomrung (64.9 KG) vs. Ahmad Chikh Mousa (64.7 KG) – GLORY Featherweight Championship
Benjamin Adegbuyi (123.7 KG) vs. Sofian Laïdouni (103.3 KG) – GLORY Heavyweight Grand Prix Qualifier
Luis Tavares (108.7 KG) vs. Bahram Rajabzadeh (101.9 KG) – Heavyweight
Guerric Billet (70 KG) vs. Enriko Kehl (69.8 KG) – Lightweight
Sarah Moussaddak (55 KG) vs. Giuliana Cosnard (54.5 KG) – Women's Super Bantamweight
Robin Ciric (76 KG) vs. Chico Kwasi (76.8 KG) – Welterweight
Juri de Sousa (85 KG) vs. Joilton Lutterbach (84.5 KG) – Middleweight
Uku Jürjendal (112.9 KG) vs. Mantas Rimdeika (103.3 KG) – Heavyweight