The official weigh-ins for GLORY 87 took place today.
All 16 fighters successfully made weight earlier this morning for GLORY 87. The event will take place tomorrow night, Saturday, August 19, at the Rotterdam Ahoy in Rotterdam, Netherlands.
Reigning GLORY Lightweight champion Tyjani Beztati defends his title for the fourth time against Japanese Shoot Boxing and RISE star Kaito Ono, who is the current KNOCK OUT Black Super Welterweight champion and unbeaten in his last 18 fights.
Also on the card, the Heavyweight Tournament, the winner of which earns himself a ticket for the Year-End Grand Prix and with it the the chance to win 500,000 dollars in prize money.
Estonian Uku Jürjendal makes his third appearance at GLORY and faces the 2.07 meters tall Dutchman Martin Terpstra.
Bahram Rajabzadeh of Azerbaijan, who has an impressive 90% KO rate, faces the Moroccan Mohamed Amine, who has moved up a weight class.
Other fights are Jan Kaffa against Mohamed El Hammouti and the rematch between Michael Boapeah and Sergej Braun, who won the fight in their first encounter.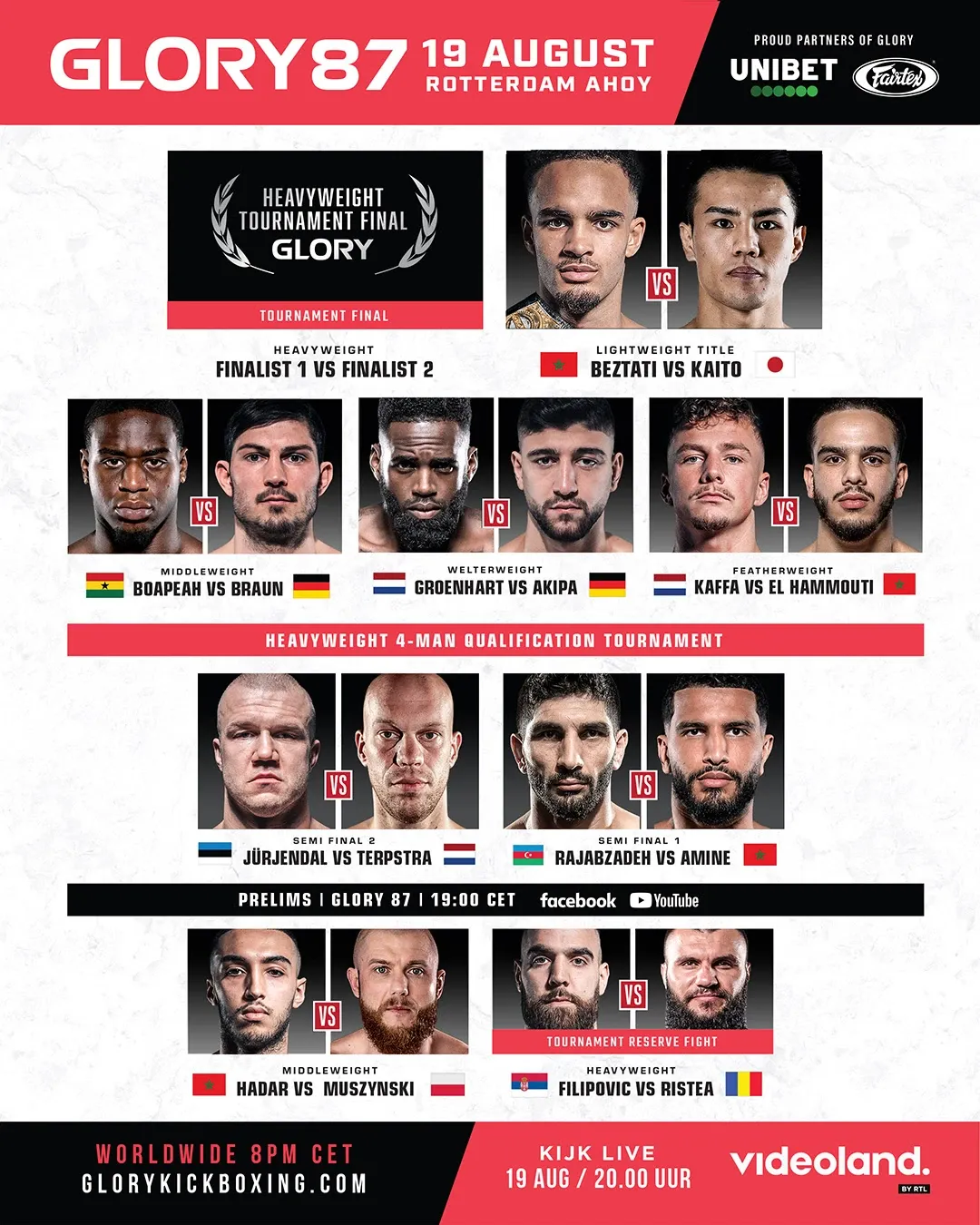 Visit glorykickboxing.com for more info on how to watch in your country.
GLORY 87 WEIGH-IN RESULTS
---
MAIN CARD
(C) Tyjani Beztati (69.8 KG) vs. Kaito Ono (69.5 KG) – GLORY Lightweight Championship
Michael Boapeah (84.3 KG) vs. Sergej Braun (84.5 KG) – Middleweight
Murthel Groenhart (77 KG) vs. Cihad Akipa (77 KG) – Welterweight
Jan Kaffa (64.8 KG) vs. Mohamed El Hammouti (65 KG) – Featerweight
Mohamed Amine (100.3 KG) vs. Bahram Rajabzadeh (100.2 KG) – Heavyweight Tournament Semi Final
Uku Jürjendal (114.3 KG) vs. Martin Terpstra (117.6 KG) – Heavyweight Tournament Semi Final
PRELIMINARY CARD
Imad Hadar (84.4 KG) vs. Bartosz Muszynski (84.7 KG) – Middleweight
Nikola Filipovic (111.9 KG) vs. Cristian Ristea (105.9 KG) – Heavyweight Tournament Reserve Bout