The official weigh-ins for GLORY 88 took place today.
All 18 fighters successfully made weight earlier this morning for GLORY 88. The event will take place tomorrow night, Saturday, September 9, at the Dôme de Paris in Paris, France.
In the headlining bout, kickboxing legend Badr Hari will look to prove that he's still a serious contender for the Heavyweight throne – this time against James McSweeney. The winner will earn himself a ticket for December's GLORY Grand Prix with a chance to win $500,000.
In the co-main event, Tiffany van Soest will make her last walk to the ring and defend her GLORY Super Bantamweight title against rival Sarah Moussaddak in a rematch of their fight from last year.
Other notable bouts include Denis Wosik against Berjan Peposhi and Pascal Touré against Stefan Latescu, which both promise to be action-packed fights.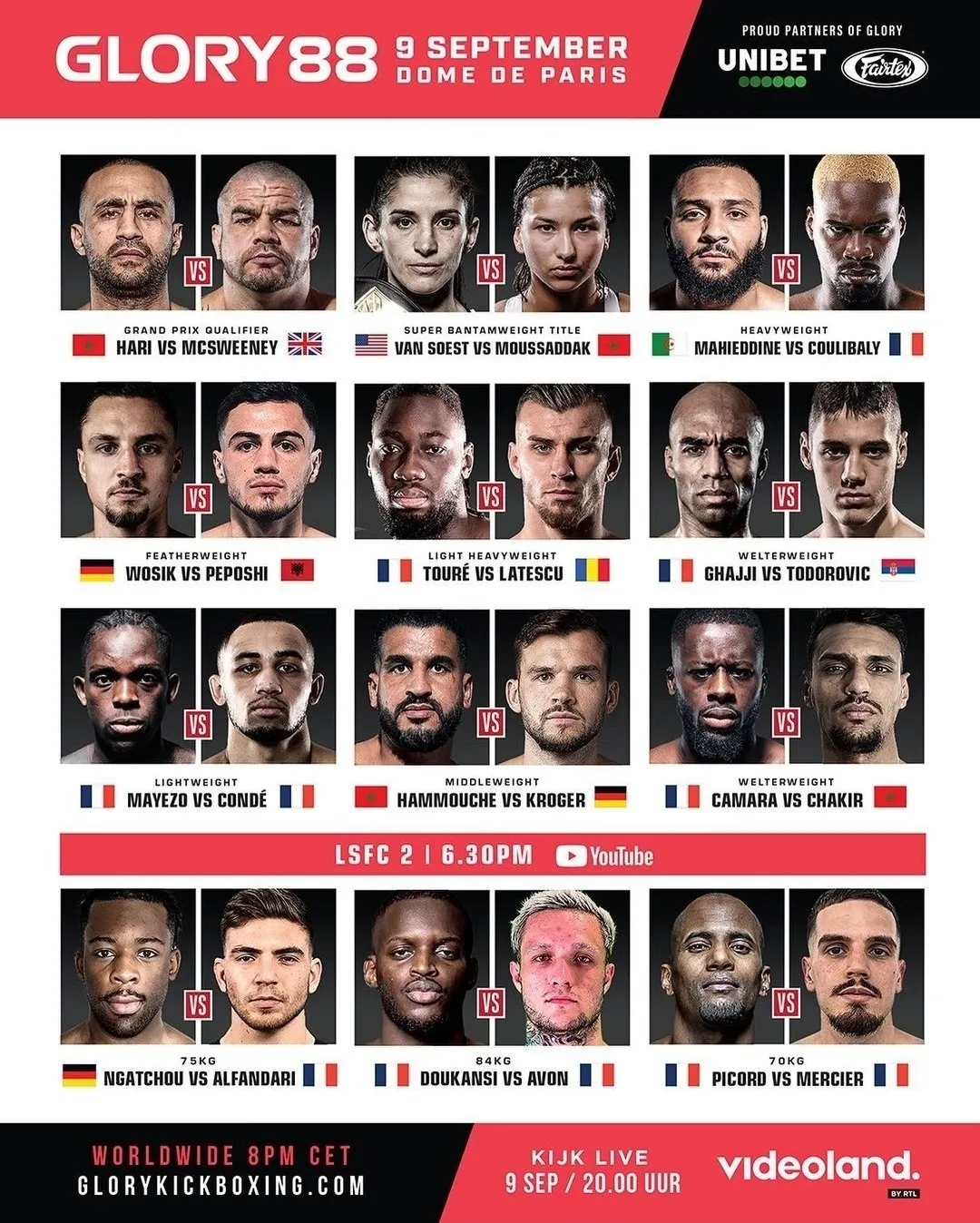 Visit glorykickboxing.com for more info on how to watch in your country.
GLORY 88 WEIGH-IN RESULTS
---
MAIN CARD
Badr Hari (118.6 KG) vs. James McSweeney (118 KG) – GLORY Heavyweight Grand Prix Qualifier
(C) Tiffany van Soest (54.7 KG) vs. Sarah Moussaddak (54.8 KG) – GLORY Super Bantamweight Championship
Nordine Mahieddine (106.9 KG) vs. Abderahmane Coulibaly (100.4 KG) – Heavyweight
Denis Wosik (64.9 KG) vs. Berjan Peposhi (64.9 KG) – Featherweight
Pascal Touré (95 KG) vs. Stefan Latescu (93.8 KG) – Light Heavyweight
Karim Ghajji (76.9 KG) vs. Nikola Todorovic (76.7 kKG) – Welterweight
Jonathan Mayezo (69.9 KG) vs. James Condé (69 KG) – Lightweight
Iliass Hammouche (84.8 KG) vs. Florian Kröger (85 KG) – Middleweight
Diaguely Camara (76.7 KG) vs. Ilyass Chakir (77 KG) – Welterweight