The Thai great put on another vintage performance; Hari and Taburceanu picked up expected losses.
Despite a few setbacks, GLORY was able to hold their first event in Bulgaria this past Saturday, which saw long-reigning champion Petchpanomrung make his seventh title defense, Badr Hari pick up yet another loss at the hands of Uku Jürjendal and hometown hero Stoyan Koprivlenski make his way back to a potential title shot.
PETCHPANOMRUNG VS. MEJIA
The 28-year-old Thai successfully made his seventh title defense, as he overcame promotional newcomer David Mejia by split decision. Much like most of his previous opponents, the Spaniard failed to solve the puzzle of 'The Professor's' southpaw kicking game. Although he was able to outland the champion 23 to 9 in total punches, he largely fell behind in terms of kicks (69 to 42) and knees (19 to 8) landed, which cost him the win. With this victory, Petchpanomrung has improved his total record at featherweight to 14-1-1 and is now only behind fellow great Rico Verhoeven in terms of consecutive GLORY title defenses. Having cleaned out the division two times over, it'll be interesting to see who he will face next.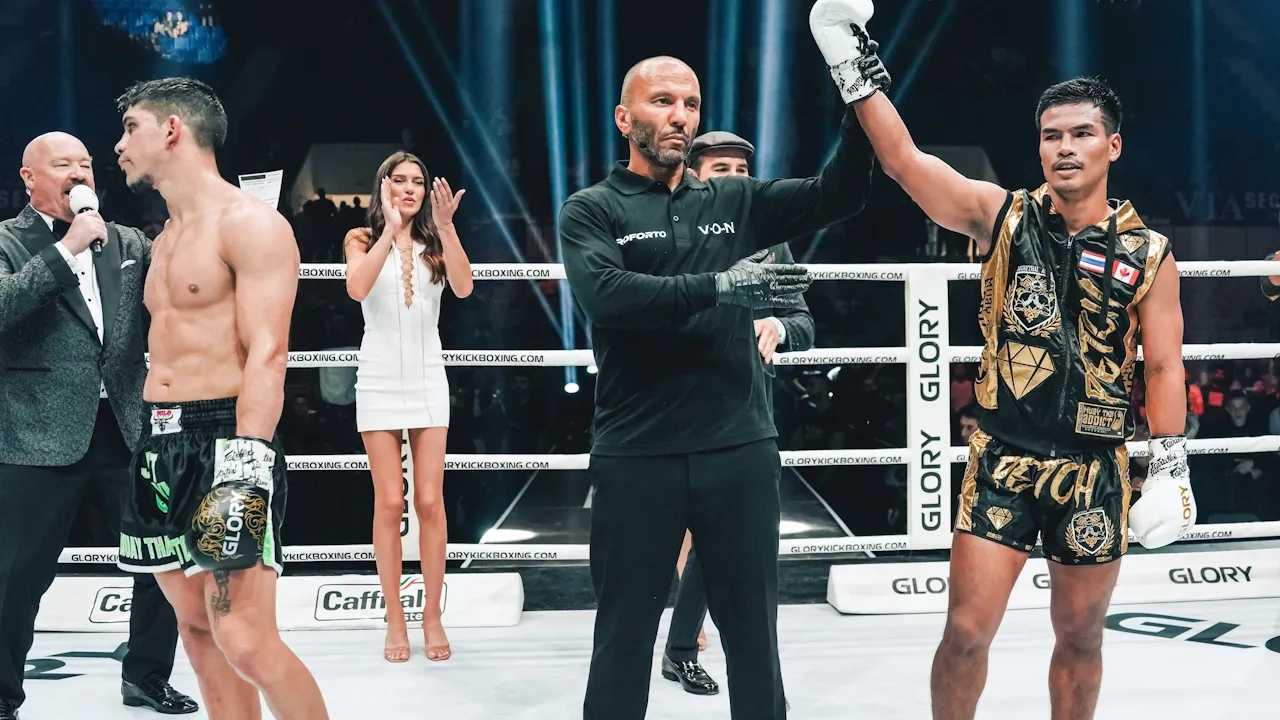 KOPRIVLENSKI VS. CĂLINIUC
The hometown fighter avenged his prior loss to the Romanian by unanimous decision, in a rematch two years in the making. After comfortably bagging the first round, Koprivlenski sealed the second round in his favor with a head kick knockdown, which allowed him to cruise toward a decision victory in the third and final round. Mandatory challenger Enriko Kehl aside, the Bulgarian is likely the next in line for a crack at the Lightweight title. Căliniuc, on the other hand, has now lost both fights he's had with the promotion and might look to take a step down in competition and rebuild his confidence and form.
HEAVYWEIGHT GRAND PRIX QUALIFIERS
Martin Terpstra was forced out of his fight with Levi Rigters with an injury on the day of the fight. As he was replaced by a Middleweight mixed martial artist, Ion Taburceanu, the result of both of the qualifiers was set in stone before they even took place. Righters was able to stop his opponent with low kicks near the midway point of the opening round, while Uku Jürjendal knocked an aged and faded Badr Hari a grand total of four times after 3:47 minutes of fight time. A more interesting piece of news regarding the Grand Prix is its' postponement to 2024, which leaves the door open for the inclusion of fighters who might have otherwise been left out, namely Rico Verhoeven, Tariq Osaro, Antonio Plazibat and Jamal Ben Saddik among others.
GLORY 89 RESULTS
---
MAIN CARD
Petchpanomrung def. David Mejia – Split Decision – GLORY Featherweight Championship
Stoyan Koprivlenski def. Sorin Căliniuc – Unanimous Decision
Levi Rigters def. Ion Taburceanu – TKO at 1:55 of R1 – Heavyweight Grand Prix Qualifier
Uku Jürjendal def. Badr Hari – TKO at 0:47 of R2 – Heavyweight Grand Prix Qualifier
Bogdan Stoica def. Luis Tavares – Unanimous Decision
Aleksandar Petrov def. Karim Mabrouk – Unanimous Decision
Mohamed Touchassie def. Eduard Aleksanyan – TKO at 2:00 of R2
PRELIMINARY CARD
Teodor Hristov def. Eduard Gafencu – Unanimous Decision
Dragomir Petrov def. Chris Wunn – Split Decision