The official weigh-ins for GLORY 89 took place today.
Everything is set for GLORY 89 in Burgas, Bulgaria tomorrow evening. All fighters made the weight limit, except for Luis Tavares and Bogdan Stoica. Both weighed in just under the 100 KG mark, well above the 95 KG limit for a Light Heavyweight fight, thus turning this clash into a catchweight bout.
In the main event, GLORY Featherweight champion and pound-for-pound No. 4 Petchpanomrung will defend his title against GLORY newcomer David Meija. Meija earned himself a spot in our rankings after defeating Chinese superstar Jia Aoqi. Fighting in his hometown, GLORY veteran Stoyan Koprilevski will take on Sorin Caliniuc of Romania in the Co-Main event.
Supporting the feature fights are a duo of GLORY Heavyweight Grand Prix qualifiers. Levi Rigters makes his long-awaited return against the giant Martin Terpstra and kickboxing legend Badr Hari meets Estonian power puncher Uku Jürjendal. The winners will qualify for the upcoming eight-man one-night $500,000 tournament on the 30th of December.
Another notable fight going down tomorrow is the debut of Enfusion -77 KG champion Mohamed Touchassie, who is not only entering the GLORY ring for the first time but also debuts in the -85 KG division. He will face the Bulgarian SENSHI standout Eduard Aleksanyan, who also makes his first appearance in the promotion.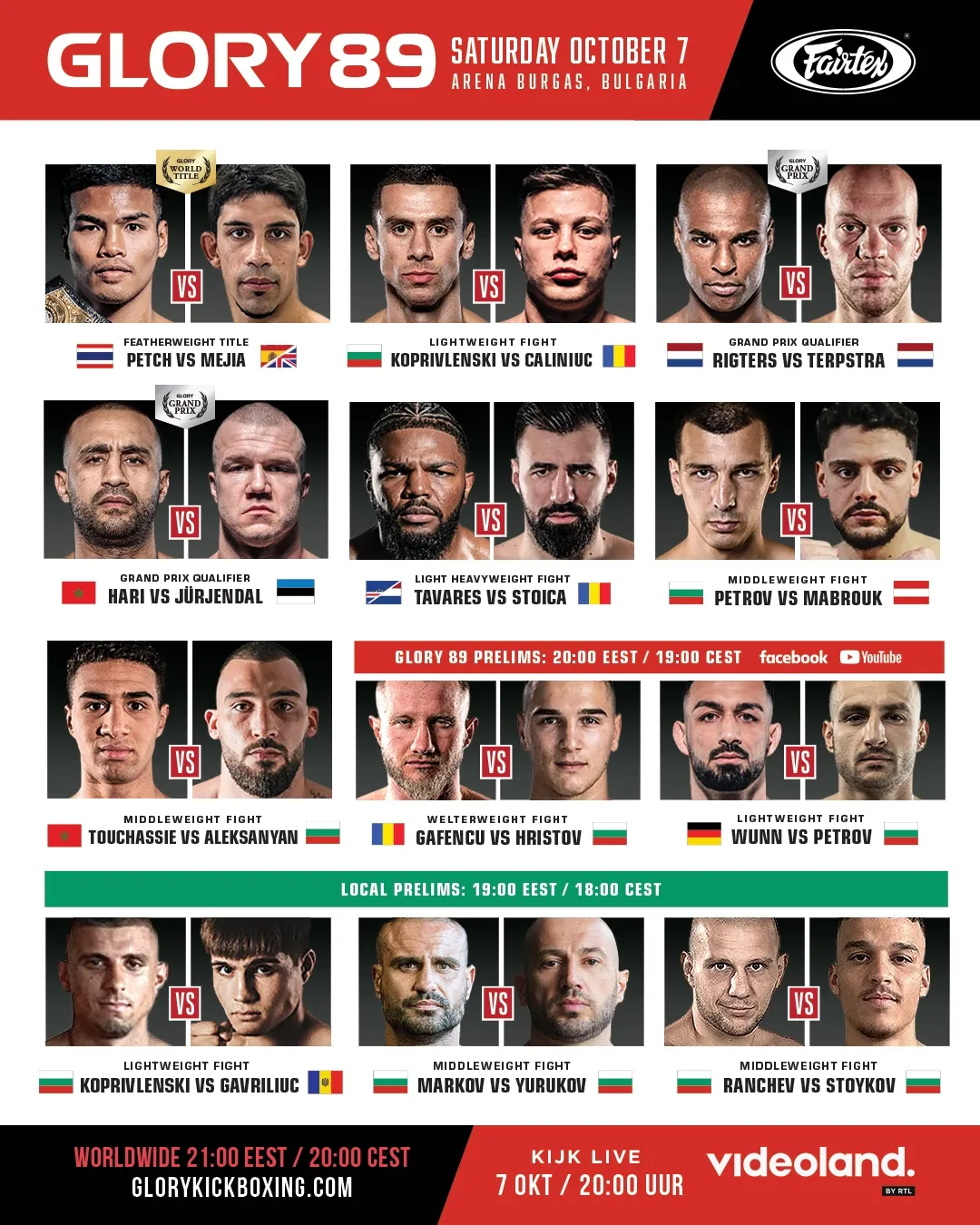 GLORY 89 is available live exclusively on Videoland in the Netherlands and worldwide on GLORYFights.com and via various broadcast partners around the globe. Please click here for full viewing information.
GLORY 89 WEIGH-IN RESULTS
---
MAIN CARD
(C) Petch (64.6 KG) vs. David Meija (65 KG) – GLORY Featherweight Championship
Stoyan Koprilevski (69.9 KG) vs. Sorin Caliniuc (69.9 KG) – Lightweight
Levi Rigters (111.7 KG) vs. Martin Terpstra (116 KG) – GLORY Heavyweight Grand Prix Qualifier
Badr Hari (118.4 KG) vs. Uku Jurjendal (112.1 KG) – GLORY Heavyweight Grand Prix Qualifier
Luis Tavares (99.5 KG) vs. Bogdan Stoica (99.7 KG) – Catchweight
Aleksandar Petrov (84.4 KG) vs. Karim Mabrouk (84.8 KG) – Middleweight
Mohammed Touchassie (84.8 KG) vs. Eduard Aleksanyan (85 KG) – Middleweight
PRELIMS
Eduard Gafencu (76.8 KG) vs. Teodor Hristov (76.9 KG) – Welterweight
Chris Wunn (69.9 KG) vs. Dragomir Petrov (69.8 KG) – Lightweight