Ibrahim El Bouni and Robin Ciric will both look to cement their positions as top ten contenders in their respective weight classes.
GLORY has announced the full fight card for the third iteration of their Rivals series, organized in partnership with Enfusion, which will take place on November 5, at the Sporthallen Zuid in Amsterdam, Netherlands.
Headlining the event is Ibrahim El Bouni, ranked as the eighth-best Light Heavyweight in the Beyond Kick rankings, who will look to continue his perfect streak under the GLORY promotional banner against Muhammed Balli. The 2017 K-1 Heavyweight Grand Prix runner-up signed with GLORY this year and has already notched two victories with the promotion, beating Clyde Brunswijk and Badr Ferdaous. These two wins have earned him the No. 4 ranking with GLORY and another emphatic victory could bring him one step closer to the belt.
Muhammed Balli, on the other hand, has struggled in finding his form lately. Balli made his Glory debut opposite Martin Pacas in January 2021 and suffered a third-round stoppage loss. After losing a unanimous decision to Cristian Ristea in the Romanian circuit seven months later, Balli suffered two additional stoppage losses to Martin Terpstra at GLORY Rivals 1 and to Clyde Brunswijk at Glory Rivals 2. Should he suffer yet another loss, Balli might find himself cut from the roster.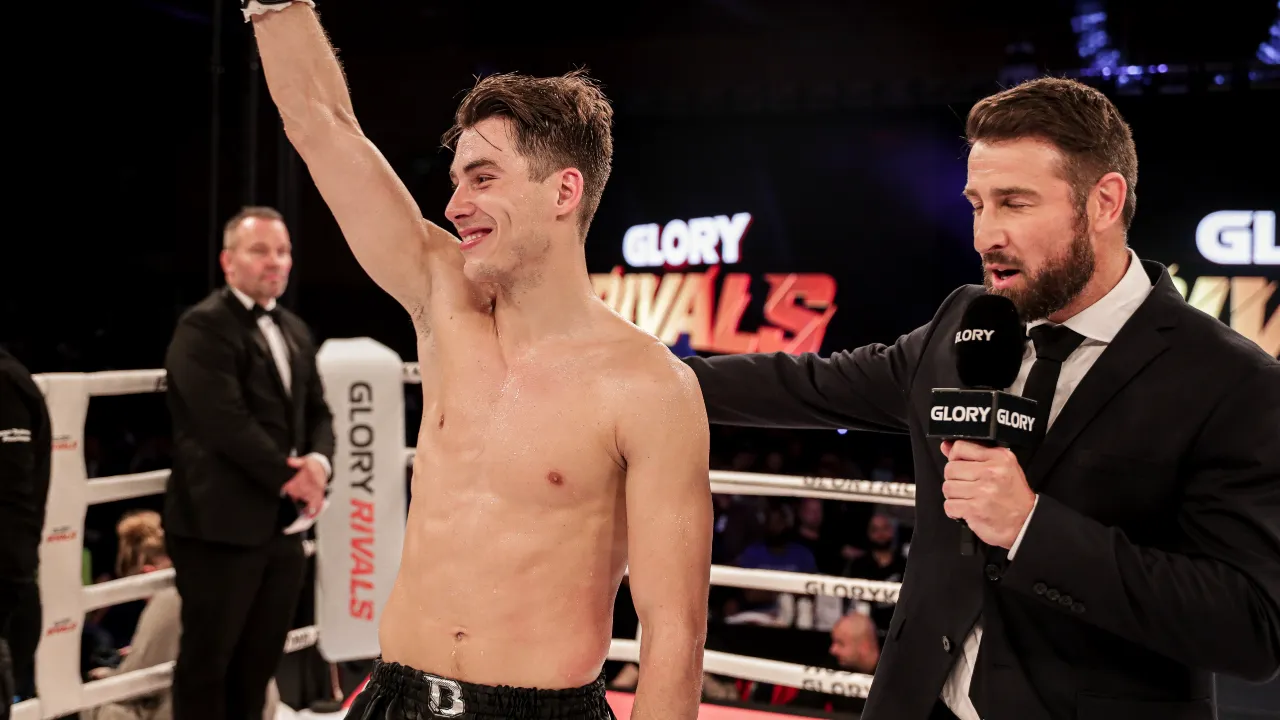 Robin Ciric, ranked as the No. 9 Welterweight in the world in the Beyond Kick rankings, will face Jay Overmeer in the co-main event.
Ciric amassed an 11-0 record between June 2018 and June 2022. During this time he captured the Enfusion title with a fourth-round knockout of Vladimír Moravčík and the WKA K-1 title with a third-round knockout of Giuseppe De Domenico. His eleven-fight, four-year, winning streak was snapped by Mohamed Touchassie, who beat him by unanimous decision in a vacant Enfusion Welterweight title bout just three months ago. Ciric will be making his GLORY debut and will look to get a new streak going against Overmeer.
Overmeer signed Glory this year on the back of two losses, but has since won both of his fights within the promotion. He thrice dropped Jos van Belzen for a second-round technical knockout victory, and knocked Rodrigo Mineiro clean out with a knee in the second round. Overmeer is currently ranked #4 in the official Glory rankings. With Nabiev and Semeleer, ranked #2 and #3 respectively, fighting for the vacant title and with top-ranked contender Mohamed Mezouari out with an injury, beating Ciric might be enough for Overmeer to earn his title shot.
The remaining two fights will see the once-beaten Tariq Osaro face undefeated Barkouch Abderrahman in a Heavyweight bout, while Nordin Ben Moh take on Kyle Todd in a Lightweight bout.