Fan-favorite Hamicha will return for the first time in two years to face Diaguely Camara.
Mohamed Mezouari, AKA Hamicha, will face Diaguely Camara at GLORY COLLISION 6 on November 4 in the competitive Welterweight division. This match will be broadcast live from GelreDome in Arnhem in the Netherlands.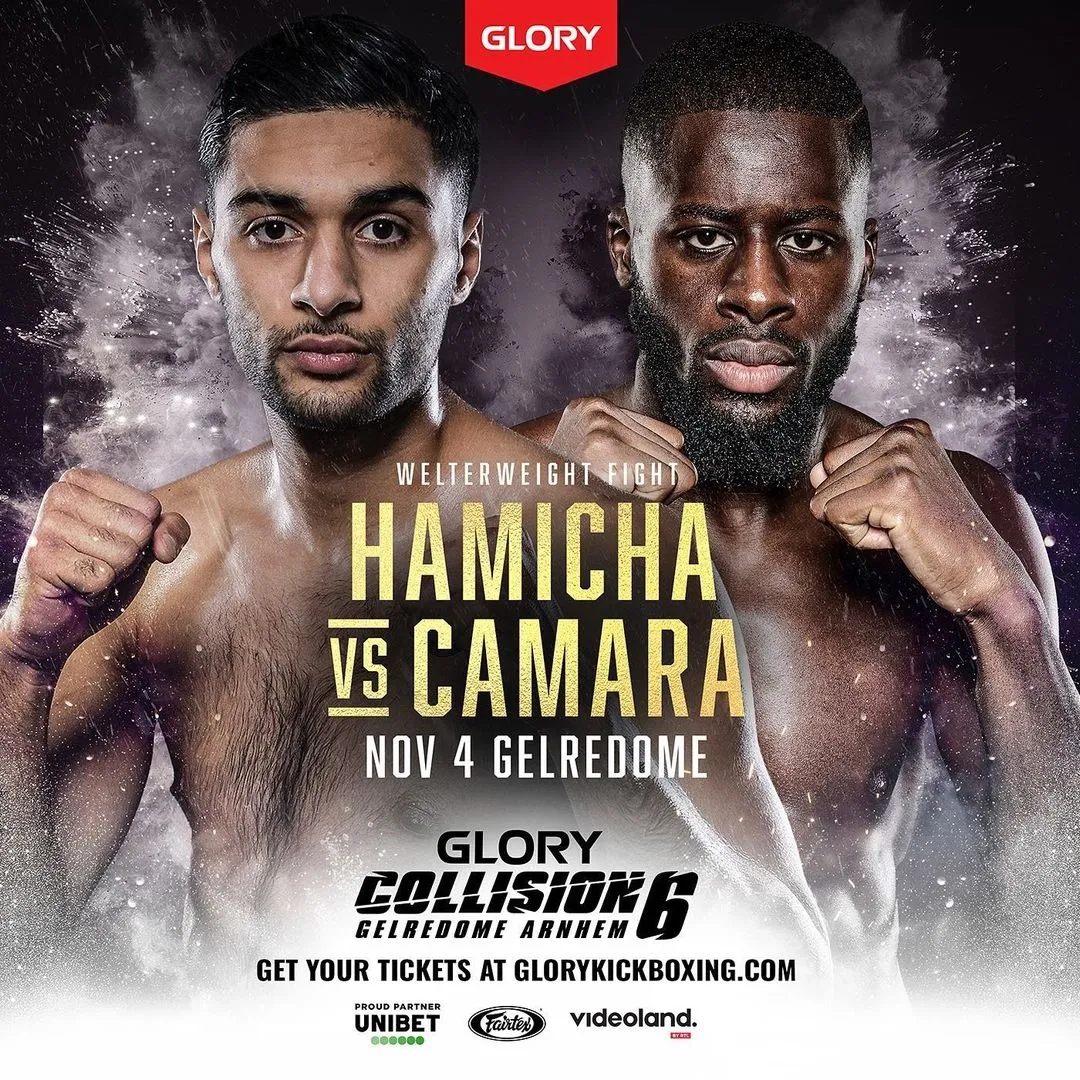 Fans have been waiting for news of the return of Hamicha (40-2, 30 KO) since his last bouts in 2021. After four consecutive victories in GLORY Kickboxing, the Dutch-Moroccan athlete was forced to sit out due to a hand injury.
The 27-year-old striker is known for his knockout power. Currently, he is on a four-fight knockout win streak all being earned in the very first round. The Dutch-Moroccan seventy-five percent knockout win rate.
Since his departure in 2021, the GLORY Kickboxing Welterweight division has undergone quite a few changes It is now one of the marquee divisions in the organization. At the top of the division stands impressive talents such as Jay Overmeer, Alim Nabiyev, and the champion Endy Semeleer.
Welcoming Hamicha back in GLORY will be the skilled French striker Diaguely Camara (24-4-1, 10 KO). The 30-year-old athlete has an unblemished record in GLORY and will be looking to continue his win streak on November 4th. France's Camara is fresh off of a victory at GLORY 88 this past weekend.
Discussing his upcoming fight, Camara spoke to Beyond Kickboxing and said
"I am very happy to fight again at GLORY and on a COLLISION card! This is a new test for me, Hamicha is very good and very experienced, I will do the work it takes to be ready on fightday! I'm ready to go to war and prove to the world that I'm one of the best in the category. At the moment I don't feel the pressure yet, but it is certain that there will be when you are fighting in front of 20,000 people, it must be impressive. This is a very big and beautiful opportunity for me. Winning this fight could propel me to the top of the division."
Hamicha vs. Diaguely Camara will go down on the GLORY COLLISION 6 later this year. Headlining the pillar event will be Rico Verhoeven and Tariq 'Cookie' Osaro battling for the Heavyweight throne. Additionally, Donegi Abena and Tarik Khbabez will face off with the Light Heavyweight title on the line.