GLORY can't catch a break.
It's no secret, that GLORY star Rico Verhoeven announced his departure from the promotion for the remainder of the year, to focus on his own event 'HIT IT' - a brand new sports and live entertainment show featuring well-known artists and fighters. There he will take on his old-rival Hesdy Gerges on October, 29th.
Hopes were high to fill the gap, pitting Antonio Plazibat against the winner of Jamal Ben Saddik and Benjamin Adegbuyi for the interim GLORY Heavyweight belt on the already stacked COLLISION 4 card on October, 8th.
Saddik won the title eliminator fight in dominant fashion at GLORY 81 last month in Düsseldorf, leaving no doubts and knocking out Adegbuyi in the second round.
Antonio Plazibat had a phenomenal run over the last one and a half years, winning his last three fights by stoppage and earning himself the spot as the top contender for the Heavyweight crown, and was seemingly eager to keep things busy. According to the promotion, however, the two teammates refuse to fight. Both fighters train at Mike's Gym under the legendary Mike Passenier.
Big Mike talked to AD.nl to shed some more light on the situation.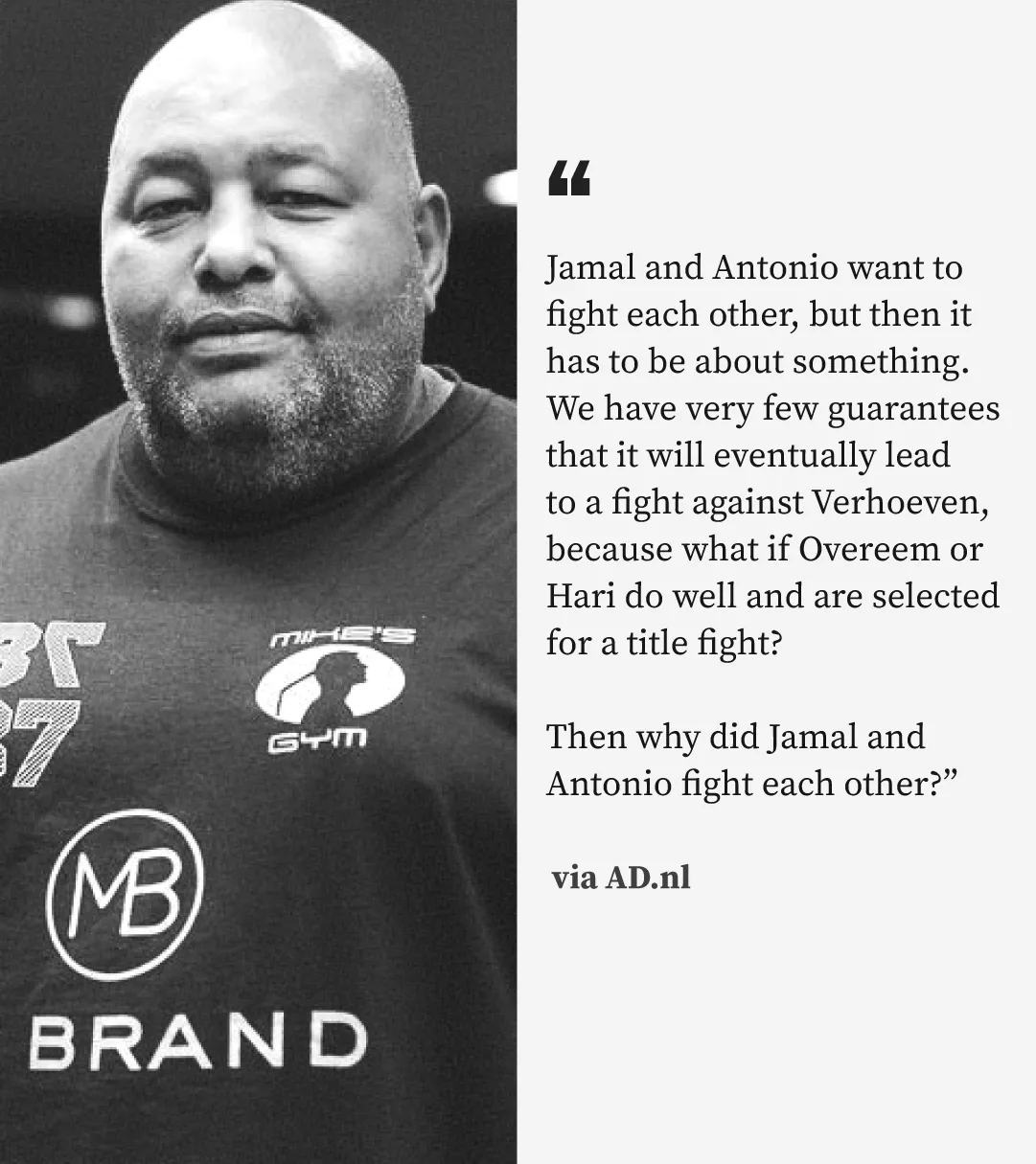 Being sidelined by Badr against Overeem, and with no guarantee at an actual title shot against Verhoeven, the trainer doesn't think a fight between his two pupils is justified.
Passenier was hoping that GLORY would revisit the idea of Jamal Ben Saddik against Levi Rigters, who were originally scheduled to fight at GLORY 80, but didn't due to Riots at the venue.
The promotion had other plans, as they announced that the former Enfusion Champion will go up against against Tariq Osaro, who had his promotional debut earlier this year, winning by knockout.
It's unclear if GLORY still looks to book the interim Heavyweight title fight at COLLISION 4, but Pessenier doesn't rule out the possibility that his Croatian student will return on October, 8th.