The inaugural K-1 Bantamweight Champion will be crowned in two months.
Sixth K-1 event of the year, the sixth K-1 Grand Prix of the year.
At a press conference held earlier today, it was announced that a Bantamweight (-53 kg) K-1 World Grand Prix would be held at 'K-1 World GP 2022 in Osaka', which is scheduled to take place at the Edion Arena in Osaka, Japan. Aside from winning the tournament title, the winner will also be crowned the first-ever Bantamweight Champion in K-1 history.
Keeping up with the theme of their previous 'World' Grand Prix format, four Japanese and four international competitors will be represented, with one Japanese fighter facing one foreign opponent in the quarterfinals.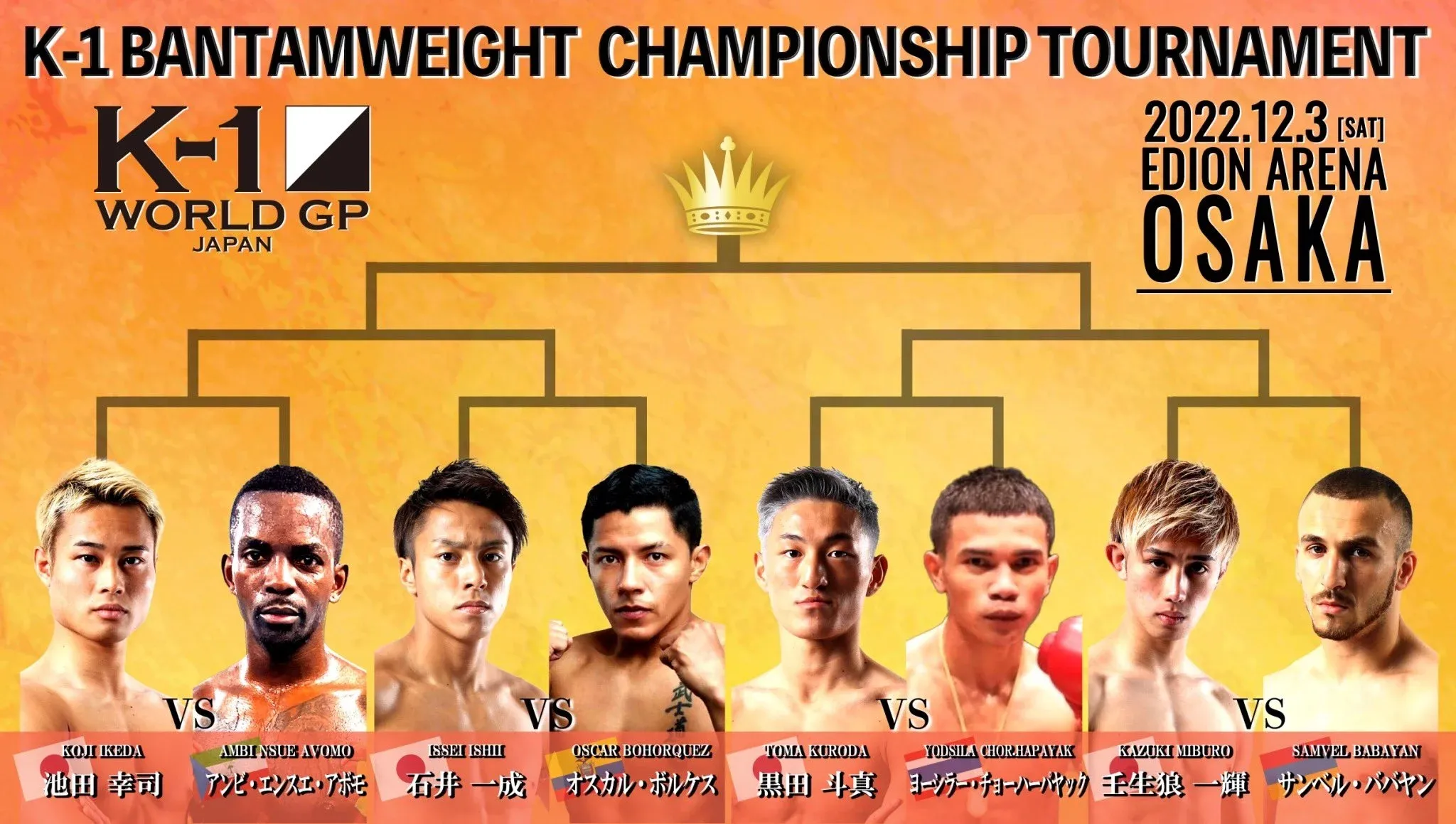 Koji Ikeda vs. Ambi Nsue Avomo
The first quarterfinal match-up will see the current Krush Bantamweight Champion Koji Ikeda face Ambi Nsue Avomo. Ikeda amassed a 4-3 record in his first seven professional appearances, with one of those losses coming against one of the other tournament participants, Toma Kuroda. He has since won four straight fights, during which he captured and successfully defended the Krush title as well. Throughout these four fights, he's also beaten another tournament participant, Kazuki Miburo, and both of the fighters in the tournament reserve bout. His opponent is largely an unknown quantity, but has a respectable 19-4 record, and is currently active in Europe, mainly in Spain.
Issei Ishii vs. Oscar Bohorquez
The second quarterfinal bout will pit Issei Ishii against Oscar Bohorquez. The Japanese had a lengthy Muay Thai career prior to joining K-1 and won several major titles during his time in the sport. He holds wins over Kazuki Osaki and Jin Mandokoro, two fighters currently ranked in the Beyond Kickboxing Flyweight Rankings and comes into this bout on a four-fight winning streak. Opposite him will be the 29-year old Bohorquez, who is undefeated in eight professional appearances so far. He's spent the entirety of his career competing in the United States and has captured both the All-American and World WKA titles. Ishii will be not only the favorite to win this fight, but the one of the favorites to win the entire tournament as well.
Toma Kuroda vs. Yodsila Chor.Hapayak
In the third tournament bout, Toma Kuroda will face Yodsila Chor.Hapayak, Thailand's sole representative. Kuroda won the K-1 Japan Bantamweight Grand Prix last year and will try to replicate his past success in the World Grand Prix as well. Kuroda beat both Koji Ikeda and Kazuki Miburo, two other Grand Prix participants, during the course of the last year's tournament and was able to once again beat Miburo seven months later. Alongside Ishii, he will be the biggest favorite to capture the inaugural title. Across from him in the ring will be the most experienced tournament entrant however, as Yodsila boasts a grand total of 63 fights to his name, 51 of which he has won. Yodsila furthermore holds the Omnoi Stadium Bantamweight belt, one of the most prestigious Muay Thai titles after Rajadamnern and Lumpinee, and will come into this bout riding an impressive 16-fight winning streak.
Kazuki Miburo vs. Samvel Babayan
The fourth and final quarterfinal bout will see Samvel Babayan face the former Krush Bantamweight Champion and last year's Japan Grand Prix runner-up Kazuki Miburo. After going on a perfect 12-0 run in the first four years of his professional career, Miburo would then suffer three consecutive losses, with two losses to Toma Kuroda and one loss to Koji Ikeda. He will try to avenge his loss to Kuroda in the semifinals and possibly Ikeda in the finals, should he pass by Babayan. This will not be an easy task however, as Babayan is one of the best European fighters at and below 55 kilograms. He competed in the 2019 K-1 Super Bantamweight (-55 kg) Grand Prix as well, although he was eliminated in the semifinals, after beating former Krush Bantamweight Champion Koki in the quarterfinals. Competing at -53 kg might be easier for the 5'2.5'' tall Armenian and he appears to be the biggest favorite among the foreign fighters to advance past the quarterfinals.
K-1 has also scheduled a reserve bout, should one of the competitors withdraw during the weigh-ins or during the tournament itself. One-time Krush Bantamweight title challenger Aoi Noda will face Daiki Mine. Noda was at one point considered one of the best prospects in the lower weight classes, but after losing four of his ten professional fights, with three of those being stoppage losses, the hype has petered out. On the other hand, Mine has lost to Miburo and Ikeda as a professional and to Kuroda as an amateur. Although either of them advancing far in the tournament would come as a surprise should they replace one of the main competitors, this is the perfect opportunity for both of them to begin rebuilding themselves as top level fighters.