"One minute to decide who is the strongest."
BREAKING DOWN is all about breaking down stereotypes. The promotion tossed out the usual rules and conventions and invited everyone who can entertain to brawl. A wide field of professional fighters, amateurs, influencers, everyday folk, and people with shady pasts are looking for a quick way to fame. Quick in the literal sense as fights are decided within one round with a duration of only one minute.
Matchmaking is done through auditions and interviews, all hosted on Asakura Mikuru's YouTube channel. The organization boasts massive viewing numbers and has shown potential to set the average Joe onto a path of social media fame.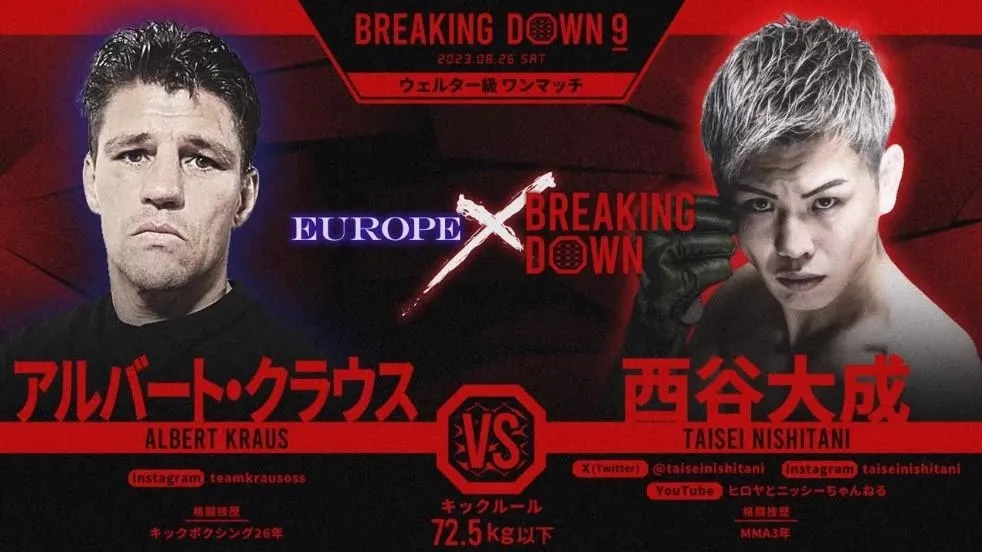 K-1 MAX legend Albert Kraus finds himself facing off against Taisei Nishitani, a 6-6 MMA fighter who suffered a quick defeat at the hands of Hiroaki Suzuki in RIZIN's June event. "He's an old fighter, it's up to us current fighters to beat guys like that. Kraus will be a springboard for my career", Nishitani boasted.
Kraus, a man of few words when it comes to his opponent, stated, "This fight is a personal battle for me, regardless of my opponent. I will leave everything in the ring in that minute." Kraus' most recent fight also took place in Japan, culminating in a decision loss to Mason Hide Usami, then 0-1 MMA fighter, now 2-0 kickboxer.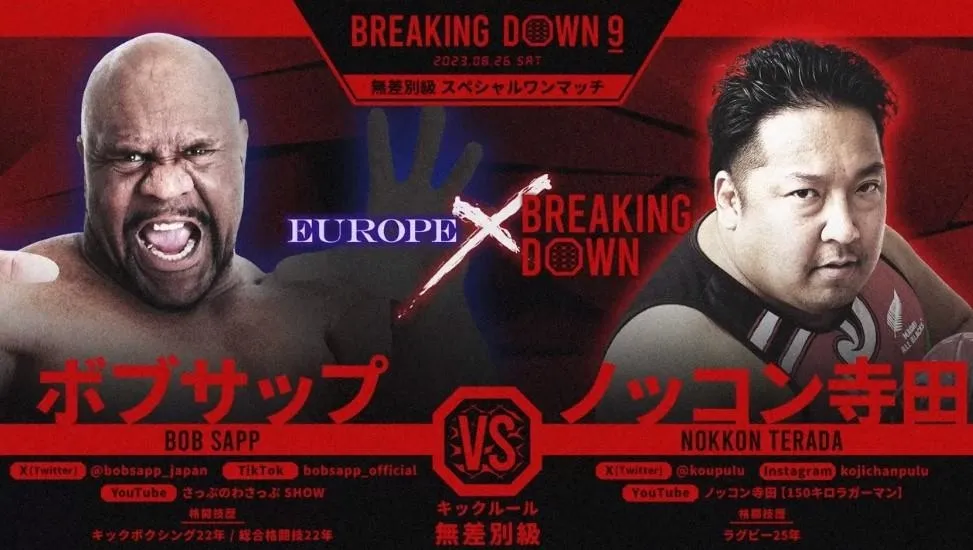 The event also sees the return of a hungry Bob Sapp. He will have quite the meal with the 150-kilo YouTuber and former rugby player Nokkon Terada.
Sapp declared, "My opponent has been determined – this 'pig', and I'm hungry" to which Terada swiftly responded, "You say you are a beast, but I am the beast of Japan. Let's decide who is the real beast. We're not here for sports, we're not here for K-1. We're here to fight."
Sapp warned the former rugby player, "Be careful, I'll kill you."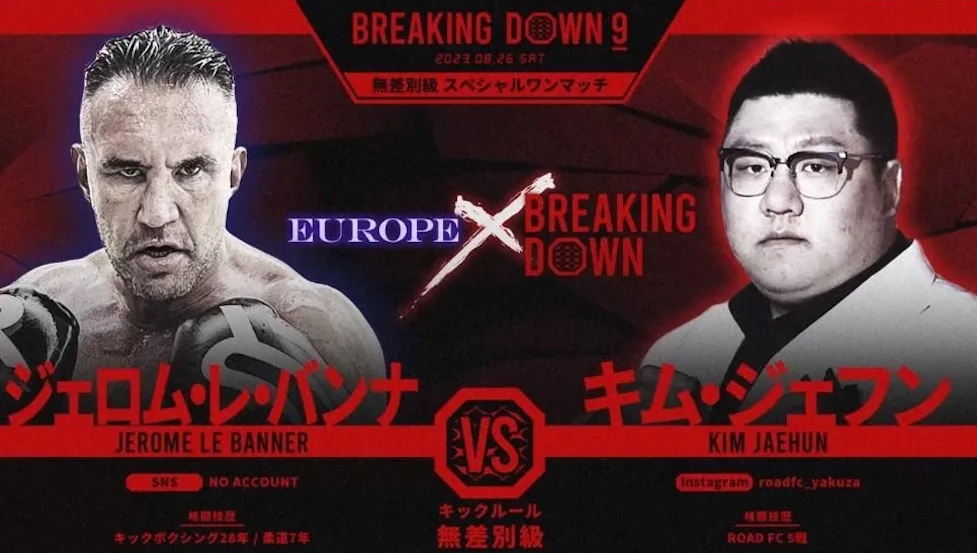 Jerome Le Banner, also making his return, squares off against Jae Hoon Kim. The two had been scheduled to cross paths previously at ROAD FC 047, but Le Banner withdrew due to an injury.
"You ran away last time, don't run away again", Jae Hoon said.
"I'm here now, I didn't run away. Let's go right now", Le Banner exclaimed as the two started to brawl and had to be separated by Peter Aerts.
Before facing off, Le Banner had some last words for his opponent, "I'm looking forward to fighting this guy, he's big, has power and looks like a Yakuza."
Furthermore, the event boasts the involvement of the legendary kickboxing Heavyweights Peter Aerts and Ernesto Hoost, responsible for bringing an ensemble of eight fighters from Europe to partake in the 'Japan vs. Europe' segment of the event. Aerts, now residing in Japan, has been a part of the organization and often judges bouts.
The event will only be available in Japan through PPV on ABEMA.