Sung-Hyun will be making his first title defense at RISE El Dorado 2023.
Lee Sung-Hyun will make his first RISE Middleweight (-70 KG) championship defense against Kaito Ono at RISE El Dorado 2023 on March 26. The title bout will be a rematch four years in the making, as Kaito was able to beat Sung-Hyun by a close unanimous decision in a five-round contest in September of 2019.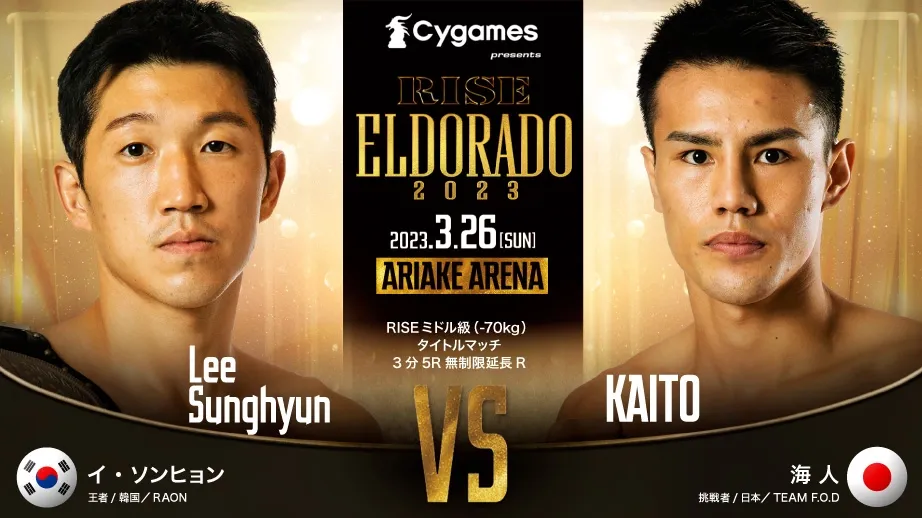 The champion has been largely inactive since then, with just two fights to his name: a split decision victory over Johnny Smith in 2021 and a majority decision draw with Tsukuru Midorikawa last year. Kaito has amassed a 17-1 record in that time and will enter the fight on a 16-fight win streak, with his career-best victories over Masaaki Noiri and Stoyan Koprivlenski both taking place last year.
The fight itself seems not to have been the first option for either the promotion or Kaito, as RISE CEO Takashi Ito stated during the press conference: "In truth, the plan was to have [Kaito] fight for the GLORY title on March 11. But the circumstances didn't work out, so we had to scramble and settled on having a fight for the RISE title this time". Should the Shootboxing ace win here, we might see him challenge for the GLORY Lightweight belt later in the year.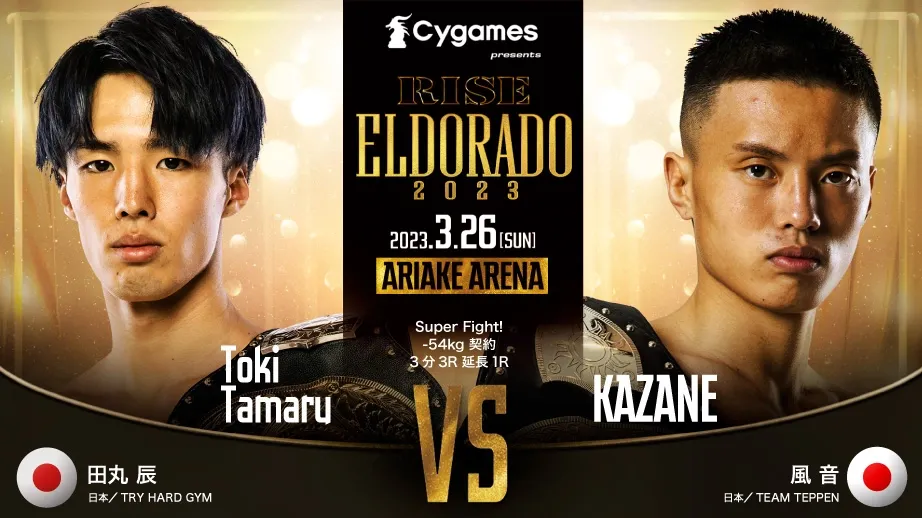 Reigning RISE flyweight champion Toki Tamaru will face the world's second best fighter at 53 KG, Kazane Nagai, in a -54 kg catchweight bout. The fight will serve as a qualifier for a -54 kilogram RISE World Series eight-man tournament. The quarterfinals of the RISE World Series will take place on April 2 in Osaka, the semifinals on August 26 in Tokyo, while the tournament final will be held in either November or December and will earn the winner a prize of 10,000,000 yen.
Tamaru captured the Flyweight title with a decision victory over Riku Kazushima in October of last year, moved up to Super Flyweight to overcome Khunsuknoy Boomdeksian by decision in his very next fight and will now make another step up in weight. Kazane will enter the fight with wins in five of his last seven, with both of the losses coming against pound-for-pound talents in Tenshin Nasukawa and Kazuki Osaki. Although neither fighter is an action brawler, the contest should still prove to be a treat for kickboxing fans.