The world's fifth-best kickboxer will return to the RISE ring less than a month after his demolition of Javier Cecilio.
Kazuki Osaki has spent the past five years establishing himself as one of the best kickboxers in the world, not just at his weight, but as a true pound-for-pound great. Having cleaned out his weight class, it was inevitable that the RISE Super Flyweight champion would have to face foreign opponents, considering the up-and-comers in Japan like Ryuki Matsuda and Ryu Hanaoka aren't yet ready to challenge him.
Just like Kento Haraguchi's latest fight, and Takeru's upcoming fight against Bailey Sugden, this one will be contested for an ISKA belt as well. Osaki and French fighter Nicolas Rivas will battle for the vacant ISKA World Flyweight 53.5 KG Championship.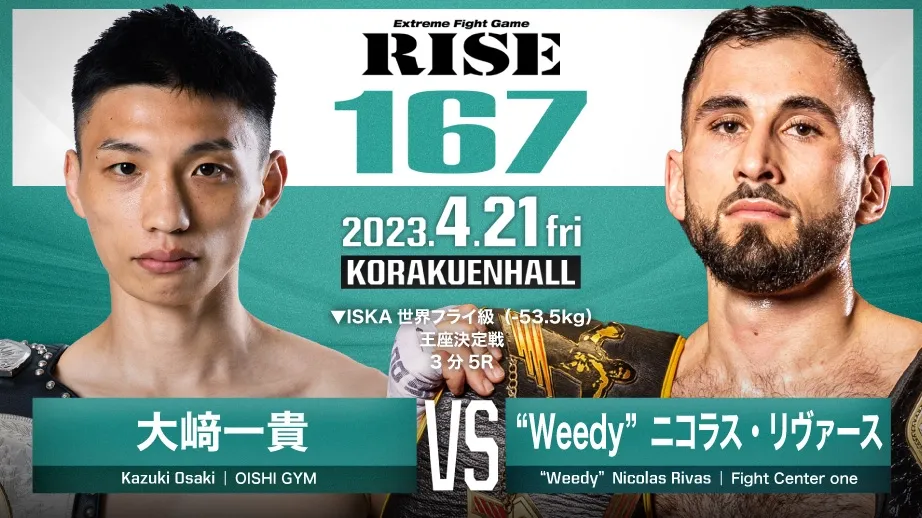 While Javier Cecilio could be seen as a stay-busy fight or a first 'step toward the world', Nicolas Rivas isn't a major step-up in class that some kickboxing fans might have expected. Certainly not compared to some of his previous opponents such as Kazane Nagai, Toki Tamaru or Jin Mandokoro, all of whom are currently in our divisional rankings. Rivas holds a 13-4 record, with one victory coming by way of stoppage. He's faced a number of standout European fighters at the lower weights, like Luca Cecchetti, but has come up short against all of them. While he might be better fighter than Cecilio, we'll likely see another dominant performance by Osaki on April 21.
A more exciting piece of news is the confirmation that Osaki will take part in the upcoming RISE World Series tournament, alongside Shiro, Toki Tamaru and five other fighters who are yet to be announced. He was twice booked to face Shiro, the best fighter at -55 KG, but the fight was cancelled both times for various reasons. A showdown between the pair is a dream fight for fans of the lower weight classes and a guaranteed treat for every fan of the sport.