Another GLORY Rivals addition makes the final RISE World Series card of the year a must-watch.
Kento Haraguchi has spent the past year calling for a trilogy fight against GLORY and RISE World champion Petchpanomrung. He is now just one step away from having his wish fulfilled.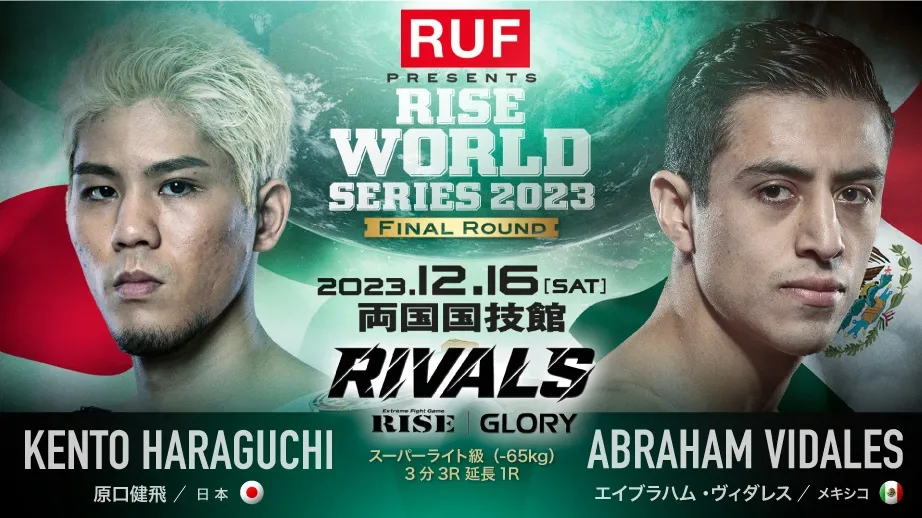 Haraguchi will face the No. 1 ranked GLORY Featherweight contender Abraham Vidales in a title eliminator bout at the next iteration of GLORY Rivals on December 16. Haraguchi's obsession with the Thai great is understandable, considering he's the only man to defeat him in the past five years – Haraguchi has beaten every other opponent he's faced in that time, having gone undefeated across 24 fights. His opponent, Vidales, likewise shares a rivalry with Petchpanomrung, as he too suffered a defeat at the hands of 'The Professor'. With wins in six of the eight fights he's had with the promotion, the hard-hitting Mexican will look to set up another date with the champion and maintain his status as the top contender.
Regarding the match-up, Haraguchi stated: "After I lost to Petch, my career became a 'Road To Petch', so I wanted to fight anyone who's a former champ or No. 1 ranked. Finally the chance has come to face someone who's recognized by everyone as the No. 1 Ranked, and when I score a highlight reel KO no one will be able to complain, then I will go into enemy territory and become GLORY champion". RISE representative Takashi Ito further stated: "Whoever wins will get a title fight next year in GLORY".
Taiju Shiratori will face Zakaria Zougarry in another meeting of Featherweight contenders, which will bring one of them a step closer to possibly becoming champions themselves.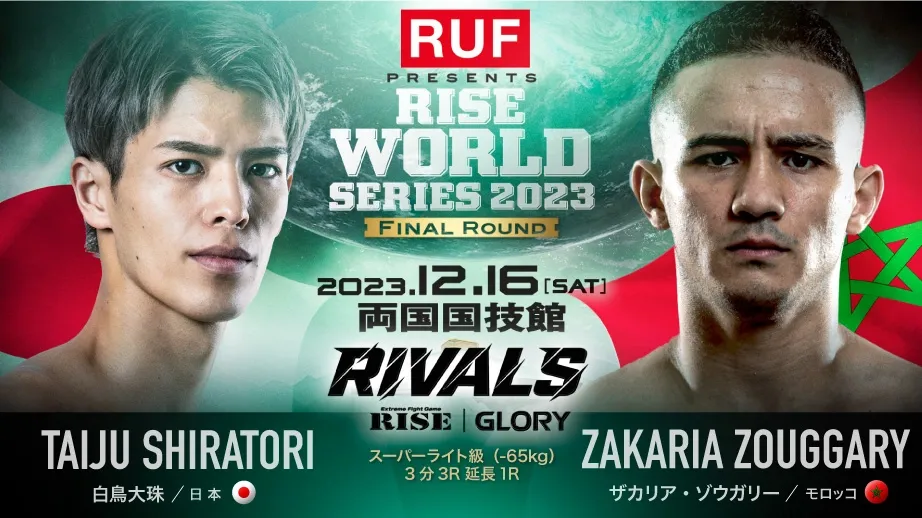 Both Shiratori and Zouggary have traded wins and losses with the divisional elite and have, up until recently, maintained their positions as the world's best. Zouggary's four-year long absence from professional competition, due in various parts due to the COVID-19 outbreak and injuries, have pushed him out of relevance in the division, while Shiratori's recent loss to the relatively unknown Alexis Sautron – although it has since been overturned to a no-contest – have taken the shine off the former RISE champion. The two of them will most likely see this as the perfect opportunity to bring themselves into title contention and bring some notoriety back to their names.