Another high-level Thai will see action in Japan in the coming weeks.
The 2021 Sports Authority of Thailand 'Fighter of the Year' Lamnamoonlek Tded99 will face the three-weight Shootboxing champion Hiroki Kasahara in a Super Lightweight (-65 kg) bout on the undercard of SHOOT BOXING 2023 act.1, which will take place on February 12.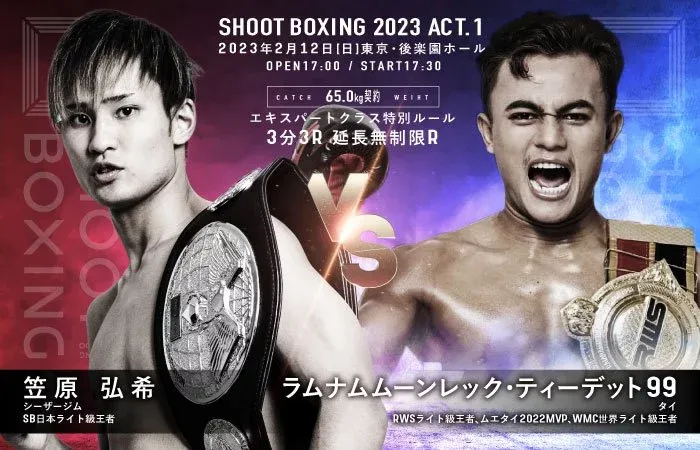 Kasahara was initially expected to face another representative of the Tded99 gym, Anurak, who was forced to withdraw after suffering a cut in a recent Muay Thai fight. Lamnamoonlek will replace his gym mate on ten-days notice and will move up 5 kilograms for this bout, as he usually campaigns at -60 kg. Kasahara will likewise be moving up in weight, although only 2.5 kg above his usual weight.
Lamnamoonlek earned the 2021 'Fighter of the Year' award after he won all four fights he had that year, most notably snapping former Lumpinee Stadium champion Phetphuthai Sitsarawatseua's five-fight winning streak. He continued his good form in 2022 as well, suffering only a single loss in seven outings, at the hands of the 2022 Rajadamnern Stadium 'Fighter of the Year' Flukenoi Kiatfahlikit. In his final fight of the year he won the Rajadamnern World Series -60 kg championship.
Kasahara will look to make a successful start to his Super Lightweight career, having gone on a 9-1 run at Lightweight, during which he beat the likes of Suarek Rukkukamui, Renta Nishioka and Yusaku Ishizuki.
As previously reported, the entire event will be headlined by a Shootboxing Super Bantamweight title bout between Seiki Ueyama and Koyata Yamada.