The title fight will headline RISE 167 in Toyko, Japan.
Naoki Tanaka, the reigning RISE Lightweight champion, will make his maiden title defense against 'The Human Beast' Kan Nakamura in the main event of RISE 167, which will take place in Tokyo, Japan on April 21.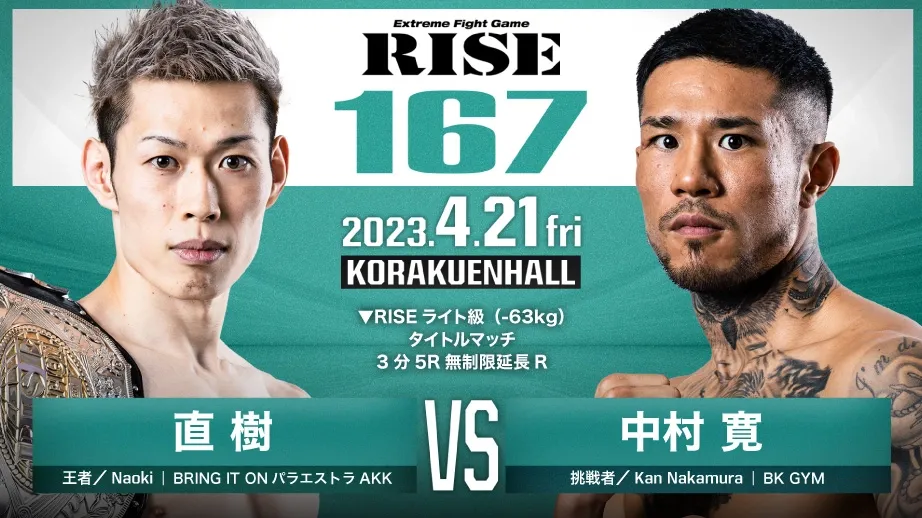 Naoki has had mixed results since capturing the vacant belt in January of last year. Although he was able to win his next two, against Jaroenchai Liongym and the highly regarded Taiju Shiratori, he followed this purple patch up with three consecutive losses, albeit against the best possible opposition.
The champion was given an opportunity to address the audience from the ring and said: 'The match will be held after [RISE] El Dorado, and it'll be on a weekday at Korakuen, so I don't expect a huge turnout, but I hope this card's main event will get people's attention. Lots of RISE legends from the past came out today. As a champion myself, I'll stand proud in the ring in this year of RISE's 20th Anniversary. I'll definitely keep my belt!'.
Nakamura has likewise had a mixed run of results, with four wins and four losses to his name since signing with RISE, although one of those victories came against the current K-1 Super Featherweight champion and the world's best fighter at -61 KG, Leona Pettas. He'll enter the fight on a positive note however, as he stopped Sumiya Ito in the second round in his latest appearance this past December.
Nakamura was as dismissive of his opponent as usual during his statement: 'I'm not particularly excited about this fight. I've already decided that I'm gonna fight the same as I always do. It's a title fight, so I'm hoping lots of people will buy tickets and come support me'.
Taking into account their styles and propensity to hand out and suffer knockdowns and knockouts, it promises to be an entertaining bout for however long it lasts.