The iconic Italian combat sports event returns with a stacked card from Turin, Italy.
Turin will once again be the hosting city for the Italian combat sports gala OKTAGON, the show that opened the door for the advent of combat sports in Italian mainstream TV in 1996. Promoter Carlo Di Blasi will bring the 26th edition of the event to the 'Pala Gianni Asti' Turin on the 18th of November. OKTAGON 2023 will feature 16 bouts on the card, including two MMA fights, with no less than three ISKA world title fights.
OCTAGON KICKBOXING
---
The centerpiece of the card will be the ISKA Heavyweight title fight between Mattia Faraoni, of Italy, against the powerful Romanian striker Bogdan Stoica.
Stoica is a veteran Heavyweight kickboxer who has vast experience throughout different promotions such as ONE Championship, GLORY Kickboxing, Dynamite, SUPERKOMBAT, and many more. He will be looking to add another knockout to his record as he aims to add an ISKA title to his name. The perfect opportunity for reigning champion and Italian kickboxing star Mattia Faraoni to make a name for himself on the international circuit.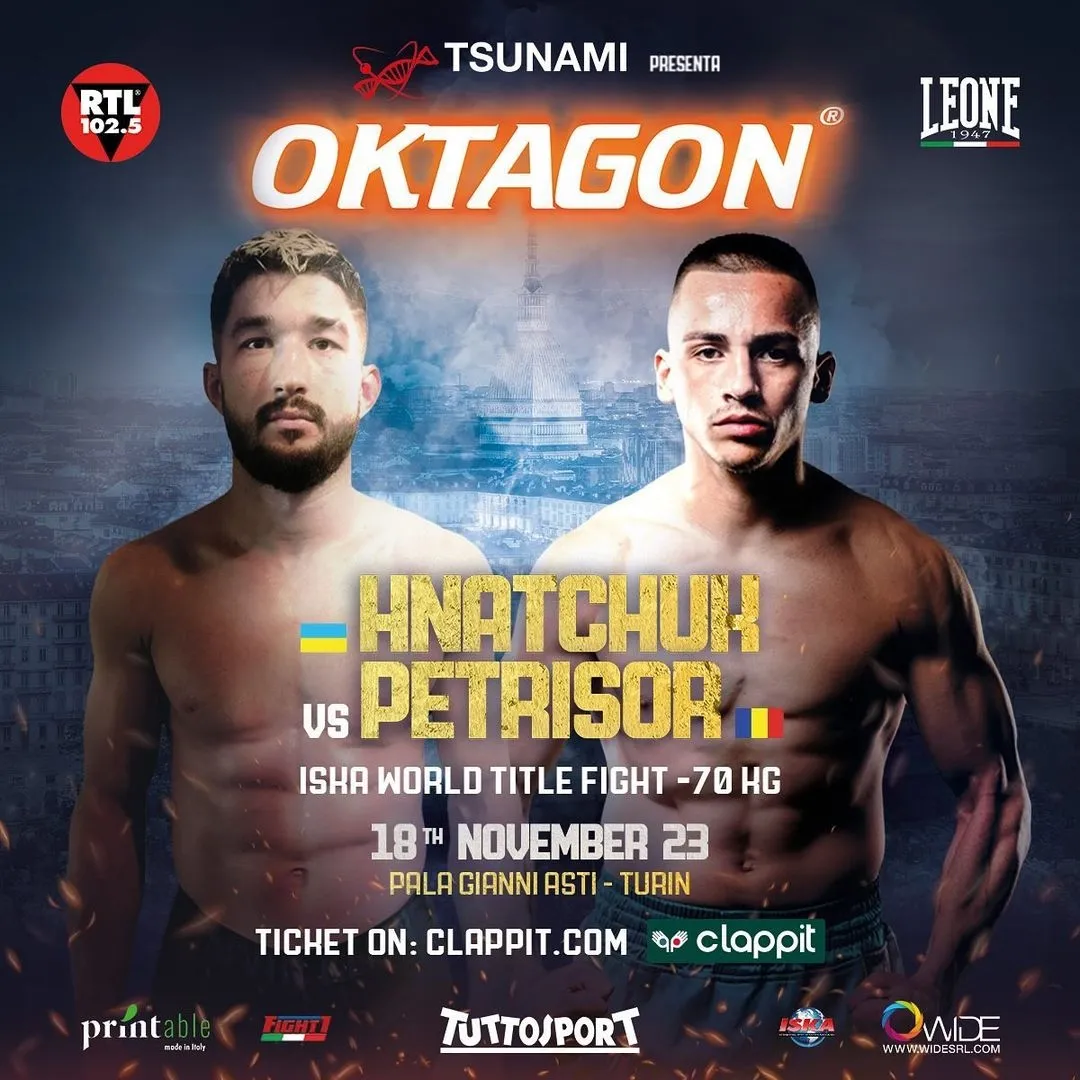 Over a five-round championship match, the vacant -70 KG ISKA world title will be decided as 'Baba Yaga' – Ukrainian for 'boogey man' – Taras Hnatchuk faces against Romanian fighter Calin Petrisor, the European ISKA champion at the same weight. The hard-hitting Hnatchuk, former ISKA titleholder himself, will be a stiff test for the athlete.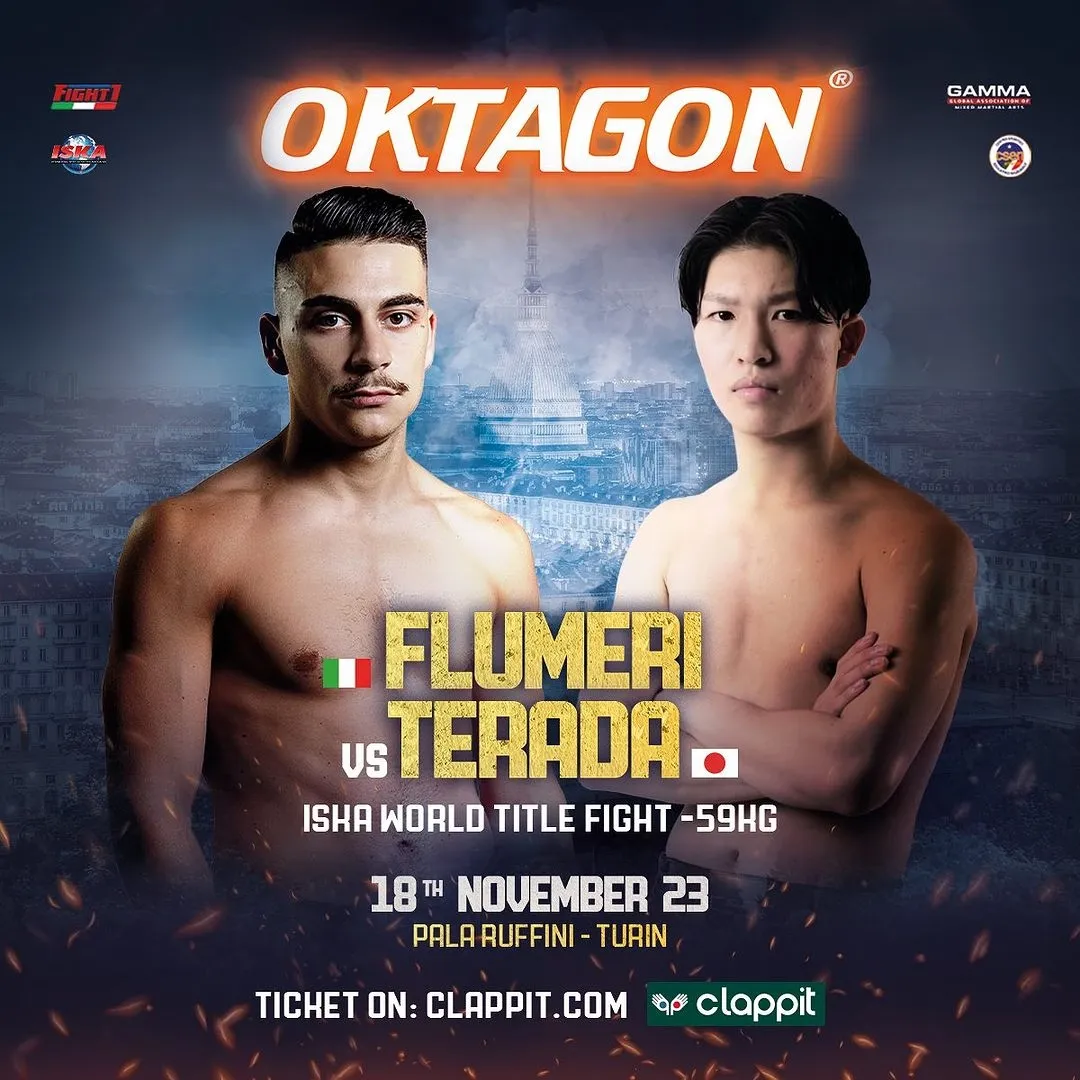 Another ISKA title match has been booked on the card featuring national and European champion Mirko Flumeri against Japan's Takumi Terada. Only seven fights deep into his career, Terada has a lot of eyes on him, only losing his last outing against a former Krush champion. The 22-year-old has been crowned '2021 K-1 Newcomer of the Year'. Each young fighter is looking to make a memorable fight at this event.
Originally scheduled for the card was pound-for-pound ranked and top Bantamweight in the world Martine Michieletto's return to home soil against Spanish fighter Anta Sanchez. She won't be able to compete as she's suffered an injury in training. Her bout will be replaced by Road to ONE Heavyweight winner Yuri Farcas against Florin Matei.
Elsewhere on the card, Christian Guiderdone is an ISKA World Champion and will face the Moroccan-Spanish striker Mohamed Bullalmaun.
International viewers can purchase the event for streaming on FITE TV. The preliminary card will be free to watch. Tickets can be bought here.
The full fight card can be found below.
OCTAGON FIGHT CARD
---
Mattia Faraoni vs. Bogdan Stoica – ISKA World Title Fight – K-1
Mirko Flumeri vs. Takumi Terada – ISKA World Title Fight – K-1
Taras Hnatchuk vs. Calin Petrisor – ISKA World Title Fight – K-1
Yuri Farcas vs. Florin Matei – K-1
Giuseppe Gennuso vs. Julián Londoño – Muay Thai
Christian Guiderdone vs. Mohamed Bullalmaun – K-1
Raffaele Vitale vs. Petr Kraft – K-1
Alexandru Cazacinschi vs. Samuele Andolina – K-1
Eugenio Paladiev vs. Catalin Aman – K-1
Ruben Sciortino vs. Papa Birahim Diop – Muay Thai
Simone Musmeci vs. Laurentiu Partenie – Muay Thai
Pietro Micelli vs. Gjeta Prenda – MMA
Michele Clemente vs. Teodoro Scolieri – MMA
Luigi Saraco vs. Riccardo Allena – K-1
Alessandro Venuto vs. Kevin Redruello – K-1
Carlos Catagua vs Cosimo Totaro – Muay Thai