The official weigh-ins for the RISE 167 took place today.
Nineteen or the twenty contracted fighters made weight, and the event will proceed tomorrow as planned with ten bouts.
Headlining RISE 167 will be Naoki Tanaka against Kan Nakamura. Tanaka looks to make his first successful title defense of the RISE Lightweight Championship. Both fighters came in under the weight-limit.
In the co-main event, RISE Super Flyweight champion Kazuki Osaki will take on Nicolas Rivas for the ISKA Oriental Rules World Flyweight title. Both fighters made weight. Osaki is confident ahead of the fight, "Tomorrow, I will challenge for the ISKA world belt. I will definitely defeat him and participate in the RISE WORLD SERIES 54 KG world tournament in July. Please look forward to it".
The only fighter to miss weight was Yuki Hamada, who came in over 0.7 KG above the Featherweight limit against Daiki Toida. The fight will still go ahead, but he receives a point-deduction and has to compete in 8oz gloves instead of 6oz gloves.
RISE 167 will stream live on ABEMA in Japan at 5:45 PM JST. The stream won't be region-blocked and can be watched globally for free. Tickets are available at t.pia.jp.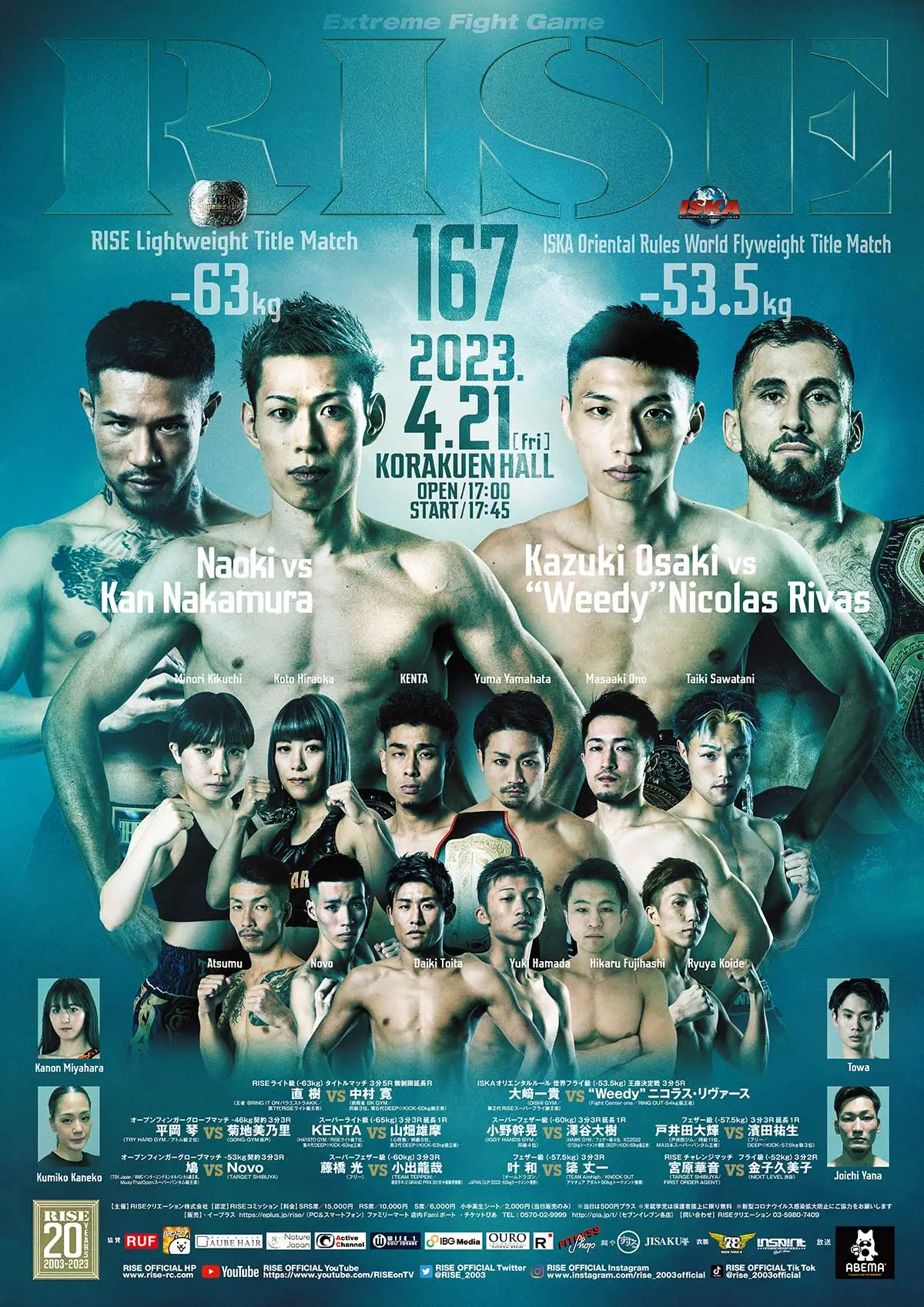 Visit rise-rc.com for more information.
RISE 167 WEIGH-IN RESULTS
---
MAIN CARD
Naoki Tanaka (62.90 KG) vs. Kan Nakamura (62.90 KG) – RISE Lightweight Championship
Kazuki Osaki (53.45 KG) vs. Nicolas Rivas (53.50 KG) – ISKA Flyweight Championship
Kenta (64.90 KG) vs. Yuma Yamahata (65.85 KG) – Super Lightweight
Koto Hiraoka (45.95 KG) vs. Minori Kikuchi (45.55 KG) – OFG Catchweight
Masaaki Ono (59.90 KG) vs. Taiki Sawatani (59.85 KG) – Super Featherweight
Daiki Toida (57.45 KG) vs. Yuki Hamada (58.20 KG) – Featherweight
Hikaru Fujihashi (61.10 KG) vs. Ryuya Koide (61.30 KG) – Catchweight
Towa (57.45 KG) vs. Joichi Yana (57.35 KG) – Featherweight
Atsumu (52.90 KG) vs. Kota Arai (52.85 KG) – OFG Catchweight
PRELIMS
Kanon Miyahara (53.0 KG) vs. Kumiko Kaneko (52.9 kg) – Flyweight