A highly regarded prospect and a popular title contender will both appear at RISE 162.
A Bantamweight (-55 kg) clash between Ryoga Terayama (8-1-3, 1 KO) and Kyosuke (11-12-2, 3 KOs) has been added to the upcoming RISE 162 event on October 30.
Terayama, an 18-year-old prospect from Isesaki, went undefeated in six fights in 2021. After going to a closely contested draw with Yuki Kyotani, Terayama went on a five-fight winning streak, during which time he won the Shooto Kickboxing -54kg tournament title and successfully defended his DEEP KICK -53kg title. Terayama was supposed to face Takuya in January of this year, but was forced to withdraw after testing positive for COVID-19. A month later, he left Teppen Gym, with whom he had spent his entire professional career. Terayama's last fight was a decision victory against Hiroki on November 20, 2021, and as such, he will come into the bout following an eleven-month absence from the sport.
Kyosuke has amassed a humbler 1-2 record last year, but has won two of his three fights this year, with both victories being quick stoppage wins. Kyosuke has in all probability been booked to help Terayama shake off his ring rust and a victory for him would be seen as a major upset.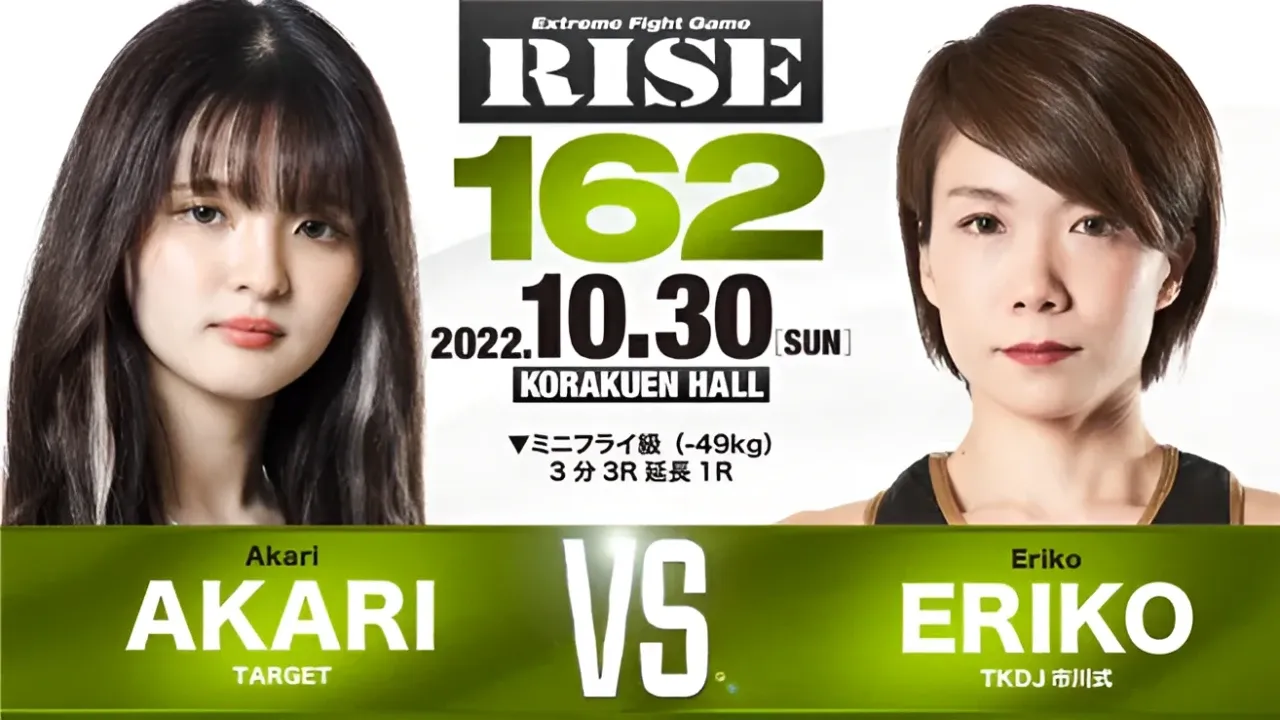 A rematch between ERIKO (7-4, 2 KOs) and the two-time RISE mini flyweight (-49 kg) title challenger AKARI (9-3, 1 KO) has been announced for the event. The pair previously met on September 16, 2019, in their professional debuts, with AKARI winning a unanimous decision. AKARI is currently ranked #1 in the official RISE mini flyweight rankings, while ERIKO holds the #4 ranking.
AKARI has fought seven times during the past two years and suffered all three of her professional losses during this time. All three losses however, have come against reigning or future Champions. She lost her first title challenge against Hinata Terayama by decision and has twice tasted defeat (once in a vacant title fight) against Erika, who beat her by decision both times. She remains unbeaten by fellow contenders and will look to rebound from her last loss to Erika against one such here.
ERIKO bounced back from her debut loss by winning her next four fights, but has split wins and losses in her last six appearances. She will come into this fight on a win, as she beat Otoha Nagao by unanimous decision on April 24, her sole fight of this year. An added advantage here is her stature, as she stands only 1 cm shorter than the 163 cm (5'4) AKARI, which cannot be said for most of AKARI's past opponents. As RISE is unlikely to book a third fight between AKARI and Erika at this moment, a victory here could put ERIKO forward as the next title challenger.
Two additional fights have been added to RISE 162. A Flyweight (-51.5 kg) bout will pit Kuryu (8-2-1, 1 NC, 3 KOs) against Aron (9-2-3, 2 KOs), who will be making his promotional debut with RISE. Kuryu faced Toki Tamaru in the semifinals of the RISE flyweight tournament, but the bout was declared a no contest after an accidental clash of heads left Tamaru unable to continue fighting. The fight was rescheduled for August 28 but was postponed and later scrapped as Kuryu withdrew with a positive COVID-19 test on August 17. Aron, who made his professional debut in 2017, won his last fight against Riamu by decision and seems to be a good addition to the nascent RISE flyweight division.
Masaaki Ono (7-5, 3 KOs) has been scheduled to face Taisei Iwago (9-6, 3 KOs) in a Super Featherweight (-60 kg) bout. Iwago has lost two of his three fights this year and has only two career wins under the RISE promotional banner. Ono has had a poor start to his professional career, suffering losses in five of his first eight fights, including a technical knockout loss to Iwago in October 2020. He has won all four his his fights since then and will look to continue the streak by avenging his loss to Taisei.