Two events will be held at the historic Korakuen Hall.
RISE will commemorate their 20th anniversary by treating the fans to an entire day of kickboxing, which will feature top contender fights, upcoming prospects, and the first tournament of the year.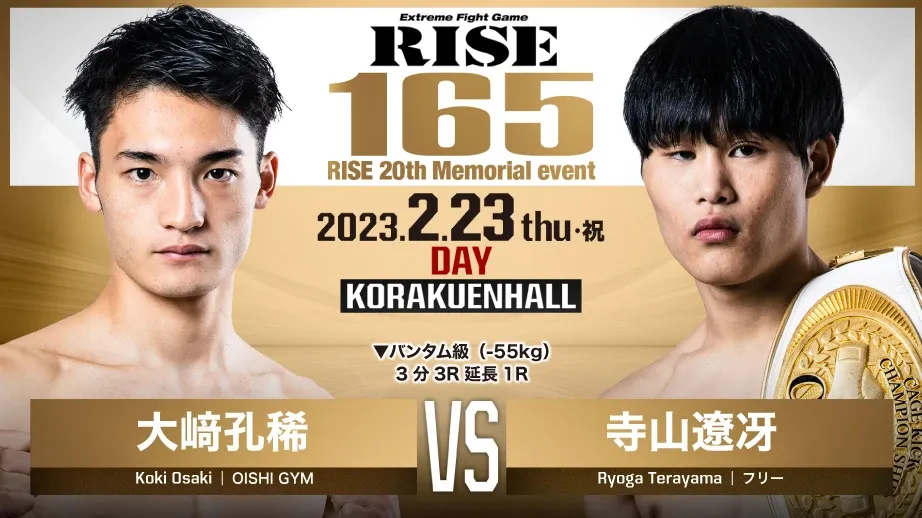 RISE 165, the first of the two cards, will be headlined by a -55 kg bout between Koki Osaki and Ryoga Terayama. Osaki went on a 4-1 run in the past year, with his sole loss coming at the hands of the world's best fighter at the weight – Shiro. This streak of victories earned him the #2 place in the official RISE Bantamweight rankings and a victory here could see him earn a shot at the title. Terayama was less active in 2022, as he returned from a nearly year-long break in October to beat Kyosuke and extend his win streak to six fights. Osaki will be by far the best opponent the 19-year-old prospect has faced so far and a win would see him emerge as one of the best in the division.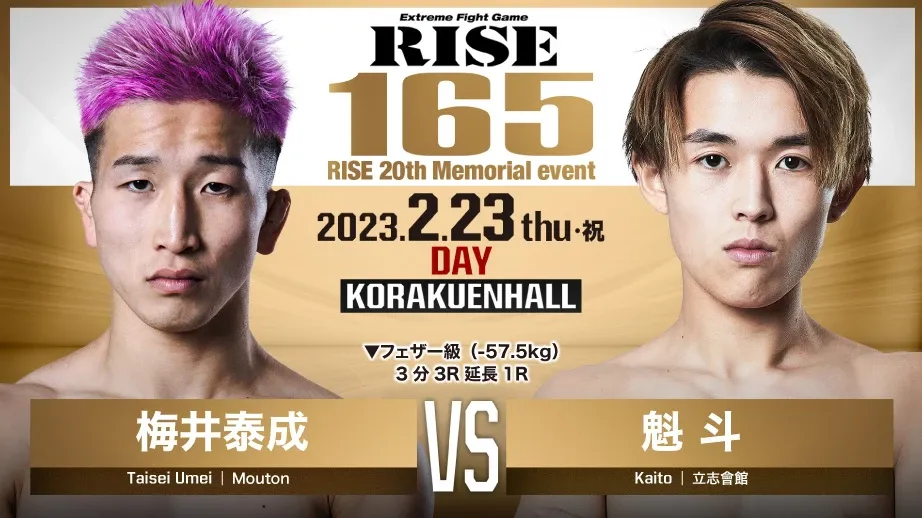 In the co-main event of RISE 165, one-time RISE Featherweight champion Taisei Umei will face amateur standout Kaito Sakaguchi. Umei experienced the highest of highs and lowest of lows in his two fights this past year, as he captured the RISE title with a decision win over Ryoga Hirano, but lost the belt to Keisuke Monguchi in his first defense. As he has left the famed TEPPEN gym and teased a move to mixed martial arts, his dedication to the sport of kickboxing has been questioned, which he'll look to disprove. Opposite him will be a two-time Shootboxing amateur champion, who's already beaten the likes of Shoki Kaneda and Kyo Kawakami, two fighters ranked in the Beyond Kickboxing Rankings. With his three stumbles all being close extra-round decision losses, the 21-year-old is definitely a fighter to keep an eye on.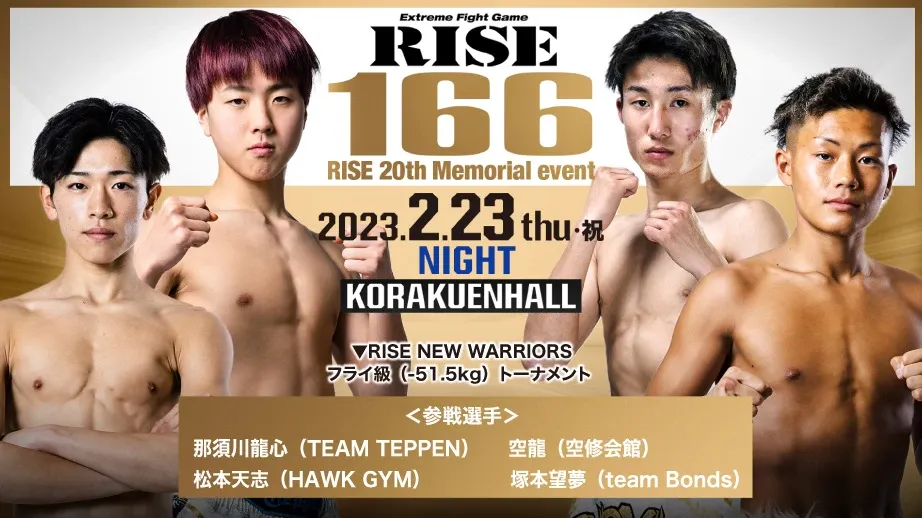 The standout event of RISE 166 will be the RISE "New Warriors" tournament, a one-day four-men 51.5 kg tournament, which will feature the four best RISE prospects below 53 kilograms – Tenshi Matsumoto, Momu Tsukamoto, Kuryu and Ryujin Nasukawa. Matsumoto, Tsukamoto and Nasukawa have all had good success as amateurs and have made a solid start to their professional careers. Kuryu has had a worse amateur, but a better professional career so far and is likewise a good inclusion. The winner of the tournament will have earned themselves a major feather in the cap and will most likely position themselves for fight with the RISE Flyweight champion Toki Tamaru sometime later in 2023.