Several top-ranked fighters will make an appearance at the RISE christmas card.
During a press conference held this morning, RISE announced seven more fights for their December 25 event, 'RISE World Series / Shootboxing-Kings', which will be organized in partnership with GLORY and Shootboxing and will take place at the famed Ryōgoku Kokugikan.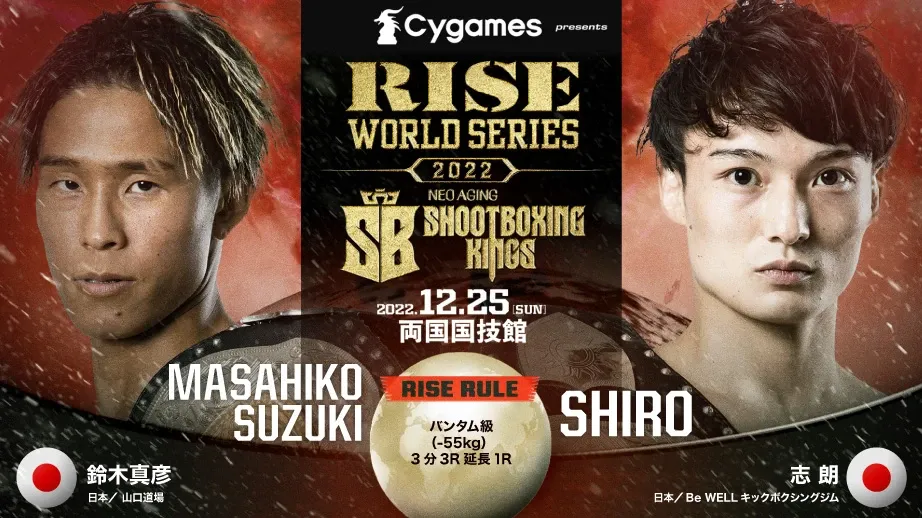 The long-reigning RISE Bantamweight Champion Masahiko Suzuki will rematch Shiro in a non-title bout. The pair first met on November 1, 2020, when Shiro was able to soundly beat Suzuki, with the champion failing to win even a single round on any of the judges' scorecards.
Suzuki has had better going since then however, as he won six of his next seven fights, with his sole loss coming against the pound-for-pound great Tenshin Nasukawa. He's beaten several members of the divisional elite in that time, with his decision victory over Akihiro Kaneko in June earning him in his division's Beyond Kickboxing Rankings. Shiro, on the other hand, has largely split wins and losses in the seven fights since then, although all of his successes and stumbles have been against the best possible opposition. Neither competitor is a clear favorite in this match-up and it promises to be one of the best bouts on the card.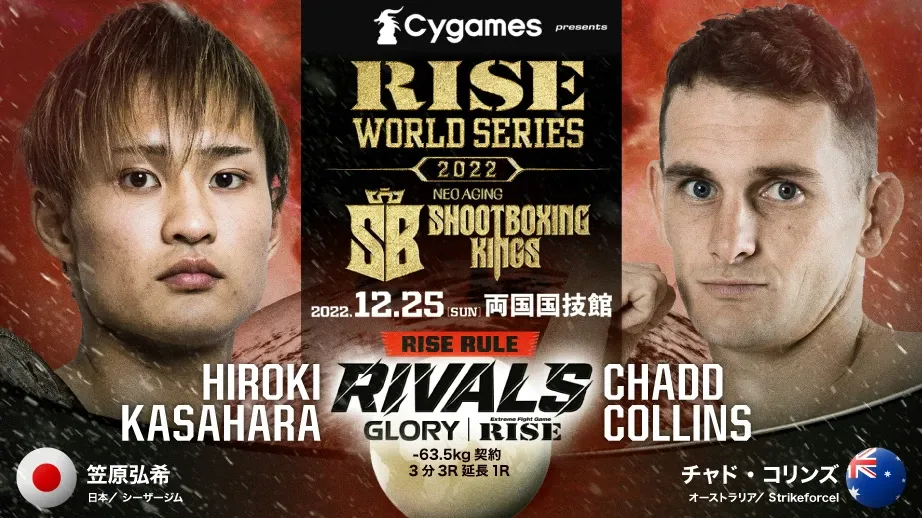 Three-weight Shootboxing Champion Hiroki Kasahara will face the three-time World Boxing Council Muay Thai title challenger Chadd Collins in a 63.5 kg catchweight bout. Kasahara is perfect in nine fights since moving up to the Super Lightweight limit (62.5 kg), with his two most notable triumphs coming against Suarek Rukkukamui and former Shootboxing Champion Renta Nishioka. In what will be his fifth fight of the year, he will face the Australian Muay Thai standout Chadd Collins, who has only competed three times under kickboxing rules, but has come out with his hand raised in all of them. In his two most recent bouts, he beat both the RISE Welterweight Champion Ryota Nakano and RISE Lightweight Champion Naoki Tanaka in the same manner – by stoppage. Before that however, he has a fight with Yod-IQ Sor.Thanaphet coming up and one would hope he won't suffer an injury, that would force him to pull out.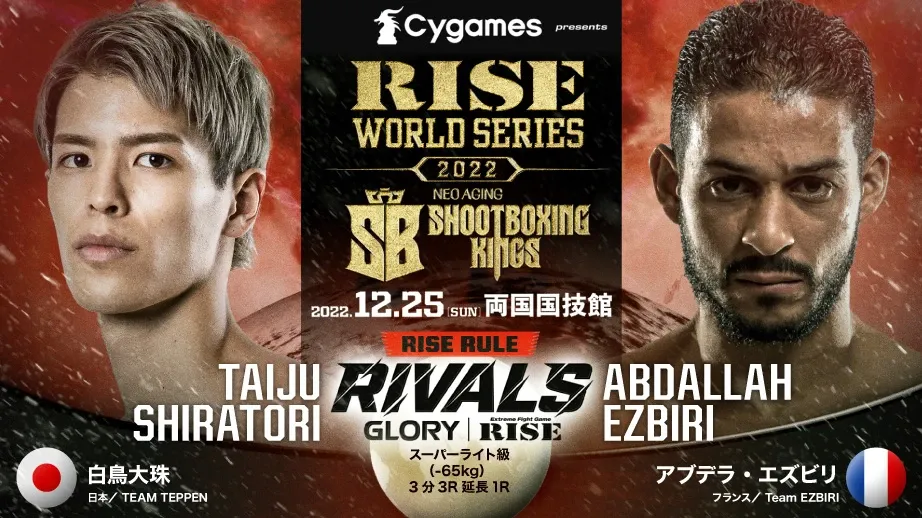 Taiju Shiratori has been booked to face Abdellah Ezbiri in a Super Lightweight bout. After a two-year slump during which he was able to beat good opposition, but failed to overcome the very best, Shiratori pulled off a major decision victory against the popular YA-MAN last month. Shiratori appears to be back on track, as he faces the GLORY and Kunlun Fight veteran Ezbiri, who hasn't fought since suffering a stoppage loss to Zakaria Zouggary over three years ago. Despite seeming to have retired from competition soon after, with no updates on his fighting career for a considerable amount of time, the 36-year old has nonetheless returned. Ezbiri acquired a number of notable wins during his peak and it will be interesting to see which version of him shows up in December.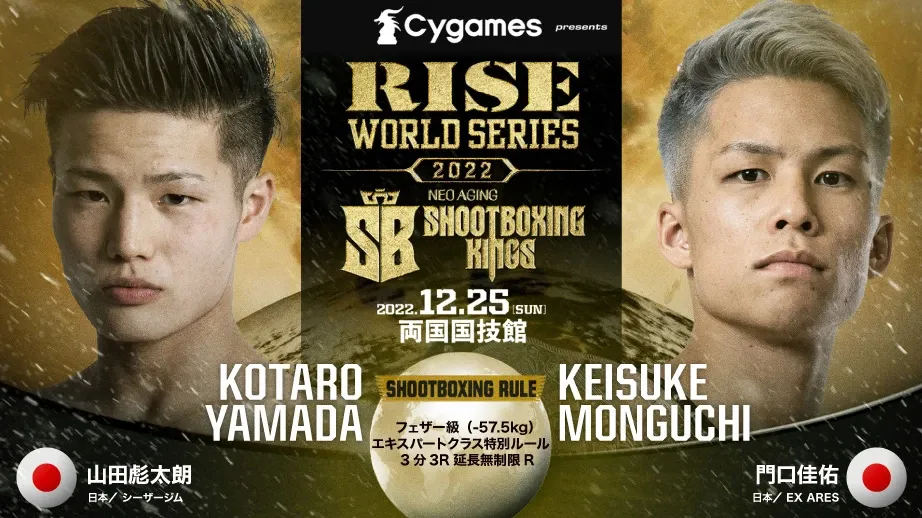 RISE Featherweight Champion Keisuke Monguchi has his third assignment of the year, as he faces Kotaro Yamada in a Shootboxing rules bout. Monguchi holds wins over two fighters ranked in our top divisional top ten, namely YA-MAN and Hyuma Hitachi. In his most recent appearance, he won a dominant five-round decision against Taisei Umei to capture the RISE championship. Yamada has won all three of his fights this year and five of his last six. It will be interesting to see whether the Shootboxing alumni Yamada will be able to utilize a rule-set he's familiar with to his advantage or if Monguchi will be able to utilize his kickboxing skills to extend his winning streak to three straight fights.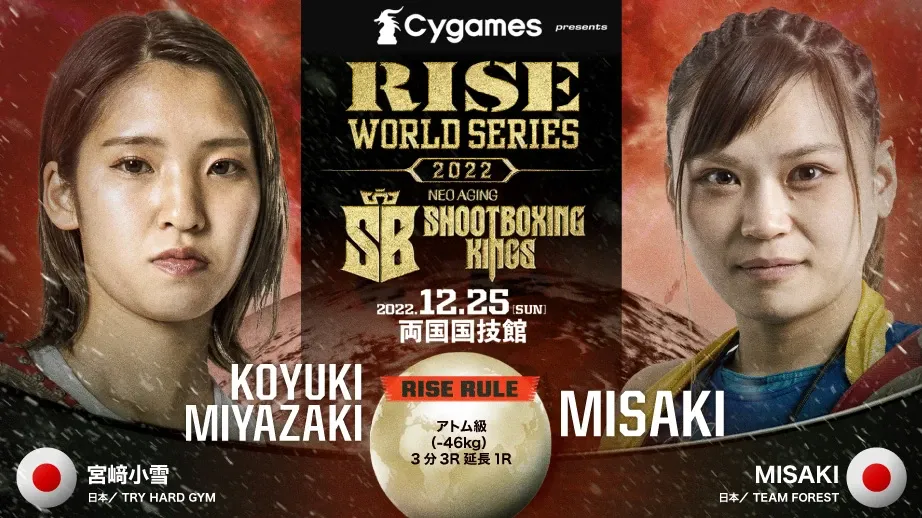 Champions will meet champions in the two women's kickboxing fights of the evening. Pound-for-pound ranked Koyuki Miyazaki, the reigning RISE Atomweight Champion, will face MISAKI, the reigning Shootboxing Atomweight Champion. Both women are on solid winning streaks at the moment and this is quite possibly the best fight for either woman at the moment. In the second women's fight, RISE Flyweight (52 kg) Champion Manazo Kobayashi will meet the Enfusion Strawweight (52 kg) Champion Tessa De Kom. Kobayashi holds the edge in experience and quality of opposition, but De Kom is by no means a heavy underdog. All four are among the best in the women's side of the sport and are a welcome addition to the card.
The entire event will be headlined by a Super Lightweight bout between Kento Haraguchi and Zakari Zouggary, while RISE and Glory Champion Pethpanomrung Kiatmookao will face Kosei Yamada in the latter's retirement bout.
RISE WORLD SERIES 2022 FIGHT CARD
---
65.0 kg: Kento Haraguchi vs. Zakari Zouggary
65.0 kg: Kosei Yamada vs. Petchpanomrung Kiatmookao
65.0 kg: Taiju Shiratori vs. Abdallah Ezbiri
63.5 kg: Hiroki Kasahara vs. Chadd Collins
52.0 kg: Manazo Kobayashi vs. Tessa De Kom
55.0 kg: Masahiko Suzuki vs. Shiro
46.0 kg: Koyuki Miyazaki vs. MISAKI
57.5 kg: Kotaro Yamada vs. Keisuke Monguchi
95.0 kg: Kenta Nanbara vs. Yuki Sakamoto
Additional fights will be announced and the bout order will be changed at a later date.