The popular brawler from Shibuya will face a long-time veteran in the first-ever OFG title bout.
The first RISE open-finger-glove fight, contested in 4 ounce gloves, took place two years ago. Since then, the ruleset has produced some of the most exciting bouts held under the RISE promotional banner and has given birth to one of their biggest stars: YA-MAN.
Having won six of his last seven, and all five fights he's had in open-finger-gloves, YA-MAN has finally earned himself a shot at the title. It won't be for the regular RISE Super Lightweight title however. OFG bouts, as well as YA-MAN himself, have grown popular enough that the promotion has instead decided to inaugurate OFG championships.
The inaugural RISE OFG Super Lightweight title will be contested between YA-MAN and Hiroto Yamaguchi on August 26, both of whom have had the most experience under the rule set out of all the fighters currently on the RISE roster. Yamaguchi's experience in OFG fights and his brawling style would explain why he's been given this chance, as the fighter doesn't himself hold a high spot in the official RISE Lightweight rankings while having a spotty record at best, although he'll enter the fight on a win.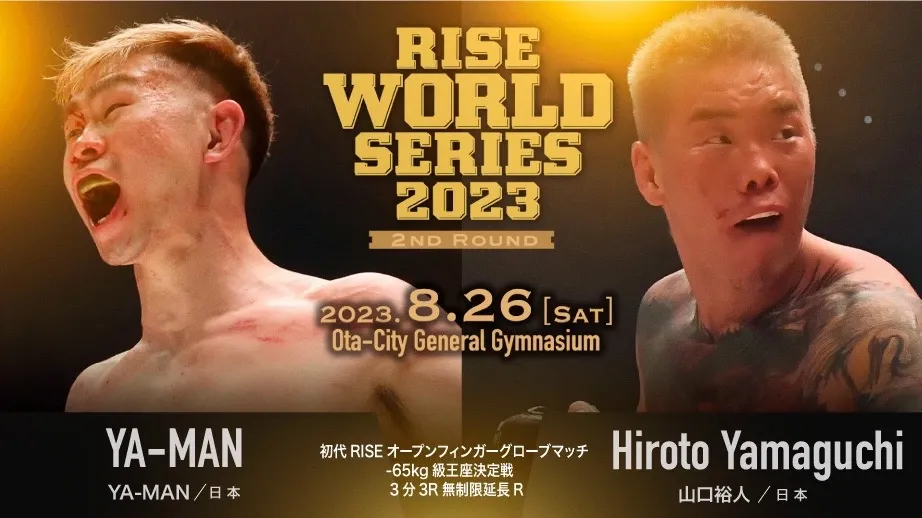 Regarding the rules of the contest, RISE CEO Takashi Ito stated: "Title fights in RISE are 5 rounds of 3 minutes with unlimited extra rounds, but OFG title fights are going to be 3 minutes 3 rounds with unlimited extensions because they're more taxing." YA-MAN himself sees the fight ending even more quickly, having said: "There won't be a need for an extra round, I won't even need the three rounds. I'll end it in one round as usual. I'll beat some respect into him. My OFG fights have a 100% KO rate, so you better be sure I'll finish him. Please come see me throw down".
Should this fight prove to be a success, it's likely that we'll see more OFG championship bouts in the near future. Whether they'll be seen as rarely as a RISE 'World' title fight, or as often as a regular RISE title fight will likely depend on how attractive they prove to be to the audience.