One current and one former champion will see action at the RISE World Series 2022.
At a press conference held by RISE this Saturday, it was announced that RISE lightweight Champion Naoki (19-6, 10 KOs) will face Chadd Collins (52-18-2, 26 KOs) in a -64kg catchweight bout at the RISE World Series 2022, which will take place at the Ota Ward General Gymnasium in Tokyo, Japan on October 15, 2022.
Following a remarkable 2021, which saw him capture the vacant RISE lightweight belt and get a marquee victory against the highly regarded Taiju Shiratori, Naoki has found difficulties in maintaining his form. The incumbent champion is yet to win a fight in 2022, as he suffered a second-round stoppage loss to the Super Lightweight champion Kosei Yamada in April and a decision loss to Dennis Wosik in his Glory debut in August.
The Australian Muay Thai standout will enter the bout in better form. He successfully made his RISE debut in August of this year, with a 163-second knockout of the reigning RISE welterweight (-67.5 kg) Champion Ryota Nakano, in what was just his second fight under Kickboxing rules. Naoki will look to maintain his spot as a top contender at around 63 kg, while Collins will see this fight as the perfect opportunity to position himself for a title fight at either 65 or 67.5 kg.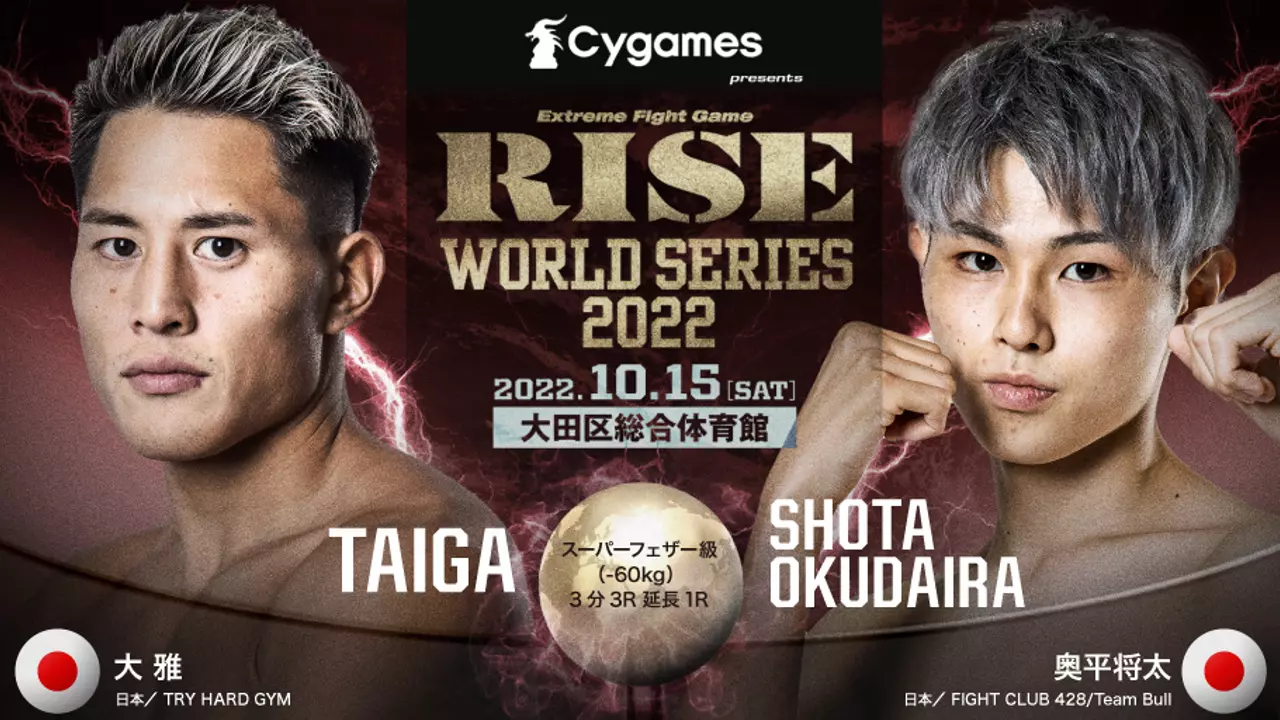 The popular Taiga (25-13-2, 6 KOs) has been booked to make his fourth appearance under the RISE banner, as he faces the seventh-ranked RISE Super Featherweight (-60kg) contender Shota Okudeira (4-2, 2 KOs) in a super featherweight bout.
After a catastrophic run between 2017 and 2020, which saw him lose eight of his ten fights, Taiga has managed to reignite his form in late 2020 and will enter the fight with wins in four of his last six fights. This will be Taiga's first fight back at the Try Hard Gym, with whom he has spent almost the entirety of his professional career, after having spent a year at Team Dragon.
Okudeira, who has spent his whole professional career with RISE, won his first three fights with the promotion, before suffering back to back losses. He will go into the fight on a positive note however, as he was able to rebounded from these losses with a decision win against Shigeki Fujii in July of this year.
Also announced was a Flyweight (-51.5kg) bout between amateur standout Ryujin Nasukawa (2-1, 1 KO) and promotional newcomer Ryotaro Yoshida (1-2, 0 KOs), as well as a Lightweight (-62.5kg) bout between Sho Ogawa (34-24-4, 10 KOs) and KENTA (16-3-1, 6 KOs).
RISE WORLD SERIES 2022 Confirmed Fights
---
Kazuki Osaki vs. Kazane – RISE Super Flyweight Championship
Shiro vs. Koki Osaki
Chanhyeong Lee vs. Kan Nakamura
Taiju Shiratori vs. YA-MAN
Kensei Yamakawa vs. Haruto Yasumoto
Naoki vs. Chadd Collins
Taiga vs. Shota Okudaira
Ryu Hanaoka vs. Tsubasa
Ryujin Nasukawa vs. Ryotaro Yoshida
Sho Ogawa vs. Kenta
Takumi Hoshi vs. Ryunosuke Ito
Retsu Sashida vs Shinnosuke Nagamatsu