The actress, radio host and ring girl will add another job to her list of occupations.
Ring girls usually enter between rounds to let the audience and viewers know at what point of the fight we're currently at, or to present the winner with a trophy and pose with them for the press. It's not often that a ring girl decides to enter the ring for a fight. As it happens, Kanon Miyahara has decided to do just that.
Miyahara will face fellow debutante Kumiko Kaneko in a Flyweight (-52 KG) bout at RISE 167 on April 21. Kaneko will have the advantage in amateur experience, as she has had quite a few fights more than her opponent, although both women have been matched appropriately for their first fight.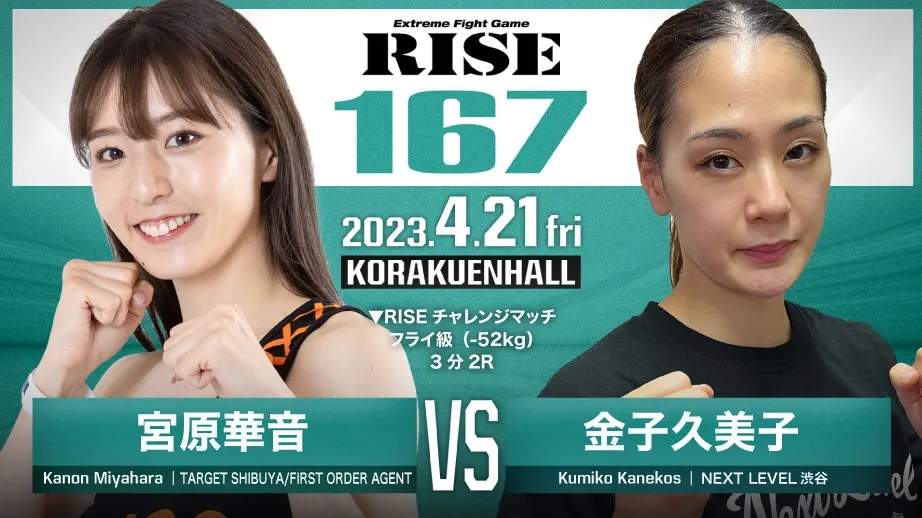 The fight itself came as a bit of a surprise for the R-1SE Force member, as she stated in a pre-fight interview: "I host a radio program for RISE and during a planning meeting Ito-san (Takashi, RISE representative) told me "You should fight!". I replied back "Huh?!", thinking at the time it was going to be an amateur fight. "It'll be in Korakuen" he said, and we kept talking until we settled on me having a professional fight at the Korakuen Hall".
It doesn't appear to be a gimmick fight aimed to draw attention either, as Miyahara has put effort into her preparation. A lifelong martial artist, she took up Shotokan karate as a child and would go on to win the All Japan Boys and Girls Karate Tournament in elementary school and the Tokyo Junior High School Karate Championships later on.
Miyahara has also been training at Target Shibuya over the past few years, famous for producing the popular YA-MAN, where she has been coached by top contender Hyuma Hitachi among others. Her sole competitive kickboxing experience so far however, was a 15-second high kick stoppage victory at RISE NOVA on January 22.