The official weigh-ins for the RISE WORLD SERIES 2022 took place today.
All fighters made weight, and the event will proceed tomorrow as planned with thirteen bouts.
Headlining the RISE WORLD SERIES 2022 is the rematch between Kazuki Osaki and Kazane for the RISE Super Flyweight Championship. Both hit the mark at 53kg.
In the co-main event, former RISE Lightweight Champion Taiju Shiratori looks to prove he's still a contender in his division when he takes on scrappy YA-MAN.
RISE WORLD SERIES 2022 will stream live on ABEMA in Japan at 12:30 PM JST. The stream won't be region-blocked and can be watched globally for free. Tickets are available at t.pia.jp.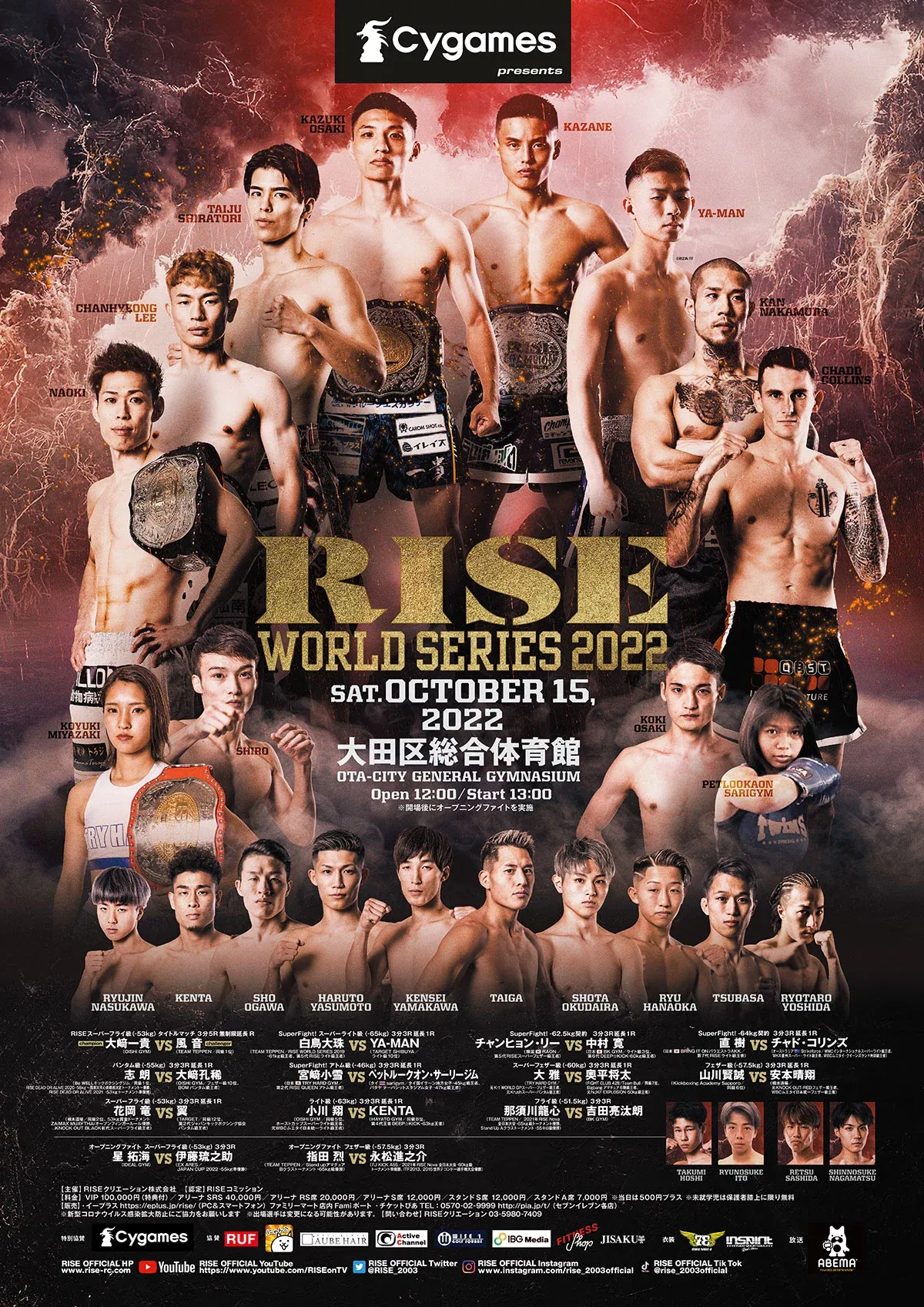 Visit rise-rc.com for more information.
WEIGH-IN RESULTS
---
RISE WORLD SERIES 2022 MAIN CARD
Kazuki Osaki (53 kg) vs. Kazane (53 kg) – RISE Super Flyweight Championship
Taiju Shiratori (65 kg) vs. YA-MAN (64.9 kg) – Super Lightweight Bout
Shiro (55 kg) vs. Koki Osaki (55 kg) – Bantamweight Bout
Chanhyeong Lee (62.5 kg) vs. Kan Nakamura (62.5 kg) – Catchweight Bout
Koyuki Miyazaki (45.9 kg) vs. Petloolaon Sarigym (46 kg) – Atomweight Bout
Kensei Yamakawa (57.5 kg) vs. Haruto Yasumoto (57.4 kg) – Featherweight Bout
Naoki (64 kg) vs. Chadd Collins (63.7 kg) – Catchweight Bout
Taiga (59.9 kg) vs. Shota Okudaira (60.0 kg) – Super Featherweight Bout
Ryu Hanaoka (53.0 kg) vs. Tsubasa (53.0 kg) – Super Flyweight Bout
Ryujin Nasukawa (51.5 kg) vs. Ryotaro Yoshida (51.5 kg) – Flyweight Bout
Sho Ogawa (63.0 kg) vs. Kenta (63.0 kg) – Lightweight Bout
RISE WORLD SERIES 2022 PRELIMS
Takumi Hoshi (53.0 KG) vs. Ryunosuke Ito (52.9 kg) – Super Flyweight Bout
Retsu Sashida (57.4 kg) vs. Shinnosuke Nagamatsu (57.4 kg) – Featherweight Bout