The official weigh-ins for the RISE WORLD SERIES 2023 1st Round took place today.
31 of the 32 contracted fighters made weight, and the event will proceed tomorrow as planned with 16 bouts.
Headlining the RISE WORLD SERIES 2023 1st Round will be a superfight between Kento Haraguchi and GLORY veteran Anvar Boynazarov . Both fighters share their last loss, GLORY Featherweight champion Petchpanomrung. The big difference here is that Boynazarov has been focusing on his MMA career as of late, and hasn't been in the kickboxing ring since 2019. Both fighters easily made weight.
The centerpiece of the fight card will be the first round of the 54 KG Grand Prix featuring Shiro, Ruben Seoane, Kazuki Osaki, Aiman Lahmar, Toki Tamaru, Petchsila, Kumandoi, and Mohamed Kloua. All tournament fighters were within the weight limit.
The only fighter to miss weight was Runa Kawano, who came in over 3.7 KG on her first attempt and over 3.5 KG on her second attempt. According to the newly revised RISE weigh-in rules she will be disqualified. Seina will step in as a late-replacement and will fight Hotaru in an exhibition bout instead.
The event will stream live on ABEMA in Japan at 1:00 PM JST. The stream won't be region-blocked and can be watched globally for free. Tickets are available at eplus.jp.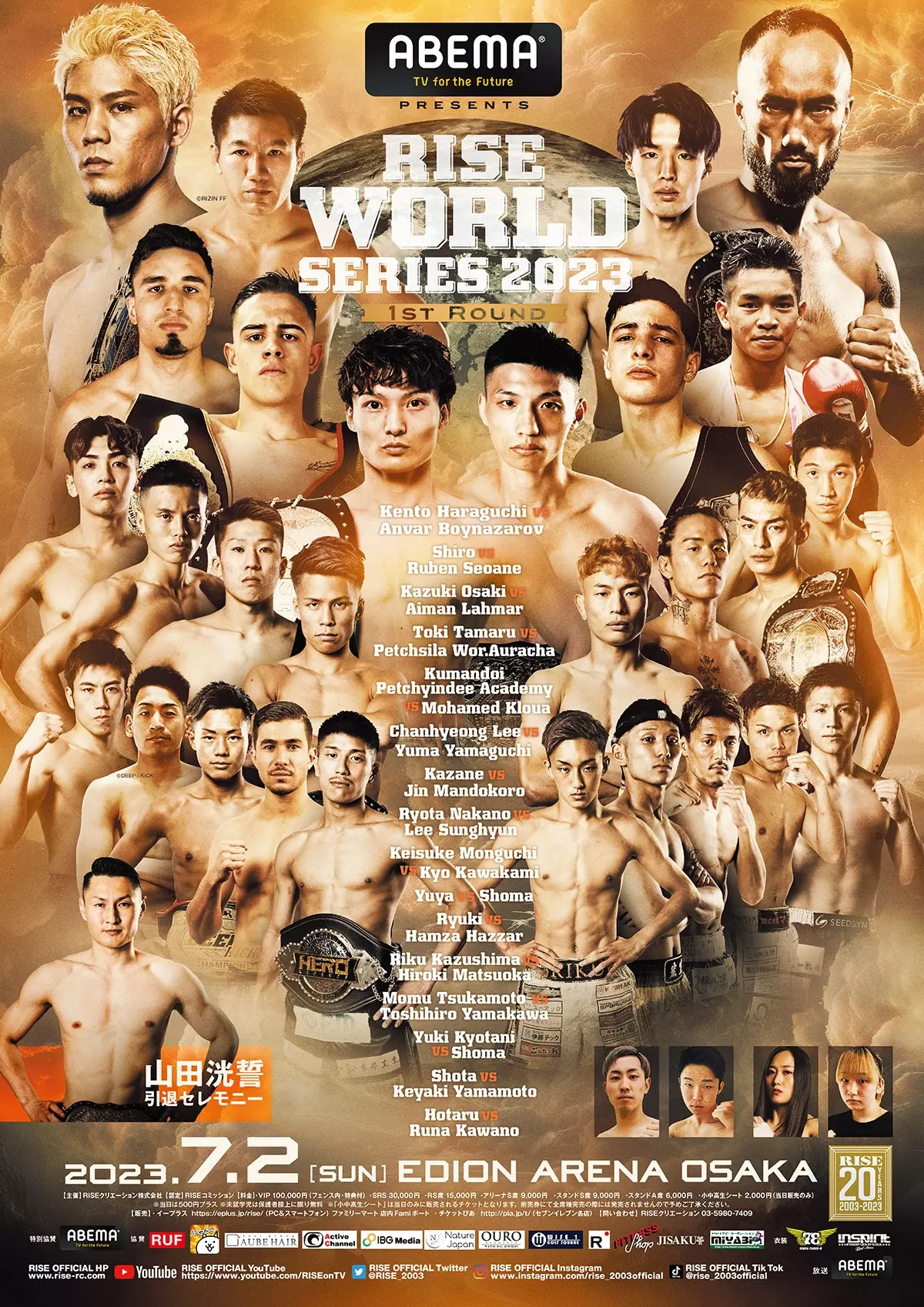 Visit rise-rc.com for more information.
RISE WORLD SERIES 2023 1ST ROUND WEIGH-IN RESULTS
---
MAIN CARD
Kento Haraguchi (64.90 KG) vs. Anvar Boynazarov (64.20 KG) – Super Lightweight
Shiro (53.90 KG) vs. Ruben Seoane (54.00 KG) – 54 KG Tournament Quarter Final
Kazuki Osaki (54.00 KG) vs. Aiman Lahmar (53.10 KG) – 54 KG Tournament Quarter Final
Toki Tamaru (53.95 KG) vs. Petchsila (53.65 KG) – 54 KG Tournament Quarter Final
Kumandoi (53.85 KG) vs. Mohamed Kloua (53.65 KG) – 54 KG Tournament Quarter Final
Chan Hyung Lee (53.95 KG) vs. Yuma Yamaguchi (53.90 KG) – OFG Catchweight
Kazane (53.95 KG) vs. Jin Mandokoro (53.90 KG) – 54 KG Tournament Reserve Fight
Ryota Nakano (67.45 KG) vs. Lee Sunghyun (67.30 KG) – Welterweight
Keisuke Monguchi (57.40 KG) vs. Kyo Kawakami (57.40 KG) – Featherweight
Yuya (69.95 KG) vs. Shoma (69.50 KG) – Middleweight
Ryuki (61.80 KG) vs. Hamza Hazzar (61.70 KG) – Catchweight
Riku Kazushima (52.80 KG) vs. Hiroki Matsuoka (52.90 KG) – Super Flyweight
Momu Tsukomoto (52.95 KG) vs. Toshihiro Yamakawa (52.90 KG) – Super Flyweight
Yuki Kyotani (54.90 KG) vs. Shoma (55.00 KG) – Bantamweight
PRELIMS
Shota (64.70 KG) vs. Keyaki Yamamoto (64.75 kg) – Super Lightweight
Hotaru (52.80 KG) vs. Seina (-) – Catchweight Exhibition
Hotaru (52.80 KG) vs. Runa Kawano (56.70 kg) – Canceled