The night at Ota City General Gymnasium didn't go down as many predicted it to.
The RISE World Series 2023 2nd Round took place last weekend at the Ota City General Gymnasium in Tokyo, Japan. The much-anticipated semi-finals for the 54 KG Grand Prix went down, which featured three RISE champions – Shiro, Toki Tamaru, and Kazuki Osaki and Thai stadium champion Kumandoi. In the headlining bout, YA-MAN fought Hiroto Yamaguchi for the inaugural RISE 65 KG Open Finger Gloves Championship.
YA-MAN VS. YAMAGUCHI
In typical fashion, YA-MAN was knocked down early just to dramatically rally back for a second-round stoppage to win the inaugural OFG 65 KG belt. A fitting championship title for YA-MAN as he came to prominence about two years ago in one of RISE's first OFG fights.
After the fight, YA-MAN had some words for the viewers, "Among those people who think of themselves as mediocre, if they work hard today, they don't know where they will be in two years, three years, four years from now. It doesn't really matter what environment you were born in, so please do your best. I'll do my best so that I can lead everyone in the future. So, if you haven't made it yet, please follow me."
OSAKI VS. TAMARU
In perhaps the biggest upset of the night, Toki Tamaru snapped the 19-fight winning streak of pound-for-pound ranked Kazuki Osaki. Osaki came out strong, imposing his signature infighting style on Toki Tamaru. Tamaru wasn't budging and made this a close-quarter affair. A back-and-forth ensued, but it was Tamaru who was landing the more effective shots in the later half of the fight, putting Osaki on shaky legs on several occasions. A stellar fight, which proved Tamaru's performance against Kazane and Petchsilla wasn't just a fluke, but that he is instead hitting a career-best form.
After the fight, the emotional Tamaru told the crowd that his mother passed away before the fight, and he considered pulling out but instead continued his path to victory.
KUMANDOI VS. SHIRO
In a fight that many thought would go similar to Shiro's outing against Diesellek, Kumandoi proved himself as surprisingly crafty. The heavy kicks of the Thai took a toll on Shiro early, and after trying to more actively counter the offense of Kumandoi in round two, Shiro ran into a right straight himself for an 8-count. After the knockdown, the urgency of Shiro was palpable, but it wasn't enough to make a difference on the scorecards.
In his post-fight speech, Kumandoi promised to take revenge for his friend Petchsilla against the other Grand Prix finalist, Toki Tamaru.
COLLINS VS. LEE
Chadd Collins made quick work of his overmatched South Korean challenger, overwhelming and stopping him inside the first round. More interestingly, Collins called out Kento Haraguchi and Petchpanromrung to prove that he truly belongs to the best in the division.
THE 54 KG GRAND PRIX FINALS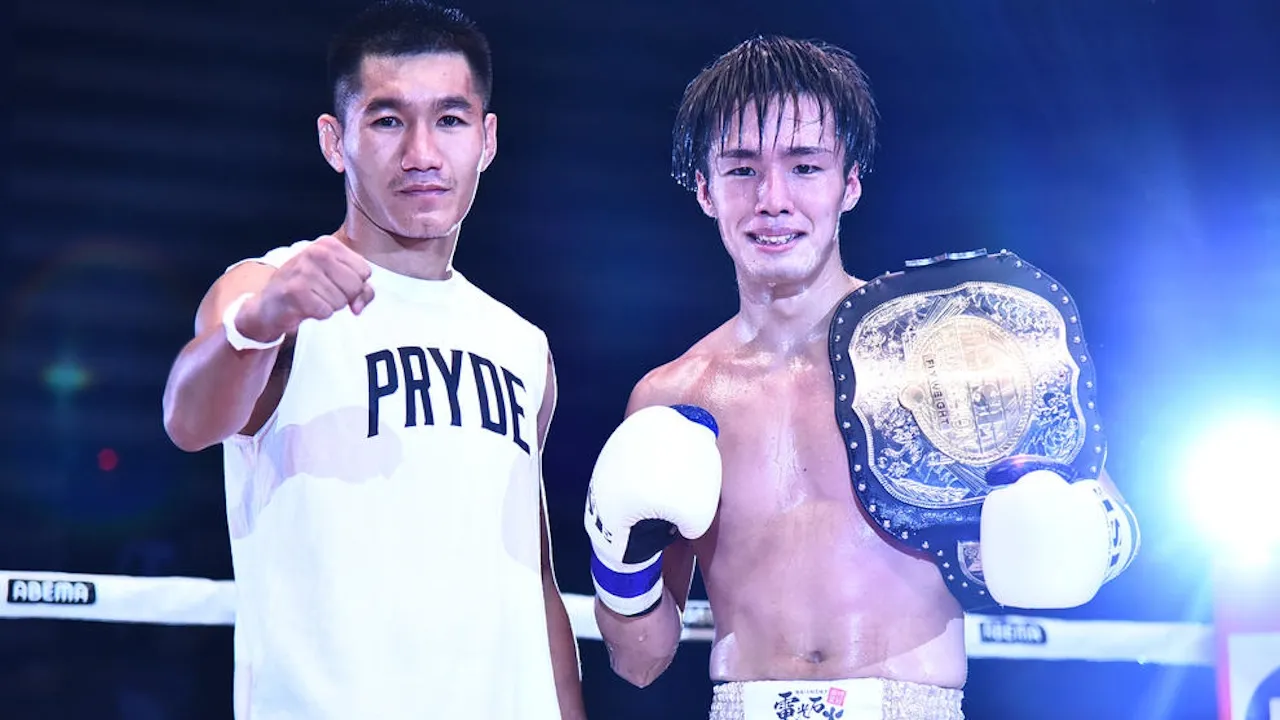 The finals of the 54 KG Grand Prix will be held in Tokyo on Saturday, December 16. Kumandoi will take on Toki Tamaru. The event will once again be streamed on ABEMA.
RISE WORLD SERIES 2023 2ND ROUND RESULTS
---
MAIN CARD
YA-MAN def. Hiroto Yamaguchi – KO at 1:05 of R2
Toki Tamaru def. Kazuki Osaki – Majority Decision
Kumandoi def. Shiro Matsumoto – Unanimous Decision
Hideki Sasaki def. Chan Hyung Lee – Unanimous Decision
Kan Nakamura vs. Alisher Karmenov – No Contest
Taiga Kawabe def. Hyuma Hitachi – Unanimous Decision
Koki Osaki def. Yugo Kato – Unanimous Decision
Koyuki Miyazaki def. Jumliat – KO at 3:00 of R1
Kaito vs. Haruto Yasumoto – Unanimous Decision
Chadd Collins def. Kyung Jae Cho – KO at 2:17 of R1
Jin Mandokoro def. Ruben Seoane – KO at 1:55 of R2
Ryu Hanaoka def. Nicolas Rivas – Unanimous Decision
Yutaro Asahi def. Kenta – Unanimous Decision
Ryujin Nasukawa def. Jin – Unanimous Decision
PRELIMS
Ryusho Toda def. Soma Higashi – KO at 1:52 of R2
Miyu Sakata vs. Honoka Kobayashi – Draw
Nonoka Kato def. Hotaru – Majority Decision