The official weigh-ins for the RISE WORLD SERIES 2023 2nd Round took place today.
All 34 contracted fighters made weight, and the event will proceed tomorrow as planned with 17 bouts.
Headlining the RISE WORLD SERIES 2023 2nd Round will YA-MAN against Hiroto Yamaguchi for the inaugural RISE Open Finger Glove 65 KG Championship. YA-MAN last made his MMA debut at Rizin 42, knocking out Kota Miura in the opening round. Hiroto Yamaguchi, opposite him, produced a fight of the year contender against Thalisson Gomes Ferreira, making those two the obvious choice for the more fan-friendly title.
The highly-anticipated semi-finals of the 54 KG Grand Prix featuring Shiro, Kazuki Osaki, Toki Tamaru & Kumandoi will take place.
The event will stream live on ABEMA in Japan at 1:00 PM JST. The stream won't be region-blocked and can be watched globally for free. Tickets are available at eplus.jp.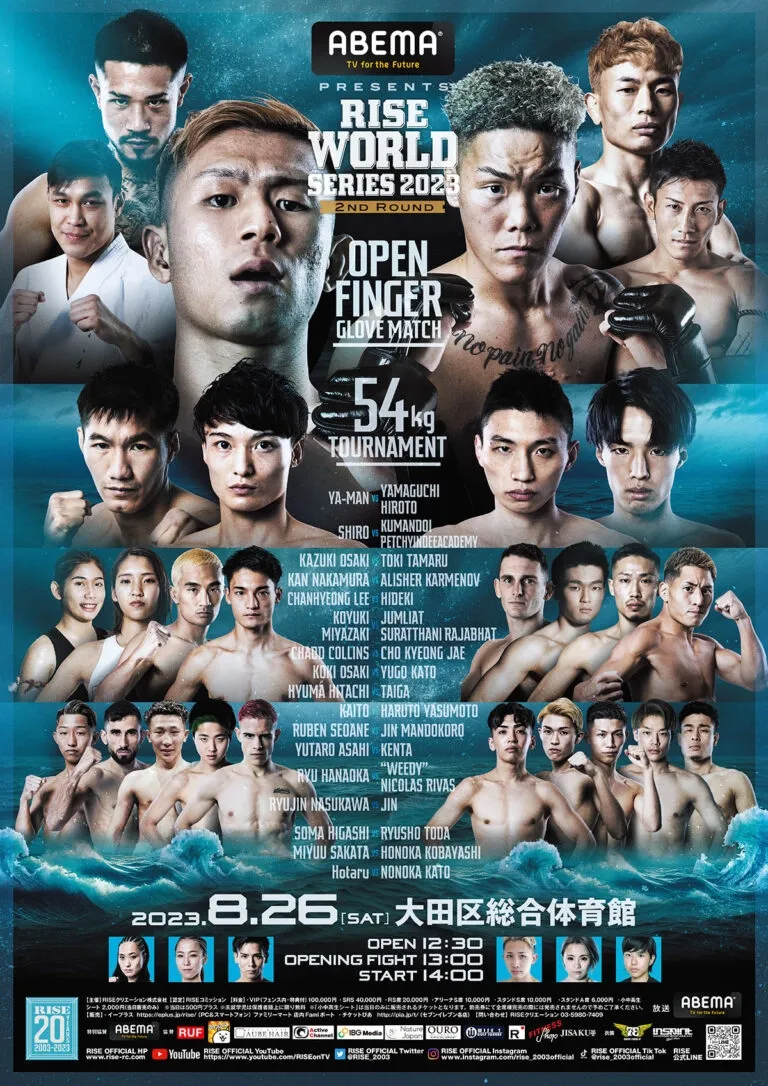 Visit rise-rc.com for more information.
RISE WORLD SERIES 2023 1ST ROUND WEIGH-IN RESULTS
---
MAIN CARD
YA-MAN (65.00 KG) vs. Hiroto Yamaguchi (64.90 KG) – RISE Open Finger Glove 65 KG Championship
Kazuki Osaki (54.00 KG) vs. Toki Tamaru (53.90 KG) – 54 KG Tournament Semi-Final
Shiro Matsumoto (53.95 KG) vs. Kumandoi (53.75 KG) – 54 KG Tournament Semi-Final
Chan Hyung Lee (62.90 KG) vs. Hideki Sasaki (62.65 KG) – Lightweight
Kan Nakamura (63.00 KG) vs. Alisher Karmenov (62.00 KG) – Lightweight
Hyuma Hitachi (59.90 KG) vs. Taiga Kawabe (60.00 KG) – Super Featherweight
Koki Osaki (54.95 KG) vs. Yugo Kato (55.00 KG) – Bantamweight
Koyuki Miyazaki (45.80 KG) vs. Jumliat (45.70 KG) – Atomweight
Kaito (57.45 KG) vs. Haruto Yasumoto (57.40 KG) – Featherweight
Chadd Collins (64.70 KG) vs. Kyung Jae Cho (64.80 KG) – Super Lightweight
Ruben Seoane (53.85 KG) vs. Jin Mandokoro (53.90 KG) – 54 KG Tournament Reserve Fight
Ryu Hanaoka (54.00 KG) vs. Nicolas Rivas (53.70 KG) – Catchweight
Yutaro Asahi (64.90 KG) vs. Kenta (64.95 KG) – Super Lightweight
Ryujin Nasukawa (51.45 KG) vs. Jin ( 51.15 KG) – Flyweight
PRELIMS
Soma Higashi (59.85 KG) vs. Ryusho Toda (59.70 KG) – Super Featherweight
Miyu Sakata (45.90 KG) vs. Honoka Kobayashi (45.90) – Atomweight
Hotaru (52.70 KG) vs. Nonoka Kato (53.00 kg) – Catchweight