The first Shootboxing card of the year has been announced for February 12, 2023.
The card will feature an exciting title match, as undefeated super prospect and challenger Koyata Yamada takes on Shootboxing Super Bantamweight champion Seiki Ueyama. Both fighters were on the RISE / SHOOTBOXING Kings card on Christmas, albeit against different opponents from the RISE kickboxing promotion.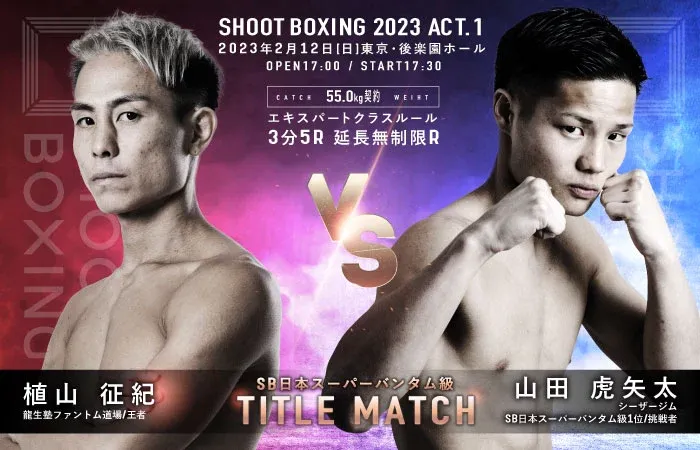 Seiki Ueyama captured the vacant Shootboxing Super Bantamweight title with a third-round knockout over Genki Takano in 2021. However, the champ has since gone winless in his last two, with hard-fought losses against Koki Osaki and former RISE Bantamweight champion Masahiko Suzuki. The Shootboxer lost a unanimous decision against the technical brawler Suzuki, although he went to an extension round, ultimately having trouble keeping up with the combination punching and volume of the current RISE champion.
Koyata Yamada is undefeated in his professional career, with a record of 9-0, and has a stellar amateur career, with two decision victories over RISE prospect Ryu Hanaoka and a TKO victory over another prospect Hyuga Umemoto. The young Shootboxing prodigy had the best performance of his professional career in his last fight, scoring a knockout over fellow prospect Shoa Arii with a right cross-counter in the second round.
However, Yamada will be facing his toughest test yet, going against the durable Seiki Ueyama. This title match against the solid Ueyama will be a good measure to see how well the young challenger might fare against the top fighters in the 55 kg division.
The card will also include fights featuring Lightweight champ Hiroki Kasahara, Super Featherweight champ Yuki Kasahara, and Kyo Kawakami.
The matches will be streamed on U-NEXT, with fights starting at 17:30 JST.