The Shootboxing brothers, both of whom are featured in our divisional rankings, will fight at the same event for the fourth consecutive time.
Former, and first-ever three-weight Shootboxing champion Hiroki Kasahara will look to build his legacy at Super Lightweight, as he's been booked to face the one-time Lumpinee Stadium Lightweight and Rajadamnern Stadium Welterweight champion Rambo Mor Rattanabandit in what will be the promotion's first-ever open-finger glove matchup. The other open-finger gloves fight on the card will be Yuki Sakamoto against Yuuya.
Chairman Caesar Takeshi, who attended the press conference, said, "Since Shootboxing uses all the standing techniques, I thought about using open-finger gloves all the way back when I founded it. However, the president of [gloves manufacturer] Winning told me 'It's too dangerous', which is proven wrong nowadays."
He then called out MMA fighters to participate, "If we start putting on more open-finger glove fights, we will attract more and more MMA fighters. I thought I'd consult with [RIZIN CEO] Mr. Sakakibara, but the timing didn't work out. It was decided that Kasahara's opponent would come out of ONE Championship, but it would be great if RIZIN would eventually come around. I also think it would be nice to have Shootboxing rules in RIZIN. I would like to talk about that with Mr. Sakakibara."
Similar to how RISE handles things, not all bouts will be contested in the smaller gloves, "I will do both gloves. For the time being, only those who want to compete in open-finger gloves, will have to".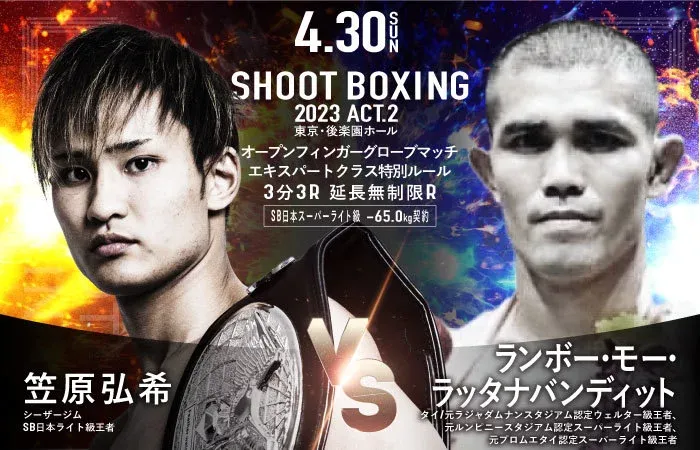 Hiroki Kasahara went on a 30-4 run between 57 KG and 63 KG before making his Super Lightweight (65 KG) debut against the 2022 Muay Thai 'Fighter of the Year' Lamnamoonlek Tded99, whom he beat via controversial and closely contested unanimous decision, after a grand total of three extension rounds. Rambo, on the other hand, has been experiencing major difficulties with his career lately. The two-stadium champion has suffered knockout losses in his last two outings, with his loss to an unheralded Tyson Harrison being especially telling. All the same, he is a natural 65 kg fighter and it should be interesting to see how his size influences the contest.
Regarding his future in open-finger bouts, the Shootboxer said: "We're in different weight classes so I'm not sure, but if I had to fight someone I'd pick Rodtang to have a back-and-forth brawl with. I'd like to fight someone who can really brawl… Chihiro Suzuki can also fight in open-finger gloves, so a fight with him would also be interesting".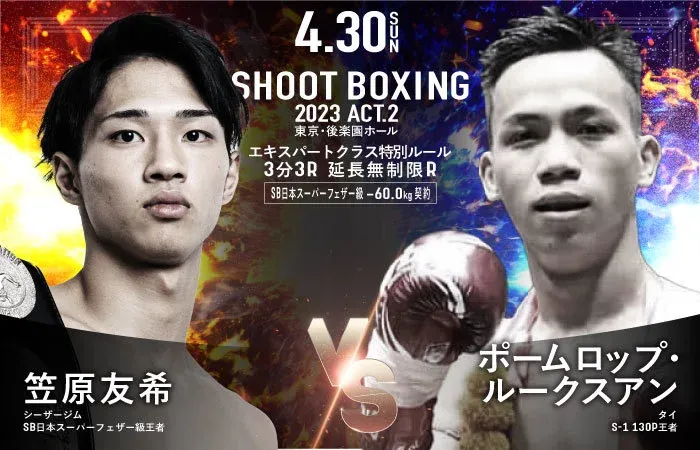 Two-weight Shootboxing champion Yuki Kasahara, the younger of the two brothers, will face Pomlop Looksuan in a Super Featherweight (60 KG) matchup.
Kasahara, the current Super Featherweight kingpin, has experienced a stellar run at 60 kg, having won five of the six fights he's had at the weight and with his sole loss coming at the hands of top RISE contender and title challenger Hyuma Hitachi. He'll come in as a significant favorite over Pomlop, who however won't be without a chance to win. All of Kasahara's losses have come by stoppage and a fighter who carries power in his hands, as Pomlop does, will be in the fight for its' entire duration.
While Hiroki Kasahara will most likely seek a fight with Shootboxing Super Lightweight champion Imoto Volcano if he should win here, it's as of yet unclear what Yuki will do. While a number of good matchups exist for him at his current weight, he could also follow in his elder brother's footsteps and attempt to capture a Shootboxing title in a third weight class. Either way, both fights should be entertaining and a solid reason to buy the pay-per-view, or catch the replay on the Shootboxing YouTube channel.