The former K-1 champion has an ambitious plan for his future career.
140 days following THE MATCH, former K-1 champion Takeru made his return to the ring on November 6 at the Gaina Soul in his hometown, Yonago of the Tottori prefecture. Facing former Krush bantamweight champion Koki, Takeru took on his protégé for a 2-minute, 2-round exhibition for the first kickboxing event run by Yonago Gym. Despite Tottori being the least populous prefecture in all of Japan, the hall was packed full of an eager audience.
His appearance, a means to give back to Yonago Gym – Takeru expressed gratitude in his post-exhibition speech that the gym had helped shape him become "the fighter that [he] is today", having encountered the place as a teenager during a time that he "did not know what to do with [his] life".
The exhibition also marks 3 months since Takeru underwent a significant knee surgery for his MCL and ACL.
"I only had three months to prepare but I was able to set a goal for myself that I would return to the ring here. I'm happy that I could make it to the ring today and fight Koki. I was able to make this happen because of everyone's support so I'm grateful to those who came today as well as those who are watching on YouTube who continue to support me."
Although Takeru had initially announced an indeterminate hiatus from kickboxing to focus on his physical and mental health, the 31-year-old fighter confirmed in his speech at the Gaina Soul that he would continue to fight and hoped to bring "good news soon".
"As long as there are people who will continue to support me, I want to end on a victory … I will continue to fight and hope to be able to win again and smile together with those who are supporting me."
The Gaina Soul is also Takeru's first public appearance since he announced his departure from K-1 and long-time gym KREST earlier this month, where he had fought for over 10 years.
Takeru reassured the audience that he had not negatively parted ways with the promotion and that he had made the move in the hopes to build a scene that removes "the many constraints in the fight industry and within Japan, barriers between promotions, and barriers between countries".
Although Takeru did not confirm the specifics of his future plans, he noted that "it doesn't necessarily mean I won't appear in K-1. I think this is the first step to unify the fight industry and invigorate not just K-1 or Japan but the world. I'm hoping to share good news soon so I'd be grateful if you can wait for it."
In an interview released on his YouTube channel shortly after the event, Takeru explained that he hoped to make changes in order to set new precedents.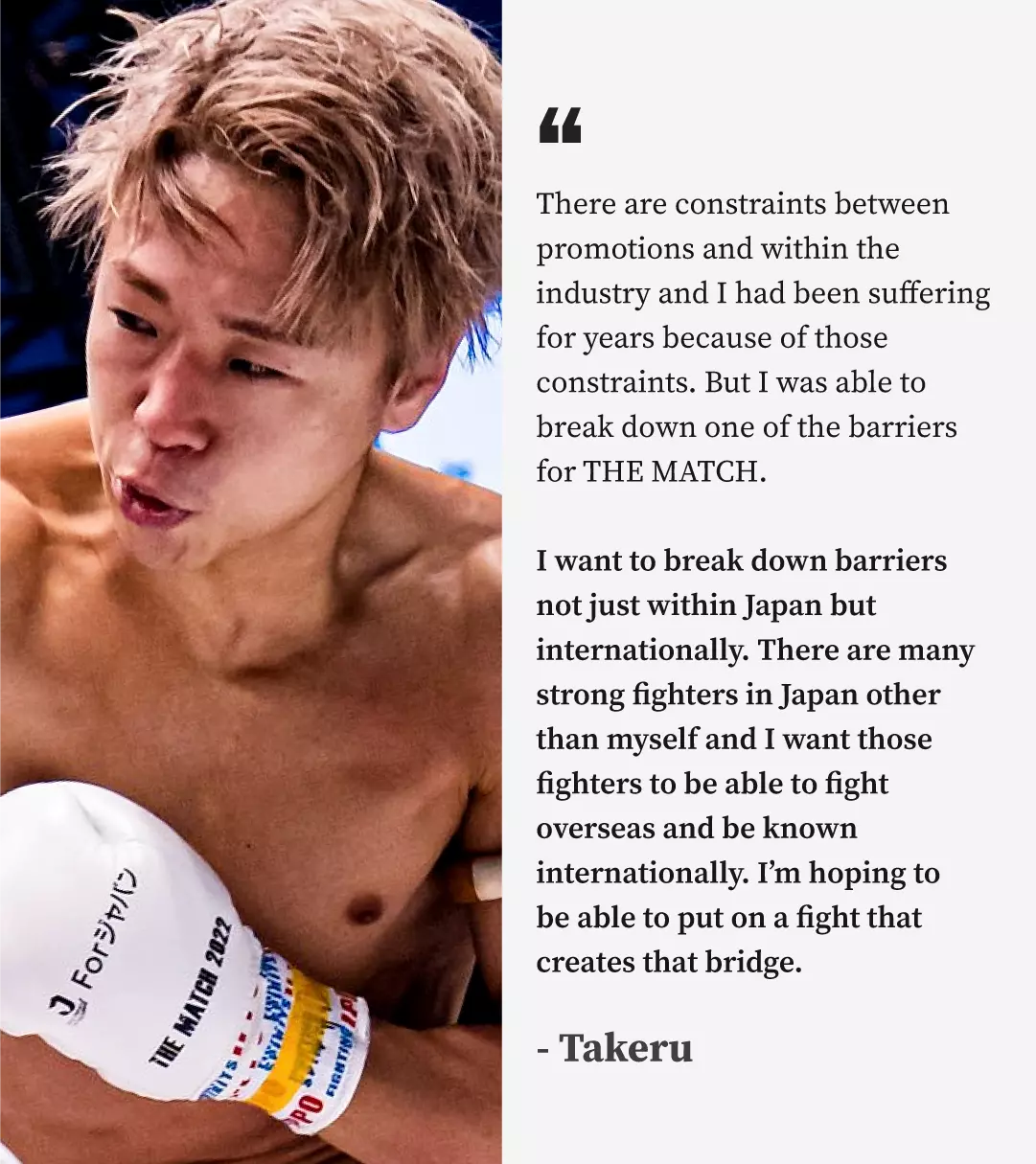 On Rodtang's call-out which has been topical amongst fight fans, Takeru confirmed that the fight was of interest to him. However, he ambiguously suggested that he would not be signing exclusively to a promotion.
"It's like THE MATCH last time. If I go to another promotion and fight, or I quit one promotion and then sign with another one – it's not like that. I want to make it a fight that helps build bridges between promotions and countries. It's not going to be a fight where my opponent comes over, or I go over [to the promotion]."
While fans can continue to speculate over Takeru's next steps, the former K-1 fighter remains focused on recovering from his surgery.
"I'm happy that I was able to recover this much. 3 months ago, I could barely walk or feel. I had lost a lot of muscle. Just recently, I was in America and I was able to undergo rehabilitation and get some of my strength and muscles back. I will continue to work hard towards bringing my body back to an even better state before my injuries."