An inaugural RISE champion will be crowned in the promotions lightest weight class at RISE 162.
Former RISE Super Flyweight Champion Toki Tamaru will face Riku Kazushima for the inaugural RISE Flyweight (-51.5kg) Championship on October 30, 2022.
RISE initially scheduled a four-man tournament to crown the divisional kingpin, the semifinals of which took place on April, 24.
However, while Kazushima was able to beat Momu Tsukamoto by decision, the Tomi Tamaru and Kuryu bout was declared a no contest after an accidental clash of heads that left Tamaru unable to continue. The fight was rescheduled for August, 28 but was later postponed as Kuryu withdrew with a positive COVID-19 test on August, 17.
Tamaru has fought just four times in the past three years and only won once while suffering losses to Jin Mandokoro and Kazuki Osaki, who are both ranked in the Beyond Kick Flyweight (-53 kg) top ten. Kazushima, on the other hand, has amassed a 5-1 record with the promotion and will enter the title fight on a two-fight winning streak. Interestingly enough, his only loss was to Kuryu, who was twice booked to face Tamaru.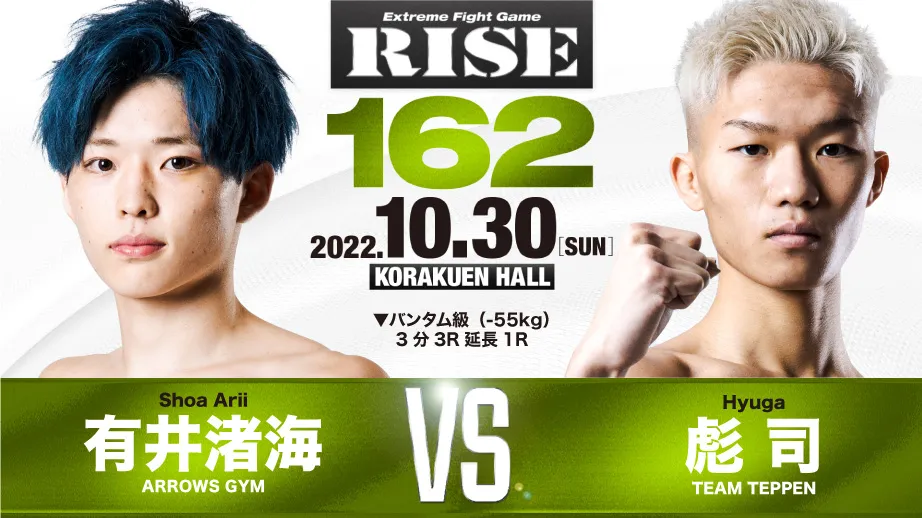 A Bantamweight (-55 kg) bout between Shoa Arii and Hyuga has been scheduled as the co-main event.
Arii went on a 9-1 run at 53 kg, but has moved up to 55kg for his most recent fight, a unanimous decision victory over Kyosuke in September 2021. Since then, Arii has also transferred from Oikawa Dojo to Arrows gym. It remains to be seen how the long layoff, as well as training in a new environment under new coaches, will affect his performance.
Hyuga comes into the fight on a five-fight undefeated streak, with wins in four of his last five fights. During this run, Hyuga captured his first piece of professional silverware - Stand Up's "King of Rookie" tournament title - and notched his first stoppage victory, a first-round knockout over Guriko Sato in April of this year. This will be his first fight at 55kg however, as all of his previous bouts took place at 53 kg.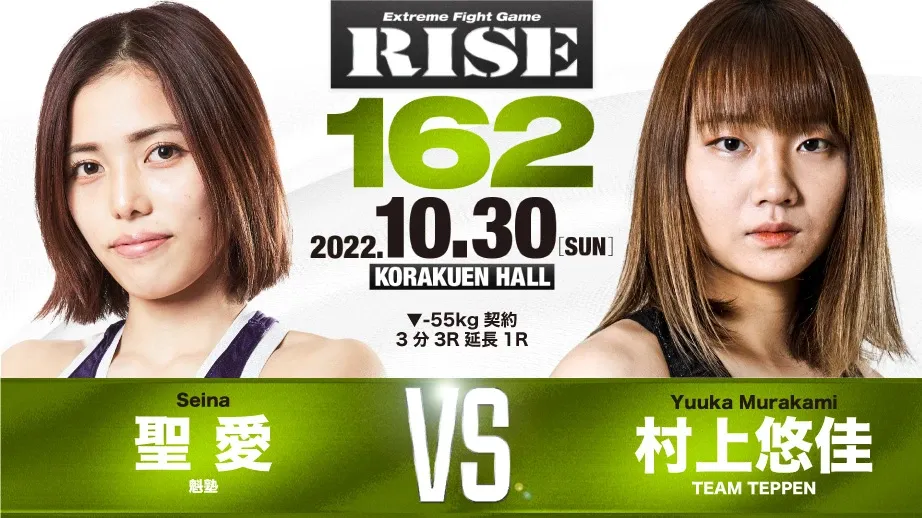 Four additional fights were announced for RISE 162 at the same press conference. Seina is expected to face Yuka Murakami in a 55kg bout. Although there is no women's Championship at this weight, Seina is a potential challenger for the 52kg champion Manazo Kobayashi. A victory here could bring either women closer to a title fight.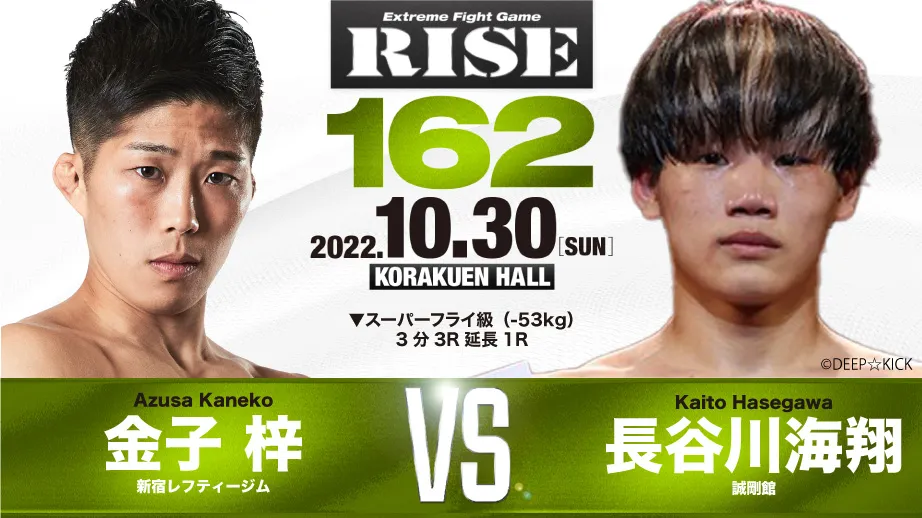 Azusa Kaneko has been booked to face the undefeated Kaito Hasegawa in a Super Flyweight bout (-53kg), in what will be Hasegawa's promotional debut. Kaneko has only one win in his last four fights, while Hasegawa comes into the bout on a five-fight knockout streak. Kaneko holds the #8 ranking in the official RISE Super Flyweight rankings, so a win here could see Hasegawa immediately earn a high ranking with RISE.
The remaining two fights will see undefeated Naofumi Yamashina face Shin in a Featherweight bout (-57.5kg) and Naoya Otada faces Tomoya Fukui in a Bantamweight (-55kg) bout.